On the trails with MBSEF Bike Club, a program that gets kids mountain biking.
Story and Video by Mackenzie Wilson
Remember being a kid and feeling like you were so fast? You didn't just think it, you knew it. The tingle of sweat on your forehead as you raced around the playground was proof. That's the same feeling hundreds of kids experience in Mt. Bachelor Sports Education Foundation's (MBSEF) Bike Club program. Kids between six and 14 years old gain confidence on their bikes and learn trail etiquette at Phil's Trail in Bend.
"Everything is 'challenge by choice.' None of the kids have to hit a jump or go down a super rocky section of trail," said MBSEF Cycling Director Jordan Church, 23. "But if they want to, all the support is there for them to do it."
The program, which provides afterschool transportation during school months, is designed to keep kids active and engaged after the final bell rings. At the same time, they are building skills and confidence while making new friends. Most of the kids bring their own gear, but MBSEF has a few loaner bikes. The kid to coach ratio is low; two coaches get a group of five to six young riders.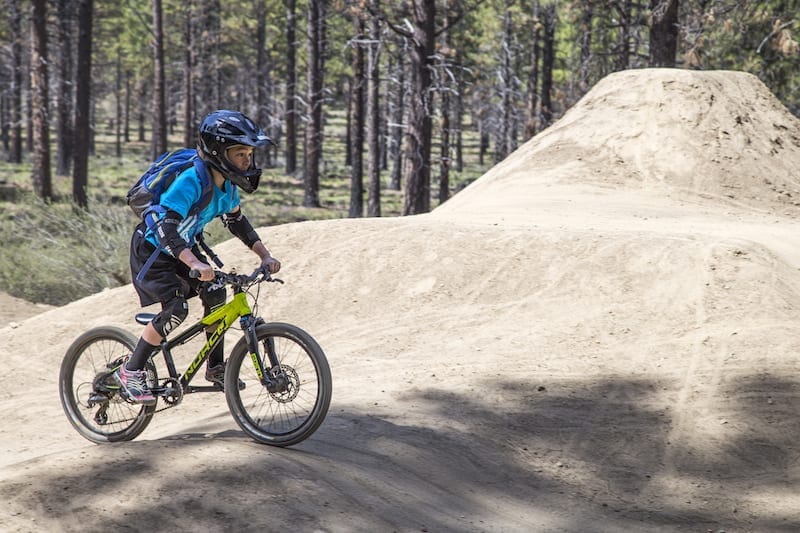 "We have a lead coach and then a coach that brings up the back to make sure no kids are getting left behind," said Molly Cogswell-Kelley, MBSEF financial development, and events director.
Many of the coaches were in the program themselves at one time or another.
"As a kid, my favorite thing to do was ride my bike and explore the woods behind my house," said Church. "As a teenager that turned into mountain biking, and now I try to inspire that same sense of fun and adventure that got me into it years ago."
---
Get Involved:
Summer Mountain Bike Sessions
Ages: 6-14
Sessions are two weeks and run
Monday to Thursday, 9 a.m. to 11 a.m.
Available sessions: July 10-20,
July 24 – August 3 and August 14-24
Price per session: 2-day/week $80,
3-day/week $110, 4-day/week $130