Compiled by

Danielle Meyers

and Bend Magazine Staff | Article updated May 25, 2023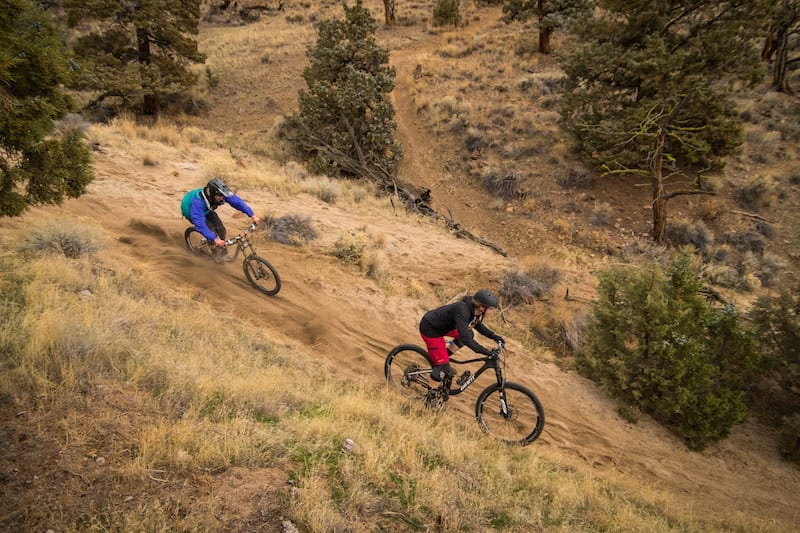 Mountain biking in Central Oregon is often associated with exhilarating descents, challenging climbs and adrenaline rushes. However, the picturesque trails surrounding Bend offer a wide range of options suitable for all riders, catering to everyone from families seeking leisurely rides to adventurous individuals craving technical challenges. While newcomers to the sport may initially find the trails intimidating, fear not! Bend boasts numerous beginner-friendly trails, providing an ideal entry point into the world of mountain biking, which dominates the city during the summer and fall seasons. Let's explore three accessible trails to conquer this season and find out where to rent essential gear in town.
Prior to embarking on a mountain biking adventure, it's crucial to be fully equipped with the necessary gear. Ensure you have all the essentials, like a hydration pack, riding gloves and a helmet. Opt for lightweight and comfortable exercise clothing, allowing for additional layers if needed. Don't forget to wear lightweight athletic shoes, as they work best for tackling the trails. Whether you prefer to venture solo or join a guided tour, informing someone outside your group about your planned route for the day is essential.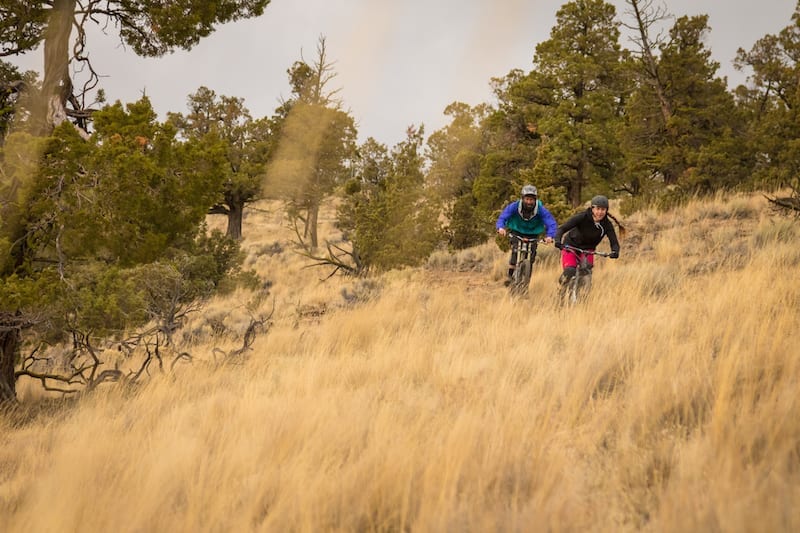 Beginner-Friendly Mountain Bike Trails 
Shevlin Park Loop Trail
Shevlin Park is the perfect place to embark on a maiden mountain biking adventure. Offering a gentle ride, the Shevlin Park Loop Trail spans 4.6 miles while maintaining a predominantly flat terrain through a beautiful forested landscape. For those seeking a greater challenge, the Shevlin Park Loop Trail conveniently links to the more challenging Mrazek Trail, where riders can test out a more exhilarating mountain biking experience. Shevlin Park is a popular destination for hikers and dog walkers, so be sure to keep an eye out for fellow trail-goers and their furry companions.
Ben's Trail
Seeking an ideal mountain biking initiation to Phil's Trail complex? Look no further than Ben's Trail. Beginning at the trailhead, Ben's Trail offers a flat terrain at the outset, gradually ascending in elevation. Be prepared for a challenging and rocky segment on the way up before embarking on an exhilarating descent. Covering a distance of 5.5 miles, Ben's Trail primarily consists of singletrack, but keep an eye out for offshoots like the MTB, Voodoo or KGB trails. These alternate routes allow you to create a loop back to the trailhead, providing additional variety and excitement instead of following Ben's Trail to its conclusion.
Suttle Lake Loop
Immerse yourself in the stunning scenery surrounding Suttle Lake with the Suttle Lake Loop Trail. Located just outside Sisters, this trail offers a captivating ride near the water's edge. Spanning 3.6 miles, the Suttle Lake Loop Trail maintains a predominantly flat terrain, with an elevation gain of less than 500 feet. As you ride along the singletrack trail, expect to navigate over rocks and stumps and pass by charming campsites. After the scenic ride, reward yourself with a refreshing dip in the lake or head to Suttle Lake Lodge to relax, indulge in a cool drink or refuel with a tasty snack.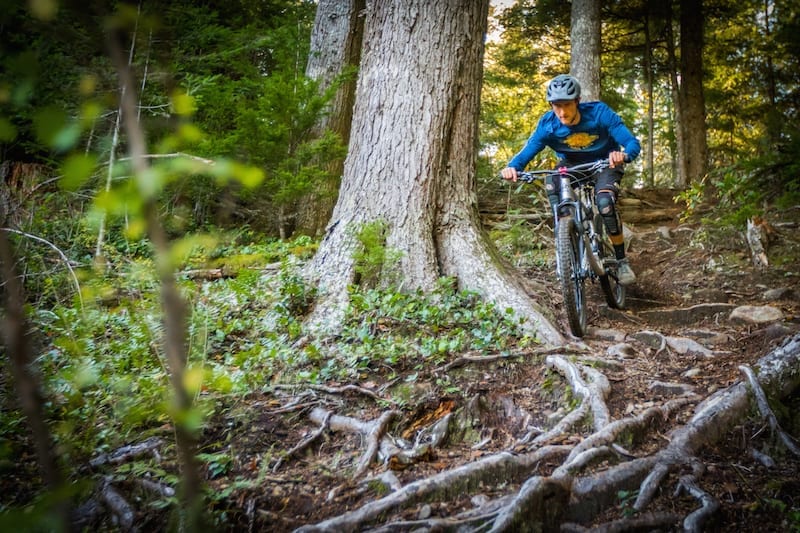 Rentals and Tours:
---
Hutch's
Since 1981, Hutch's Bicycles has been one of Bend's go-to bike stores. With a passion for bicycles and a commitment to customer satisfaction, they offer year-round support to the biking community. See hutchsbicycles.com.
Westside: 725 NW Columbia St. | 541-382-9253 
Eastside: 820 NE 3rd St. | 541-382-6248
---
Pine Mountain Sports
Pine Mountain Sports is the ultimate destination for mountain bikers in Bend. With the largest fleet of demo mountain bikes in the region they have everything riders need to conquer the diverse range of mountain biking trails in Central Oregon. See pinemountainsports.com.
255 SW Century Dr. | 541-385-8080
---
Cog Wild Bike Rental
The guides at Cog Wild Bike Rental, a touring company and Pine Mountain Sports partner, will expertly lead you and your group along the Central Oregon trails. Stop for mid-ride refreshments and enjoy complimentary drinks from local favorites like Deschutes Brewery, Crater Lake Spirits and Humm Kombucha. See cogwild.com. 
9221 SW Century Dr. / 541-385-7002
---
Click here to read more Central Oregon adventure stories with us!