For Evan Namkung, the pandemic ignited a passion that had been simmering in the background of his life. As a kid, he painted to have something to hang on the wall. As an adult, he'd lost the habit. Instead, he focused on his job as a social worker and his off-hours activities as an avid ultrarunner, skier and search-and-rescue volunteer. When the pandemic hit, he suddenly had extra time to pursue his love of street art and graffiti. Namkung began painting murals on buildings and in people's homes and creating smaller images to paint on canvas.
"Last year the combination of being stuck at home during COVID and all the social stuff going on in the world became a confluence for me to see whether I could grow something organically and invest time in it," he said. Grow it, he did.
In the past year, the self-taught artist's vision has appeared on buildings, breezeways, in businesses and art venues, garnering appreciation among art lovers who enjoy his fresh perspective on figures and the natural world.
"Evan brings a different dynamic to Bend. His work is edgy and raw and combines a duality of meticulous portraits with a street vibe," said Lacey Champagne, owner of Layor Art + Supply. "He captivates raw emotion and has a close connection with his viewers."
Namkung grew up in Oakland, California, and moved to Bend in 2016 for a change of pace and to enjoy the outdoors. He became involved with the mountain rescue unit of the Deschutes County Sheriff's Office Search and Rescue. He finds the volunteer work that he does there to be like his other hobby, long-distance trail running. "They are meditative activities where you can focus and complete something," he said, in contrast to his job as a social worker with Deschutes County Behavioral Health, where he finds that the work is never finished. 
When Namkung is not applying paint directly to a building, he makes art in his home-office-turned-studio in NorthWest Crossing. The space contains large canvases stacked against a wall, many with vibrant colors dripped, sprayed and splashed onto the surface, striking an incongruous feel in the tidy, clean room.
He starts each project by surveying stock images on the Internet for interesting faces and figures, often people who might otherwise be ignored by the mainstream. He builds a concept on his iPad and then moves a canvas outside for the messy part of spray painting and dripping blobs of color to create the background. Next comes a line drawing which he projects onto the canvas or a hardwood board. He finishes the composition back in the studio. 
Namkung's paintings have been displayed at The Grove in NorthWest Crossing, Layor Art and Crater Lake Spirits Downtown Tasting Room. His murals adorn the Box Factory Breezeway and the City of Bend downtown parking garage. The latter work was part of the High Desert Mural Festival held last year featuring artists of BIPOC and/or LGBTQ identity, said the festival's founder and fellow artist Doug Robertson. "One of Evan's main objectives was to highlight accessibility to the outdoors," he said, referring to Namkung's mural on the city garage which depicts a young African American girl looking up at a butterfly, with a mountain range in the background.
"He's merging city street art with traditional landscapes. He's bringing something different with great technical skills," Robertson said. "His color palette is bright and bold; a needed voice in our community."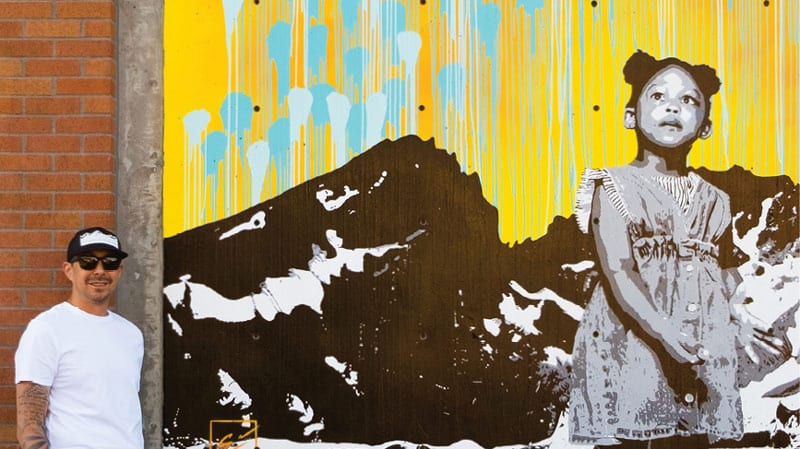 When asked what his future looks like, thirty-nine-year-old Namkung says his ultimate dream is to become a full-time muralist. "Painting balances what I need to keep myself healthy and happy," he said. "Whether it's the grit of city living, the diverse world of plants and animals, or anything in between, art constantly offers us chances to see our world differently." 
See evannamkung.com.
---