The first line in Prineville-based country musician Olivia Harms' song "Canby" encapsulates not only her country roots and her hometown pride, but her paramount objective in any of her music; to write about lived experiences, and to form connections with her listeners. "I should not write things that are not authentic to me, because you can't relate to music that isn't authentic. My first rule of songwriting is to always have the experience to back up the story," Harms said.
And back it up, she does. Harms grew up as a member of the FFA on her family's century farm in Canby that was homesteaded in 1872; a farm that is only thirteen years younger than the state of Oregon. She participated in 4-H and grew up to be more comfortable wearing Carhartt than Prada.
Harms believes that real country music comes from a real country lifestyle; growing up on her family farm in Canby taught her a strong work ethic and a deep sense of pride in her roots. These are the traits that the songwriter always brings to her creative process. "I figured if I was gonna be a country music artist, one day I'd need a song about my hometown so folks would know where I came from," Harms said.
Harms began a career in music in high school, playing locally in and around Canby. While obtaining her undergraduate degree at Oregon State University, she played around twenty shows a year. After graduation, Harms moved to Prineville. "I had always loved central Oregon, and since there are many live music venues in the area I decided to make the move in 2017," she said. "With Prineville being the cowboy capital of Oregon and a little less expensive, I thought it was the perfect fit." 
Soon after, she decided to go full-time with her music career, acting as her own booking agent, publicist and manager. "I contacted every venue I could around the area and throughout the Northwest, slowly creating tours and adding dates to my calendar. The first year and a half was definitely a learning curve, but I started seeing the progress by 2018. In 2019, I played over 130 dates and substantially grew my social media following."
During this time, Harms was commuting back and forth to Nashville to record her singles, meet successful recording artists and co-write songs with them.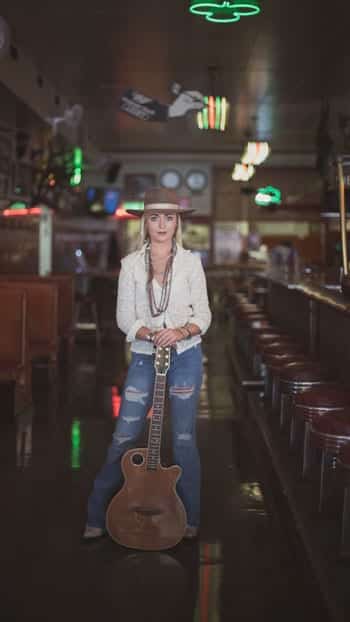 "Canby" was Harms' first song to gain some traction and propel her career. After that came a song called "Gypsy" that spoke about life on the road and drifting from one town to another; Harms spends half her year in Oregon cowboy capital Prineville, living the life she sings about, and the other half in Nashville, recording her music.
"I had folks coming up to me after shows who would just gush about how they relate to my songs. Even if they hadn't been to the towns I had been to, they related to the lifestyle I was singing about," Harms said. 
Out of all the country music heroes that Harms can talk about, her biggest inspiration is her mom and local country music legend, Joni Harms. Joni has released eleven studio albums and even had a chart-topping track back in '89 called "I Need a Wife."
"My mom has always been my biggest fan. Although she mostly lets me fly solo now, she was instrumental in teaching me everything I know about country music," Harms said. "I feel like it's always been in my blood."
Harms has a new studio album coming out May 21 that aims to showcase her diverse songwriting skills while utilizing an old Western sound. "I want to bring back real country," Harms said. The album's first few singles, "Gypsy," "Road of Lies," "Kiddie Pool" and "Hey There, Cowboy" have all been released.
Harms originally planned on recording her new album back in March of 2020, but the world had other plans. Eventually, Harms decided to record her album in Nashville, pandemic or not. "I always figured you can either focus on the bad in a bad situation, or choose to see the good. The world needed music and I wasn't going to put my dreams on hold, so I went to Nashville, followed every legal precaution and got the record made," Harms said.
In true country music fashion, Harms believes in persevering through hardships to achieve her goals, "You can't always control what life throws at you, but you can always choose how to react." 
Listen to Olivia Harms and her new album on Spotify, YouTube and Apple Music.