Redmond discovers that leveraging the best of the last century may be the cornerstone of the next hundred years.

 The photo shows Brynn Hyson, age 9, and Sage Smith, 5, holding out signs that read, "THIS PLACE MATTERS." The children are standing outside Patrick's Professional Building, on Deschutes Avenue, adjacent to Centennial Park in Redmond.
Brynn and Sage were among dozens of people who took part in a 2014 event sponsored by Redmond's Landmarks Preservation Commission to showcase properties that have historic value. They are also part of an evolving conversation about the role of history in Redmond's future.
Designed by the Portland firm of Roald and Schneider, the medical/dental building opened in 1942 and served as Redmond's first modern hospital until 1952. According to Commission chair Judy Fessler, Patrick's (as it is sometimes called) is among Redmond's few remaining commercial examples of Art Moderne design, a style that evolved out of the high-style Art Deco period of the 1920s and 1930s. Also known as Streamline Moderne, the style reflected austere economic times. Decorative flourishes and sharp angles were replaced with aerodynamic curves. Decorative wood and stone were replaced by cement and glass, with smooth stucco surfaces painted in light earth tones.
In Redmond the adoption of the Art Moderne style was less about austerity than it was a reflection of the city's early Twentieth Century ambitions to be recognized as a modern city that refused to be overshadowed by its neighbor to the south. 
The future of Patrick's Professional Building, and other historic structures, comes up frequently at meetings of Redmond's Landmarks Preservation Commission. The properties and the players change, but the questions remain the same. Which historic structures should be saved and restored? How could the structure be repurposed to benefit the community? Who should pay for their preservation—and at what cost?
These are particularly important questions not just in Redmond, but across Central Oregon—where a second building boom in the new century has prompted concerns about preserving and re-utilizing what remains of the last century. The issues swirl within the emerging urban cores of Central Oregon's fast-growing cities, where pressure to redevelop is most intense and where the oldest properties are clustered.
Now owned by a Bend neurosurgeon, the Patrick's building sits across from the impressive Centennial Park in downtown Redmond. Named to honor Vernon Patrick, a longtime pharmacist at Redmond's Cent-Wise Drug Store, the aging and vacant Patrick's Professional Building needs a major renovation. Last year, the owner floated the idea of demolishing the building so the property could be developed as a food cart pod, similar to Bend's popular pod "The Lot" (off Galveston Avenue). At the urging of city officials and Deschutes County Historical Society, he has held off razing the building. For now, the future of the past hangs in limbo.
Striking A Balance
Former mayor and current county commissioner Alan Unger knows the building well. His father was a longtime physician in Redmond and Unger once worked as a subcontractor in the Patrick's building. Unger recalls crawling beneath floors and behind walls when the building was previously remodeled from medical to office space. These days, it is neither. Construction debris is piled from the floor nearly to the ceiling and presses against the entry door. Outside, weeds have grown high. The signage reading "Patrick's Professional Building" has faded against the brown stucco.
Unger said he takes a pragmatic view of the building's value. While it would be nice to see it preserved, the cost of repurposing the building may be prohibitive. Unger said he could see the site being redeveloped with an architectural nod to the past, such as repurposing the signature aquarium glass on the northeast corner.
"It's an old structure that has a lot of challenges. And it's limited in its size. I guess you look at the corner that has historical significance with its glass bricks. That to me is what has value," said Unger.
Kelly Cannon-Miller is executive director of the Deschutes County Historical Society. She considers these issues every day.
"In the mid-Twentieth Century the historic preservation movement was all about saving and 'freezing' properties. That is, keeping them as they were—museum relics of their place in history," she said.
Preservationist leaders today, she notes, have begun to ask: "How many historic house museums can you have?"
Now, she said, preservation "is about giving historic property continued and extended new life that is relevant to the community."
Examples of so-called adaptive re-use abound in Bend, ranging from the public-private Tower Theatre renovation and revitalization to the redevelopment of the former Brooks-Scanlon mill as the Old Mill shopping district.
In a sense, Bend has found a way to turn its history into an asset that has helped anchor redevelopment. A decade-and-a-half after the first shops at the Old Mill opened their doors, the redevelopment wave has spread north to Colorado Avenue where the former Mill Quarter has rebranded into the hip Box Factory—complete with food carts, micro-brewing, a cider company and bike tours.
Just down the road, under the shadow of the iconic mill smoke stacks, one of Bend's hottest breweries, Crux Fermentation Project, put down stakes in a largely untapped industrial area. Crux choose to convert a former auto transmission shop into its home base. While its building isn't historic, the brewery is bounded on nearly all sides by elements of Bend's bygone mill days. Other businesses are following suit, breathing life into an area that has sat largely idle since Bend's timber days.
A similar phenomenon is unfolding in Redmond, where a combination of public and private investment in the downtown area has spurred a wave of new business and development. Today the city owns the better part of a three block area that stretches from Centennial Park, just north of the current city hall, west to the former Redmond Union High School. It's a hub of activity and part of a grand civic vision that marries public buildings and open spaces with a pedestrian- and business-friendly vision for downtown, according to Chuck Arnold, Redmond's economic development manager.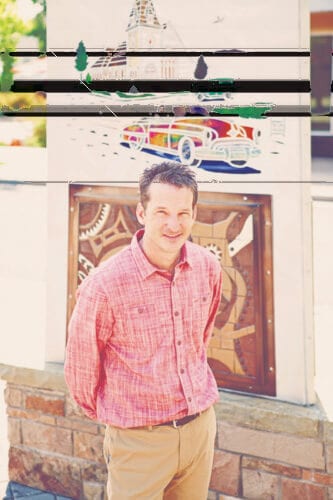 Preserving Redmond's architectural history is an important part of that mission, said Arnold. 
The city is in the process of completing a major milestone in that effort with the multi-million-dollar remodeling of the Redmond Union High School building that soon will become the new home of Redmond's city hall. With its massive windows and stone columns, the building will be the major feature in a civic mall that includes Centennial Park on the east side. 
Both Cannon-Miller and Arnold see the Patrick's building as a historic and architectural asset in that plan.
"Patrick's is in an area of Redmond that's being reinvented. Even now, people say the building looks 'cool.' When they learn more about its past and potential, they get excited; they become invested in the value of its future," said Cannon-Miller.
"You create value by getting the community to buy into your vision. If they see the value of, say, Patrick's as a resource that could serve Centennial Park next to it, then adaptive reuse of the building becomes valuable and the community will work to support its restoration," she said.
Neglected as it has been, Arnold sees the Patrick's building as an important part of Redmond's story as told by its Art Moderne structures. These buildings went up at a time when the airfield was being constructed and Redmond was emerging as a true city. The architecture reflects the town's aspirations and ambitions at time when Redmond was taking flight literally and figuratively.
"We wanted architecture that was big, bold and beautiful," said Arnold.
Investing in the Past
Redmond's population had yet to reach 1,000 people by 1930. When the New Redmond Hotel, at SW 6th and Evergreen, opened in July 1928 it was billed as " … the height of modern sophistication. Luxury, beauty, comfort and convenience—all are combined in this magnificent structure, the forerunner of greater success for Redmond." A period photo shows just three automobiles parked along the street in front of the hotel.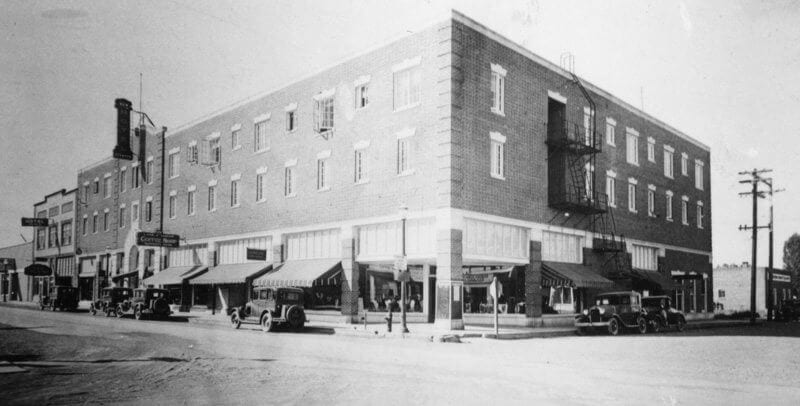 By the 1990s, SW 6th Street was clogged day and night with local and noisy truck traffic. Traffic volume decreased after the Highway 97 bypass around downtown Redmond was completed, setting the stage for a downtown revitalization that has played out in the form of new restaurants, retails shops and breweries.
The Redmond hotel is part of that trend with a successful cocktail bar, sushi restaurant and tea room. Tucked in between those shops is the hotel lobby, partially restored and total empty—a museum that is available by appointment only. The forty-eight rooms above remain much as they were when the hotel closed more than a decade ago.
The building was purchased in 2005 by Bend developer and hotelier Brad Evert. The city of Redmond put out a Request for Proposal to redevelop the property. According to Heather Richards, Redmond's former director of community development, Redmond would be a public partner in the project, and offered a package of grants and loans. A Portland-based couple that operates a small boutique hotel in Hillsboro put in an offer in 2014, but was not able to secure financing.
Owner Evert said the hotel remains for sale and believes that it can be a cornerstone of Redmond's ongoing downtown revitalization.
"The hotel has great potential. It just requires someone with a younger mindset than me. I'm trying to get retired, and it's a big project," Evert said.
Arnold intimated that another prospective buyer may be in the wings for the hotel that would allow it to open as a boutique destination. At this point the city has roughly $500,000 available in loans and incentives to help sweeten the pot.
While some are skeptical, Arnold said it's not a matter of if, but when, a deal comes together.
Revitalizing the hotel is important for the city, not just as a matter of historic posterity, but as an engine of economic development in downtown.
"(The hotel) is a major catalyst," Arnold said "You can't just create that kind of foot traffic."
Proactive Preservation
The Patrick's building isn't the first historically significant property to face the chopping block. Before the city intervened, the future of Redmond's original high school was not as bright as its past.
Built in 1922 in a style described as "American Utility," its brick-face façade with eight Doric columns suggests a temple of learning. The high school and several auxiliary buildings occupied two square blocks between Evergreen and Deschutes avenues from 9th to 11th streets. When Redmond's growing population required a bigger high school, Union High became the junior high; then the Evergreen Elementary School until 2012 when the building outlived its usefulness as a school.
Historic advocates worried that the building would be razed and a symbol of Redmond laid to waste.
"It's a very iconic building for Redmond and I would argue maybe the most iconic," said Mayor George Endicott, whose father graduated from Redmond Union in 1938.
He wasn't the only one who felt that way. A citizen panel brought in to review the possibility of saving the building was nearly unanimous in its decision to acquire the building before it faced a potential wrecking ball.
At the time, the city of Redmond was already deep into the design work on a new and much-needed city hall building. But the opportunity to repurpose the original high school and do right by history was too good to forego, said Endicott.
In the end, the cost difference between repurposing Redmond Union and building from scratch turned out to be a wash.
"Yes, there were some decisions that had to be made, but there were never compromises," said Endicott, adding that the city staff was brought into the process to ensure the building met its needs.
He cited the success of Redmond's Wild Ride Brewing that has flourished in a remodeled lumber yard building on 5th Street as evidence that Redmond's downtown buildings are ripe for repurposing.
As Redmond planners and preservationists look forward, they are now doing it with an eye toward incorporating, rather than overcoming history. City staff working on the Redmond Historic Landmarks Commission have looked at ways to leverage the city's architectural history as a tool for marketing and economic development, similar to what has happened in Bend. In the coming months the city is expected to move forward a process that will work with citizens as well as state and federal historic planning officials to identify properties that tell Redmond's story, said Scott Woodford, a city planner who serves as the liaison to the Redmond Landmarks Commission.
It's an approach that would eschew the traditional one-off historic property listings or the sweeping historic districts that can prove cumbersome for property owners and planners.
Instead, Redmond would attempt to connect architecturally- and historically-related commercial and residential properties in a checkerboard format that best captures Redmond's transformation from a whistle stop town to a major population center in Central Oregon. If successful, community leaders and business owners alike would be able to cash in on Redmond's historic cache.
"It's just another feather in the cap of the city as we try to attract new business and families," said Woodford.
Challenges remain, however, and not everyone agrees about which properties can or should be preserved. The current city hall building, for example, was once listed on the National Register of Historic Places and is remembered by longtime residents as the original Safeway store. Depending on who you ask, it's also another example of the Art Moderne theme. Still, it is slated for demolition as part of the city's redevelopment plans. In its place: an indoor arcade and amusement park to complement the active space at the adjacent Centennial Park.
Judy Fessler, among others, is still fighting for its preservation.
While it may not be a pristine example of Art Moderne architecture, it's part of the city's story. People just need to take the time to listen, said Fessler.
"We're not in a museum. This is living history," she said. "These walls really do talk around here."