photo Drew Cecchini
Sarah Root's studio contains no easel, no messy half-tubes of paint or palette, no hodgepodge of stacked work. In fact, her home studio is tidy and clean with plastic and plexiglass protecting the carpet. Her colored pencils stand upright in canning jars on a tray. "I'm a double Virgo, and Virgos are neat freaks. We find peace in order," she explained.
Root creates solely in pencil, though she received training as a painter and printmaker. She sketches feverishly when inspiration strikes and draws layer upon layer until the paper is saturated in color, resulting in work that resembles a textured painting. Shapes become patterns, and patterns become familiar life forms. On occasion, she incorporates metal leafing.
"My drawings are inspired by my close friendship with nature and animals," she said. "I'm doing a lot of birds because they come to me, often in dreams." Owls, eagles and ravens soar with outstretched wings. Other wildlife—polar bears, hawks and foxes—find equal expression through Root's pencils.
In her studio, the large piece she was working on was affixed to the floor, which immediately raises the question: how does she sketch? The answer: on her belly or cross legged, positions she can maintain for hours.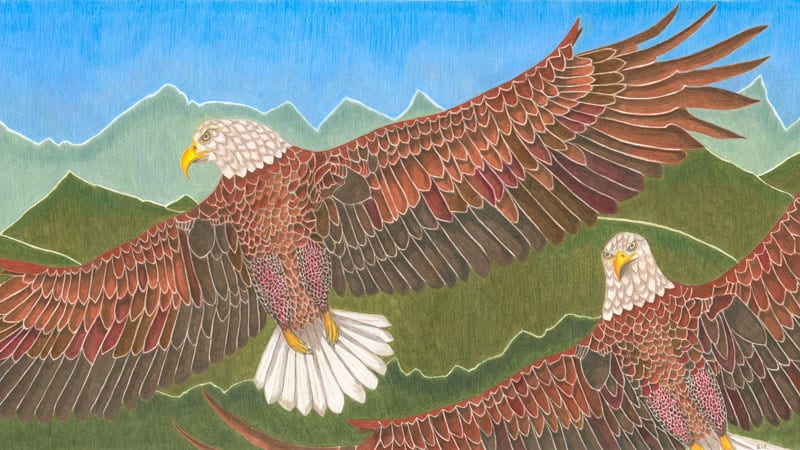 When she finishes a piece, she has it photographed and made into prints and gift cards of various sizes, which she sells on her website (sarahrootart.com), at the High Desert Museum and in businesses in Central Oregon. The original is available to a buyer who connects with it. "I don't hoard my work, even though I instill a lot of love," she said. "I want it out where others can enjoy it."
"I rarely see someone who follows their inner guidance like Sarah does," said John Hummel, Deschutes County District Attorney and a collector of her art. "When I see those pieces she's drawn, I know they're a manifestation of what calls out to her."
Raised as a second-generation Buddhist, Root grew up in a family of artists with a strong Japanese aesthetic. Her mother, Marlow Brooks, is a gallery-worthy calligrapher and her uncle, Stephen Brooks, is an artist, writer and producer of plays. "Uncle Steve educated me. I saw seven operas with him, countless shows, and I've viewed art with him in Paris, New York City and Minneapolis," she said. The noted calligrapher and Japanese Zen priest, Kobun Chino Otogawa, was "a steady source of love and a dear mentor," she added.
Her family lived in Nova Scotia, rural Vermont, Colorado and England, moving often. For college, Root chose Sarah Lawrence College in Bronxville, New York, where she studied philosophy and art. After graduation, she moved to Portland and ran a print gallery.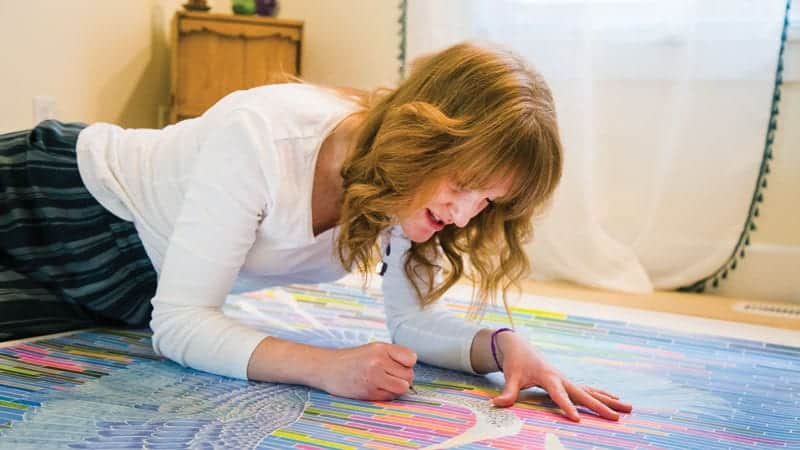 But service to others was in her DNA. She started helping students at Portland's Roosevelt High School with college applications. It was there that she had an ah-ha moment and decided to become an educator. She became an accredited instructor for students with dyslexia and other learning differences through the Academy of Orton-Gillingham and began tutoring children in 2010. As a fellow dyslexic, she empathized with her students. In 2015, she moved to Bend and established Wild Roots Learning to provide specialized services for students with dyslexia and learning differences.
The Pacific Northwest also provided the landscape for rock climbing, mountaineering and volunteer work as a wilderness first responder. "I was spending less time doing art and more chasing mountains," she said. But she suffered a traumatic brain injury which made physical activity and socializing nearly impossible. "When I hit my head, it shifted things," she said. She continues to struggle with the aftereffects of the injury and says it significantly altered her path. "(But) it renewed my commitment to creating animal scenes and reminding people of their connection to the wild," she said.
In addition to her sketches, Root has published a children's book, Warrior Friends, and has submitted another book to a publisher. 
Hummel says of the owl he purchased, "It's small but when it soars, it's majestic. Sarah captured so well the strength of that owl's spirit. She helps her kiddos realize they are that owl. They may feel that they're small, but she helps them spread their wings." 
---
Read more about our vibrant Central Oregon art community here.