A modern home in Shevlin Commons is designed to embrace the natural elements that surround it, with function, style and comfort in the details.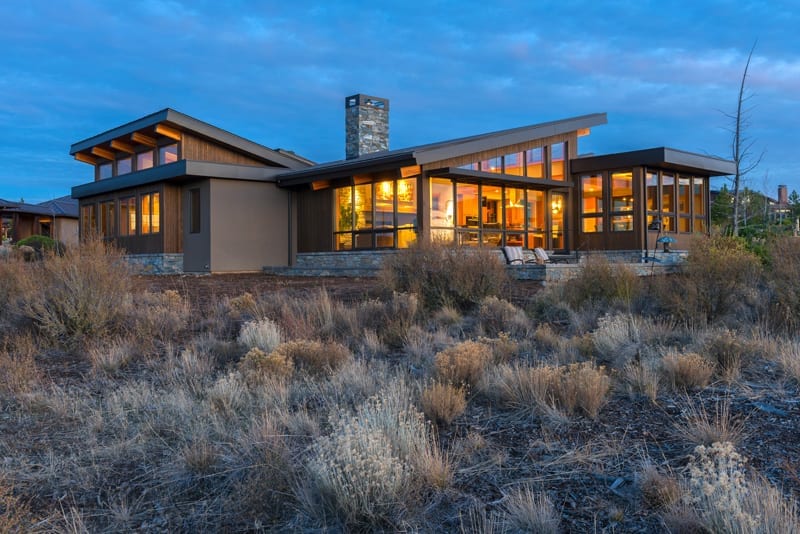 Two years ago, when Allen and Traci Clautice-Engle set out to design and build a custom home, they came to the process with some very specific ideas. The couple had lived in Central Oregon since 1998. They'd been married for more than thirty years and raised two children together. This would be their third Bend home. Allen and Traci knew themselves, the community and how they wished to live in it.
But their desires weren't identical. Allen explained succinctly: "I'm an engineer, and she's a doctor." Allen, who is retired, was looking for energy efficiency, low-maintenance landscaping and a location closer to Mt. Bachelor, where he is a ski patroller. "I wanted all LED lights, built-in solar and to spend less time landscaping."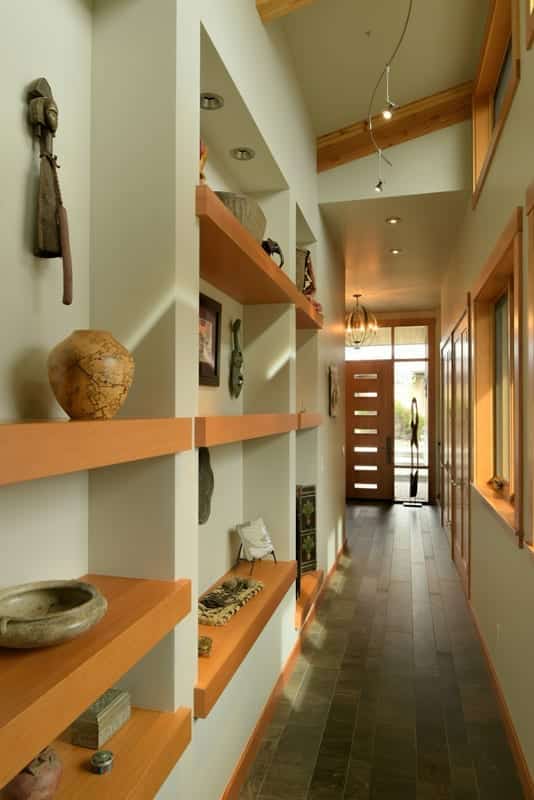 His wife, Traci, who works full-time as a radiologist at Central Oregon Radiology Associates, nurtured more interior desires—in terms of design, that is. "Not many people have the opportunity to create a custom home to perfectly fit your life," she explained. "I wanted to spend plenty of time on details and design."
Both were avid outdoors lovers and travelers who wanted their empty-nester home to be incredibly comfortable and beautiful. Both wanted a special place to display the large collection of art and photography they had gathered from travels around the world. Each wanted a location "in town, but out of town—close enough to downtown to bike in if we wanted," said Allen. A place near nature trails would be a bonus.
Shevlin Commons was the answer. The community, four miles west of downtown, sits adjacent to Bend's signature open space, Shevlin Park. The Clautice-Engles purchased a lot with a view of the park and of the Cascade Range. Then they hired builder Doug Young and longtime Bend architect Karen Smuland to craft their home from scratch.
"The first thing to attend to was layout and orientation," explained Smuland, who has been designing homes in Bend for fourteen years. The lot wasn't overly large, but offered a few key opportunities. "We oriented the house to best use photovoltaic solar, create one-level living with plenty of natural light, take advantage of the predominant views and create unique outdoor living spaces," she said.
The Clautice-Engle home is a stunning, contemporary 3,400-square-foot structure with exterior materials of cedar, stone and stucco, and views of Mt. Bachelor and Mt. Jefferson. A U-shaped footprint shelters a south-facing courtyard, which is private, absorbs sun and avoids wind. A combination of shed and flat rooflines is not only visually attractive but also allows more natural light into the home.
The visitor's eye is drawn to the front door by a cantilevered roof. The entry hall is tile, lined with art niches for the Clautice-Engles' collection. At the hall's end is the great room, which boasts three walls of windows with storefront glazing to maximize view and motorized windows to allow in fresh air.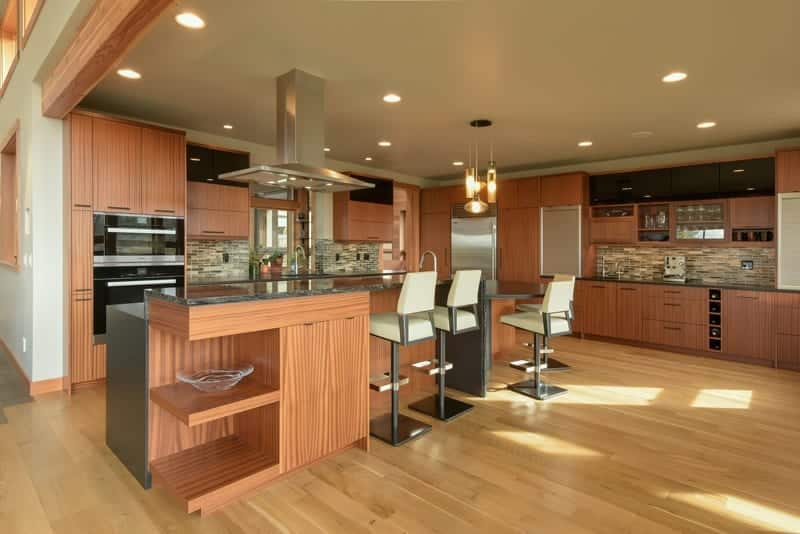 The kitchen, adjacent to the great room, was Traci's domain. Working with Bend interior designer Kirsti Wolfe, Traci created a room well planned for the traffic patterns of an avid home chef and her guests. "We fine tuned everything on her wish list," said Wolfe, who has been an interior designer for twenty-eight years. "We wanted the kitchen to flow with Traci's personality and how she functions."
The kitchen includes 'work stations,' one of which is a beverage bar. A wide counter space is home to tea, coffee, wine and the like, flanked by two roll-up storage spaces housing kitchen gadgets. "It's a gathering space away from the main cooking area, so that not everyone ends up in the same space," explained Wolfe. Island seating at two levels—a round eating area at a lower level and bar-height stools—create additional gathering spaces. The counters are black granite, and all woodwork is Sapele, sometimes referred to as African mahogany.
"The flow of the house is outstanding for entertaining," said Traci.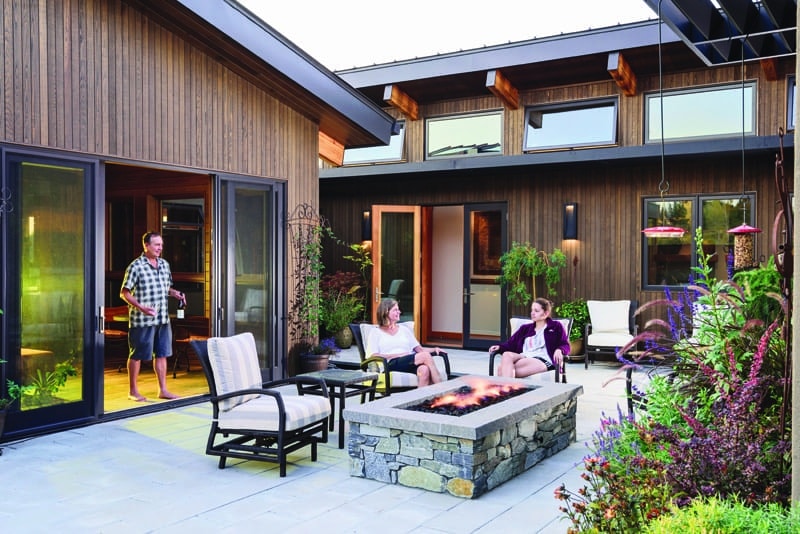 Allen got his wishes in terms of energy efficiency. The home is Earth Advantage Certified, and a combination of photovoltaic solar, double stud walls, excellent insulation and a heat pump add to the sustainable footprint. Active management of workable windows means that the house is extremely efficient. "I expect we'll be net zero or positive this year," said Allen, meaning the home will create as much energy as it consumes.
Perhaps the home's best features—and the owners' favorites—are its patios. An enclosed sunroom of wood and glass faces south, absorbing sun and heat in colder seasons and cooler times of day. "Our indoor patio faces the park and is a great place to have a glass of wine or relax," said Allen.
The outdoor patio is accented with a waterfall, visible from the kitchen window, which becomes a stream that crosses the expanse. "You step over the stream to access the patio," explained Smuland. "The patio is really the masterpiece of the home."
Wolfe feels that the patio, like the house, achieves beauty by "using all of the elements—wood, glass, metal and water. All are combined to achieve a more peaceful environment. It's an extremely serene, comfortable home."