Through the expanse of picture windows stretching across the western wall of the Sunriver Resort Lodge, the changing season paints a view like no other. The landscape's vibrant reds, yellows and golds fade to a muted palette against the bright blue sky. The sun, which shines more than 300 days per year here, glints off the frost-covered trees and reflects bright against the freshly fallen snow dusting the ground. In the distance, Mount Bachelor, South Sister and Broken Top hint at the area's volcanic past.
The view overlooks an adjacent meadow revealed when an ancient lake slowly dried and disappeared. Things have always moved a little slower down here in Sunriver, known as the granddaddy of destination resorts in Central Oregon after it debuted half a century ago. Since then, it's been setting the standard for family-friendly vacation destinations in the Northwest.
More than seventy-five years ago, the Sunriver area was home to Camp Abbot, a U.S. Army engineer training center where more than 90,000 citizen-soldiers lived and worked.  After it shut down, the army razed all but one of the camp's structures. The officers' club survived and later served as a cattle shelter and lives on today as the resort's historic Great Hall, home to wedding receptions and special events.
When a wintry blanket (the resort gets almost a foot more snow than Bend in an average year) envelops the meadow and golf courses, children and adults alike bundle up and delight in an array of snowy pursuits. Snowmen take shape and snowballs fly. Some visitors don snowshoes, others Nordic skis. They traverse along plowed pathways or make fresh tracks as they set out to explore a piece of the more than 3,300 acres that make up the resort and surrounding community.
Honoring founder John Gray's vision when he, along with Donald V. McCallum, brought the resort community to life in 1968, Sunriver strikes a balance between nature and development. Though there are more than 4,500 residences and lodging units in Sunriver today, the area boasts dark skies that, when paired with clear air and elevation, makes for perfect stargazing.
Sunriver's fun, however, encompasses much more than being immersed in nature. The indoor pool at SHARC — Sunriver Homeowners Aquatic and Recreation Center — has a zero-entry area with bubbling fountains, a spinning water flower and a dumping bucket that elicits endless laughter as kids (and adults) take turns being doused from above. Water volleyball and basketball pit swimmers against one another, while the vortex water feature sends kids floating in dizzying circles.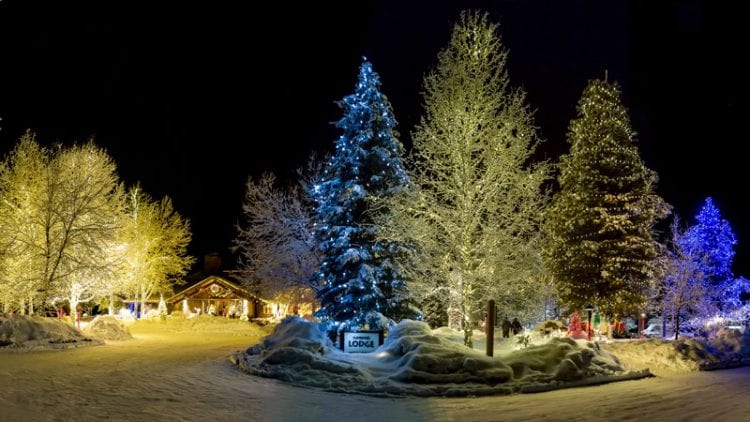 Beyond the pool, adventure seekers race down SHARC's seasonal tubing hill, especially when the lanes are illuminated on Black Light Blast nights.
"When people inquire about what there is to do in Sunriver during the winter and holiday season, it's hard to know where to begin. There are so many festive and fun things that make this resort a destination for everyone," said Denease Schiffman, operations manager for The Village at Sunriver.
The Village bustles with activity as Sunriver's commercial hub and, come winter, has a genuinely enchanted feel. Visitors enjoy strolling between boutique shops and art galleries interspersed with restaurants, including the always hopping Sunriver Brewing Company. It's all quaintly situated around the village center and ice-skating rink, where skaters glide, or in some cases wobble, around the rink as music drifts beyond the pavilion walls.
Each year, Sunriver Resort kicks off the holidays with the Grand Illumination, a rite of winter in Central Oregon. Holiday spirits soar as friends and family spend the day dancing to live music and indulging in delectable bites. Children whisper their wishes to Santa and hustle between craft projects, bounce houses and train rides. Horse-drawn sleigh rides and visits to Gingerbread Junction fill the hours as everyone awaits the resort's lighting ceremony. 
"We've had so many families come back year after year for the Grand Illumination event, sleigh rides and elf tuck-ins. We are ramping up this year with a light show featuring more than one million bulbs and choreographed to holiday music," said Joshua Willis, Sunriver Resort's director of operations.
When it's time to slow down after all the adventures, schedule a visit to Sunriver's Sage Springs Club & Spa. Here you will find the perfect escape in a selection of signature and seasonally inspired treatments. Stars twinkle like diamonds in the dark above the hydrotherapy spa, an ideal way to relax in conjunction with a massage or facial, or only as a long soak after a long day.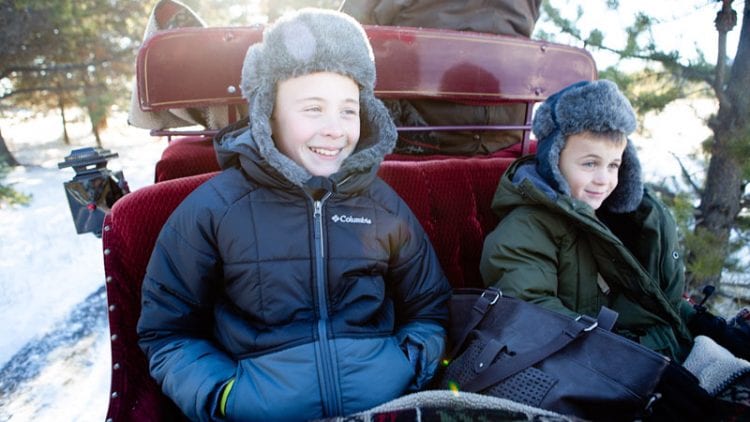 With so much to see, it shouldn't come as a surprise that so many guests are return visitors.
"When you find a place as beautiful and family-friendly as Sunriver, it draws you back time and again," said Sara Bittner, who has been coming to Sunriver for more than forty years. "My parents started the tradition of coming to Sunriver from Portland in 1978 when my mom was pregnant with me, and my brother and sister were both under five years old. They fell in love with the beauty and peacefulness of Sunriver, and the opportunity to relax and enjoy the outdoors."
Bittner lives in Bend with children of her own now and, despite being just fifteen miles away, continues the Sunriver tradition with her family.
"All these years, Sunriver has been a place of beauty and rest for us. It's allowed our family to bond and create memories that will be treasured forever."
Editor's note: This story was originally published November 2019, and has been updated to reflect current information about the Grand Illumination and Snowblast Tubing Park.