Revitalize your soul in these mineral-rich pools.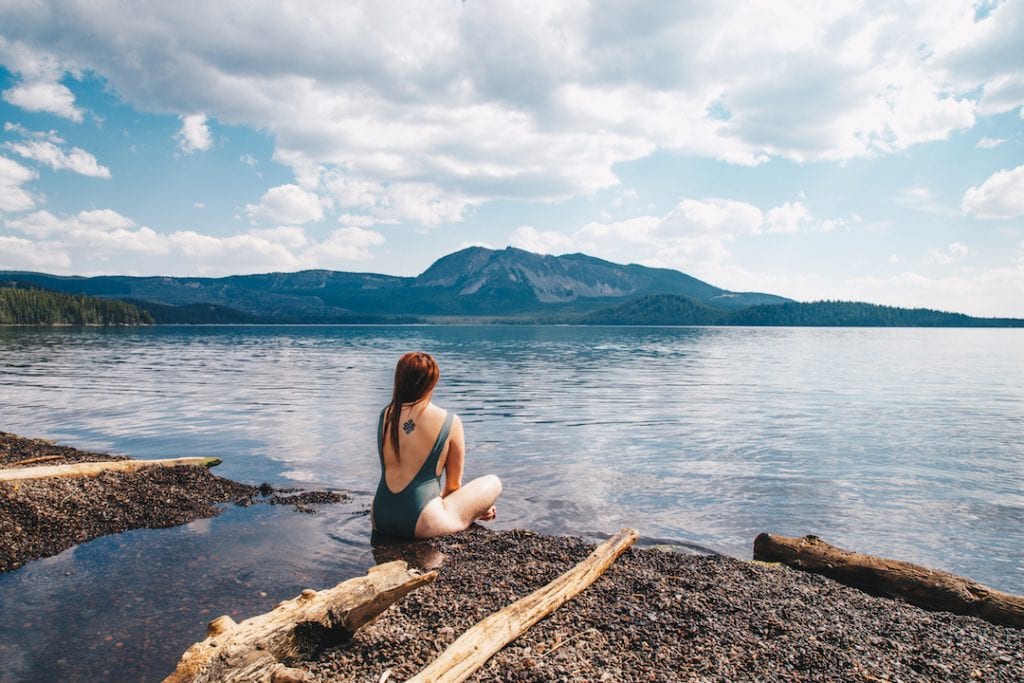 With the weather cooling off but winter sports not yet in full swing, there is no better way to embrace the changing of the seasons than soaking in hot springs. Opt to hike to rock-lined pools along rivers and lakes or spoil yourself with resort-style bathhouses that are scattered through Oregon. Treat your sore muscles and revitalize your soul in these mineral-rich pools all within a day-trip from Bend.
Umpqua
If you are not bothered by nudity, these pools along the North Umpqua River are the place to soak. A short quarter-mile hike from the trailhead through dense forest leads to several geothermal pools nestled on a cliffside above the river. Unlike many springs short of space, the Umpqua hot springs have multiple pools that allow visitors some privacy and a range of soaking temperatures. Relax in a pool under a small shelter at the top or make your way down the cliffside. You can claim one of two smaller pools halfway down the cliff or climb all the way down to the river where a medium-size pool beneath bat caves awaits. If you get too hot soaking in this pool, cool off in this shallow stretch of the river or cross to the other side to reach natural springs and cascading falls. On the way back to the main highway, stop off at Toketee Falls, an 113-foot falls that plunges into a deep blue pool.
Driving time from Bend: 2 hours 15 minutes
Parking and fees: $5 day pass or NW Forest Pass at trailhead
Open: Year-round
Paulina
Found on the shoreline of Paulina Lake in the Newberry Caldera, these springs are the perfect activity for a gloomy day. The springs are nestled along the beach, allowing the cold lake water to cool off the boiling geothermal pools. Dug out with driftwood, these pools are highly primitive and building new pools is highly discouraged. While they can be reached by a short 1.2-mile hike from Little Crater Campground, it is well worth it to do the entire 7.8-mile loop trail from the Paulina Lakeshore Loop Trailhead. The trail encircles the entire lake through wildflowers, grassy reeds and volcanic rock.
Driving time from Bend: 1 hour
Parking and fees: $5 day pass or NW Forest Pass at trailhead
Open: May to September
East Lake
If you think Paulina Lake's hot springs are primitive, you have not seen the springs at East Lake, Paulina's neighbor in the Newberry Crater. These springs are great for those tired of the Paulina Lake crowds. There are trade-offs—unlike those at Paulina, these springs smell heavily of sulfur and can reach temperatures up to 120 degrees. They can be accessed by a short quarter-mile trail from the hot springs boat ramp, walking until reaching bubbling water. On a typical snow year, these springs usually are submerged in the lake until late July, so are best-visited in the late summer or fall.
Driving time from Bend: 1 hour
Parking and fees: $5 day pass or NW Forest Pass at the parking area near the boat ramp
Open: May to September, but best starting in late summer when water level is low
Bigelow/Deer Creek
The quiet neighbor of Belknap Hot Springs, Deer Creek, also known as Bigelow Hot Springs, is one small pool tucked on the banks of the McKenzie River in the Willamette National Forest. This peaceful pool is sectioned off from the river by rocks, with hot spring water flowing from the pool's bottom. Its close proximity to the river cools it off too much in the winter, but makes it the perfect soaking temperature in the summer and fall. It can only handle a few guests at a time, so consider going on a weekday or prepare for a possible wait. Even with its close proximity to the highway, clothing is optional in typical Oregon hot springs fashion.
Driving time from Bend: 1 hour 20 minutes
Parking and fees: Free to soak, Turn onto Deer Creek Road, cross a bridge over the McKenzie River to park
Open: Year-round, but can be too cold in winter months
Crystal Crane
Hidden in a high-desert oasis twenty-five miles east of Burns lies this magical hot springs resort. A longtime hub for dirty travelers, Crystal Crane hot springs consists of a 101-degree mineral hot springs pond and several private soaking tubs, rentable by the hour. Plan a visit on a clear night and stargaze while you soak. With its close proximity to Steens Mountain, the Ochocos and the Malheur National Wildlife Refuge, pitch a tent nearby or choose one of the resort's unique overnight options, including a teepee with a private hot tub.
Driving time from Bend: 2 hours and 30 minutes
Parking and fees: Hot Springs Pond Day Use: adults over 12: $10, seniors over 62: $5, children 5-12: $5, children under 4: free; Private Bathhouse: $15/hour or $50.00 for 2 people for 2 hours
Open: Year-round, 9 a.m. to 9 p.m.
Summer Lake
Southeast of Bend in the Oregon Outback amidst a vast high desert landscape awaits this 145-acre hot spring resort, Summer Lake. These springs have been flowing for thousands of years, traveling to the surface through a natural fault to the almost a mile underground, and were unknown until hundreds of feet of lake water receded. Established in 1988, the resort features a bathhouse and outdoor hot springs-fed rock pools, all between 106 and 118 degrees. Either travel down for the day or choose from a variety of accommodations, ranging with low-price tent campsites to geothermally-heated cabins or guesthouses. If you have more time in the area, it is well worth it to explore the ancient geography and petroglyphs nearby.
Driving time from Bend: 2 hours
Parking and fees: Day use: $10 for adults, $5 for ages 7 to 15, free for six and under
Open: Year-round, 9 a.m. to 7 p.m. for day use, open 24 hours for overnight guests
McCredie
McCredie Hot Springs, once a historic resort, consists of several undeveloped pools on either side of Salt Creek off of Highway 58 near Oakridge. These springs are great for large and small groups alike, with the largest "party" pool being 30-feet-wide and the smallest being only a yard in diameter. The large pool is a short walk from the main parking area between milepost 45 and 46 on Highway 58. If looking to reach the smaller, more secluded pools and avoid crossing the two-foot-deep creek, turn down Shady Gap Road, turn right at both splits and park at the first wide spot. From here, a mile-long hike through ferns, moss and wildflowers leads down to the pools. Since these pools are relatively-isolated, prepare to be in the midst of naked hippies or become one yourself.
Driving time from Bend: 1 hour 30 minutes
Distance: If accessing main pool, just a short walk down to the river from the main parking area. If visiting southside pools, prepare to hike a 0.9 mile out and back trail down to the springs.
Parking and fees: Free to soak, park between milepost 45 and 46 on Highway 58 next to McCredie Station Road near Blue Pool Campground for main pool. For southside pools, turn down Shady Gap Road, turn right at both splits and park at the first wide spot.
Open: Year-round
Bagby
Bagby Hot Springs is nestled deep within the Mount Hood National Forest on the Collawash River. An easy 1.7-mile hike through lush forest leads to the bathhouse, consisting of cedar wood tubs in both private and community settings. The spring water is 138 degrees Fahrenheit but can be cooled off with water from the river below. Unlike most Oregon hot springs, nudity is not allowed (but that's has never stopped Oregonians before). Because of its close proximity to both Portland and Salem, these hot springs are highly frequented and often mistreated, so make sure to pack out your litter and be respectful of your surroundings.
Driving time from Bend: 3 hours
Distance: 3.4 miles roundtrip from Bagby trailhead
Parking and fees: $5/person soaking fee to be paid to attendant or fee box or purchased at the Ripplebrook store on the way
Open: Year-round, but road not maintained in winter months