Nestled along the scenic shores of Suttle Lake, the Boathouse at Suttle Lake Lodge is the perfect destination for a relaxing late lunch, capping off a day of lake activities and shoreline lounging. Situated in the Deschutes National Forest, just a forty-minute drive from Bend, this seasonal gem is a quintessential summertime retreat.
Initially built in 1925, the lodge property underwent a remarkable transformation when it was acquired by the team behind Portland's Ace Hotel in 2016. While retaining its nostalgic charm, the Boathouse now boasts contemporary flair and the ambiance of an elevated summer camp. The culinary offerings and cocktail menus have also evolved, rivaling those of trendy Portland bars and surpassing expectations for a typical lakeside lodge.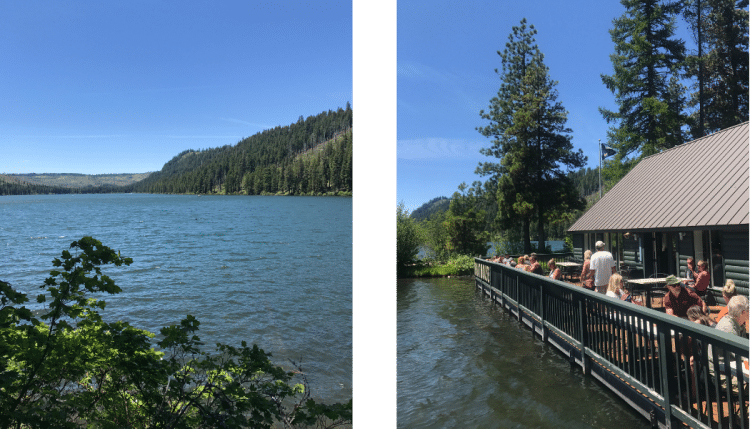 Overlooking the lake, the Boathouse's waterside deck provides a delightful setting. Here, children jump from the docks, kayakers embark on leisurely lake tours and dogs splash in the water. Inside, the Boathouse exudes a bright and airy atmosphere. Guests can easily stock up on grab-and-go provisions to enjoy the lakeside. Or, for a full meal, head to the convenient walk-up counter, manned by a welcoming and attentive staff. The efficiency of the service ensures that diners can savor their meals without unnecessary delays, enhancing the overall dining experience.
Under the guidance of Joshua McFadden, a renowned Portland chef, the Boathouse offers a simple and curated menu with inventive twists. We decided to indulge in the delicious Fish and Chip Sandwich and Cold Sesame Noodles during our visit. To complement our meal, we opted for two of the menu's specialty cocktails: the refreshing Lawn Margarita and the invigorating Frozen Pump, a tasty concoction of vodka, grapefruit, cappelletti and lemon.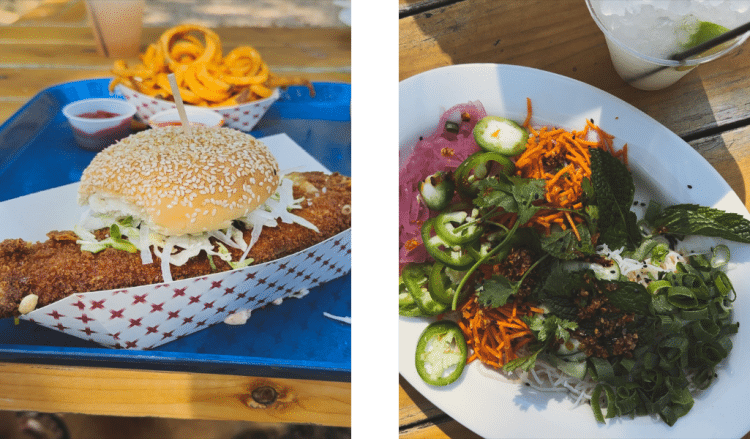 Choosing to sit at the inviting picnic tables on the lush lawn above the Boathouse, we were greeted by the gentle sway of towering pine trees and a cool summer breeze that offered respite from the heat. From this elevated vantage point, we enjoyed a view of the shimmering lake and the swimmers in the distance.
A standout dish at the Boathouse is undoubtedly the Fish and Chip Sandwich. The perfectly fried, chip-crusted trout filet nestled between a soft potato bun, accompanied by tangy tartar sauce, pickles and crisp iceberg lettuce, created just the right balance of textures and flavors.
The Cold Sesame Noodles were equally impressive, bursting with flavor. A harmonious blend of delicate sesame-infused noodles, fresh vegetables, and a generous drizzle of crispy chili oil resulted in a bright and refreshing dish with just the right amount of spicy kick.
The Boathouse at Suttle Lake Lodge, with its stunning lakeside location, exceptional dishes and welcoming atmosphere, is a secluded treasure and a must-visit for those seeking an idyllic summertime retreat.
13300 US-20, Sisters, OR | 541-638-7001
thesuttlelodge.com/the-boathouse/
---
Click here to read more about our local food and restaurant scene.