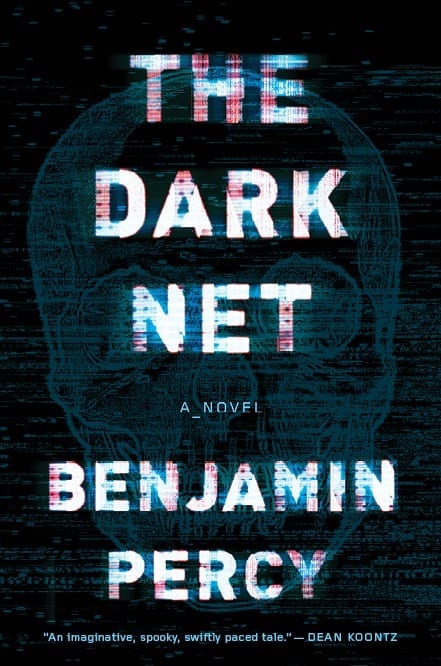 The Dark Net, the most recent novel from the award-winning author, blends thriller, horror and fantasy genres into a fast-moving plot that is filled with the quick-witted prose for which Percy is known. The novel is especially prescient in today's political climate, with villains that lurk in the dark corners of the internet, wreaking havoc through binary code.
"There are so many things we fear right now, but cybercrime is chief among them. I wanted to take a knife to the nerve of the moment," said Percy. "We can't build walls that can keep those people out."
Percy hones in on today's political and social anxiety, but brings in an element of fantasy that engages, rather than making you feel like flipping the channel to escape the news cycle. Percy described The Dark Net as a "fairy tale for the digital era." It's a book that can be devoured in a weekend, but it will stick in your head much longer than that and make you question yourself each time you pick up your phone to mindlessly scroll and click. Those who've spent any time in Portland will appreciate the references tucked into each page, from slices of Hot Lips pizza to a heart-racing scene that captures the specific anxiety of driving through the Terwilliger curves in the rain.
Though he lives in Minnesota now with his family, Percy, 38, grew up in Oregon. Born in Eugene, his family moved to Hawaii for brief stint then to Central Oregon when he was in fourth grade. He graduated from (the now-closed) Sunriver Preparatory School in 1997. He describes the town at that time as "in the process of being Californicated."
Percy went to Brown University with the idea of becoming Indiana Jones, majoring in anthropology. He described his parents as "obsessive rockhounds," and the family spent weekends exploring Central and Eastern Oregon for fossils, geodes and petrified wood, where he caught the bug for archeology. They were all voracious readers, too. Percy describes a typical evening scene at his house, the entire family sprawled out reading: his dad, science fiction; mom, westerns; sister, astrophysics; and him, horror. "That appetite for books carried on through adulthood," Percy said. (His sister, Jennifer Percy, is an award-winning journalist for the New York Times Magazine.)
Percy finally "hung up his fedora and Indiana Jones fantasy in my mind" when he worked for a summer at Glacier National Park. He was writing love letters to his girlfriend, and now wife, who told him he should become a writer. He replied, "OK."
The Dark Net is Percy's fourth novel. He writes short stories as well as essays and nonfiction. Most recently, he writes the Green Arrow and Teen Titan comic book series for DC Comics and the James Bond comics for Dynamite Entertainment as well as screenplays. Percy will be at Roundabout Books on November 12.