The Haven is a new co-working space that will allow for 100 members and space for collaborative and independent work.
In 2011, Bend native Carrie Douglass worked from home and felt stir-crazy. As the founder and CEO of the national nonprofit School Board Partners, a co-owner of Cascade Relays, a Bend-La Pine School Board member and a wife and mother, Douglass, 38, wanted to mix with the world while still clocking some serious productivity.
Douglass checked out Bend's co-working spaces, of which there are now about half a dozen and largely cater to tech startups, but they didn't meet this sweet spot of cozy inspiration and functional utility, Douglass said. So, she took it upon herself to start her own co-working space, The Haven, with the help of an all-women team and a small local "tribe" of ten investors. The Haven blends the best attributes of the coffee shop, living room and conference hall into an intuitive floor plan.
Douglass said that most co-working spaces start with a certain number of square feet and ask themselves how many desks or offices can fit into it. "We started with questions like: Where are you most creative? What amenities would help you be at your best? What spaces inspire you?" said Douglass.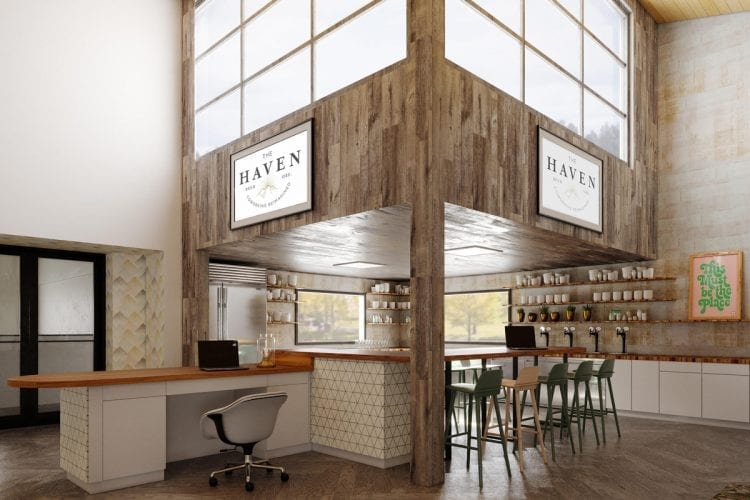 The Haven's executive director Chelsea Callicott also knows the value of a tailored space. Her husband Preston Callicott is the CEO of Five Talent software, which is BendTech's anchor tenant. Chelsea Callicott tried to work at the space but the silent focus of the tech incubator didn't help her productivity.
"I just couldn't do it. It was so quiet you could hear a pin drop," Callicott said. "That's a different kind of intensity than the way I work. I need a little bit of conversation."
According to a recent US Census estimate, the Bend-Redmond metropolitan area leads the country with 12.1 percent of workers who do so remotely. The national average hovers around 3 percent, according to a report by Flexjobs. That local number will only grow, said Adam Krynicki, the executive director of OSU-Cascades Innovation Co-Lab, which opened in spring 2018 and incubates as many as fifteen one-to-two-person startups at a time. Bend's easy access to the outdoors and the burgeoning tech scene has become increasingly attractive to entrepreneurs and aspiring remote workers, he said.
Opening in June, The Haven will occupy 11,000 square feet across two floors of the Deschutes Ridge Office (1001 SW Disk Dr.) in southwest Bend. While The Haven is dedicated to the needs of professional women, about 25 percent of the approximately 100 members who have already signed up are men, organizers said. Membership will be capped at 200.
"Women are still such a small percentage of entrepreneurs, CEOs and politicians that we want to focus specifically on helping women succeed in those leadership roles," Douglass said. "But lots of men are also finding that they are excited about our programming, amenities and design."
Drenched by sunlight that pours in from eight 180-degree views of the Deschutes River, The Haven is anchored by a striking communal work table salvaged from the trunk of a 380-year-old ponderosa pine that grew in what is now Drake Park until it toppled from natural causes. Conferences and brainstorming sessions will be aided by complimentary coffee, kombucha, craft beer and wine. Beneath a ceiling of cheery no-knot pine panels, mornings may begin with a sketch pad in the cushy yet cell phone- and conversation-free living room area called The Refuge. Afternoons might happen in The Pods, which features six semi-private booths for conversation with drawable curtains for heightened privacy. There are also five soundproof phone booths. Other members may wrap up their workday at one of fourteen dedicated desks or one of seven private meeting rooms which can hold four to fourteen people.
The Haven's diverse spaces are owed to the vision of creative director and interior designer Susan Manrao, who has previously worked with luxe hotels such as W Hotels Worldwide, St. Regis and Waldorf Astoria. The Haven team also conducted focus groups to hone in on what remote workers wanted.
"The Haven's space is the antithesis of the typical office environment," Manrao said.
Progressive amenities abound. Mothers will have access to a nursing/pumping space. Those who are invigorated by mid-day runs and hikes can freshen up afterward in the locker room area replete with four showers and beauty stations. There will also be programs dedicated to public speaking and personal marketing.
"We learned what people needed from a co-working space to function and also what they needed to thrive, to bring them to their best every day," Manrao said.
Douglass hopes The Haven will foster a work-life balance and help mitigate against an all-or-nothing attitude toward one's career.
"I feel like we're in this grand experiment at the forefront of the country," Douglass said of Central Oregon being the nation's leader for remote working. "So how do we really maintain the special, close-knit relationship-based community that I think makes Bend really special? We're trying to be that place-based community for this huge section of our population that no longer has that."