See that distinctive silhouette outlining the edges of Three Fingered Jack along the Cascade Range? Well, deeper in the archives of history is the tale of a three-fingered pioneer trapper named Jack who lived in the shadow of the shield volcano. There's more to a name than meets the eye. We may pass roads, landmarks and natural features every day and not give their names a second thought. Yet, the history of an area is often revealed in its landscape's lexicon, while also providing layers of intriguing narrative. Here's a glimpse of times gone by and a bit of Central Oregon unveiled, one name at a time.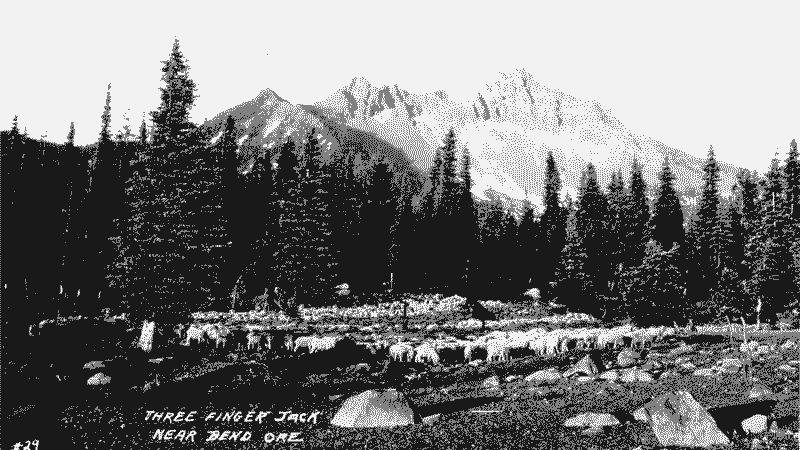 Three Fingered Jack
This easily identified Cascade peak was called Mount Marion in the 1870s—and was given that name after a road-building party from Marion County that was in the area at the time. The volcano has three main rock spires that lend it a descriptive meaning, and many a traveler along the Santiam Pass has tried to make out the pattern of three fingers. However, Lewis "Tam" McArthur (1883-1951)—secretary for the Oregon Geographic Board for many years—wrote that it actually got its name from a three-fingered trapper named Jack who had a cabin nearby. The first ascent of the tallest spire of the peak was on September 3, 1923, when six men from Bend climbed to the summit of the highest "finger." 
Awbrey Butte
Was the prominent butte located in northwest Bend named after a prominent citizen? Not quite, although Marshall "Marsh" Awbrey was an early settler who attempted, like many a Central Oregon resident, to grow his fields in an often disagreeable Central Oregon climate. Born in 1829, the Missouri native served in Mexican and Rogue wars, and drove freight wagons from Jacksonville, Oregon, to the gold mines of Yreka, California. He came to Central Oregon in the early 1870s, moving near the Deschutes River and settling near what is now the site of Harmon Park in Bend. There, he planted some rye in the meadow along the river. A severe winter, followed by devastating spring frosts, destroyed his crop so he moved farther downstream on the Deschutes River and settled near the present site of Tumalo. While his crops didn't stick, his name did.   
Market Roads
When settling in Deschutes County in the decade from 1920-1930, just owning land created decent odds that a market road would be created in your name. According to the Deschutes Historical Society, the Oregon Market Road Act of 1919 provided funding for the construction of roads to facilitate access to agricultural resources and give from farmers to fishermen the ability to "get their goods to market." There were some fifty market roads constructed during this era, and they were given names for the property owners whose land the road traversed. 
Dutchman Flat
Dutchman Flat is found two miles north of Mount Bachelor and was named for a homesteader nicknamed "Dutch John" Feldewerd. He was one of a multitude of Dutch settlers in the area in the 1880s who came for the promises provided by open space and land ownership. Dutch ranched near the present site of Bend in the 1880s and ranged his sheep and cattle as far west as Sparks Lake. He had a property near Vandevert Ranch where it is written that he and his neighbor "Scoggin" (William G. Scoggin) had an argument over a spring near the boundary of their adjoining property—both believed they had rights to its water. Their method of conflict resolution was a duel. Scoggin shot first and wounded Dutch John. Scoggin then rode his horse to Prineville, bringing a doctor back to treat Dutch John who later recovered. Afterward, both men decided to sell or abandon their claims. 
Brothers
Even during bygone days of wagon travel, there have been rest stops for weary travelers. On the early road from Bend to Burns, Brothers was one such resting point for wagoneers. The community had a store, saloon, school and later a service station. In 1913, Patrick H. Coffey, its first postmaster, suggested the name to be Brothers to commemorate the several sets of brothers from different families who had homesteaded nearby: the King, Stenkamp, Varco, Kruse and Hogue families. Several years of drought and difficult economic times shattered the dreams of many of the early settlers. However, construction of Highway 20 through eastern Oregon led to new opportunities for Brothers to provide rest and service for travelers through the high desert, where the rest stop exists today.
Ashton Eaton Boulevard
Referred to as "World's Greatest Athlete," decathlete Ashton Eaton earned not only a gold medal in 2012, but that year he earned the La Pine City Council's unanimous vote to rename a portion of U.S. Highway 97 within the city limits as Ashton Eaton Boulevard. Ashton Eaton was born in Portland, Oregon, and he and his mother moved to La Pine when he was a young boy. Later they moved to Bend where Ashton attended middle school and Mountain View High School. A track athlete at University of Oregon, he competed in the heptathlon and decathlon where he won five collegiate national championships—he holds the 2010-2012 world record in the heptathlon, and in 2012 he set the world record for the decathlon. His 2012 Olympic victory sealed the deal for La Pine's hometown hero, and secured his path along the boulevard that bears his name today and secures his place in Central Oregon history.  
---