Today, the Deschutes National Forest's natural landscape is known for awesome beauty and plenty of recreational opportunity. But once upon a time, the forest was home to a few select families. Seasonal forest guards spent their summers in guard stations, helping rangers protect the district's resources, often in remote locations down unpaved roads and miles from ranger stations in Bend, Sisters and Crescent. Forest guards' families often lived there with them. Some kids grew up at guard stations, and came away from those years with great stories to tell.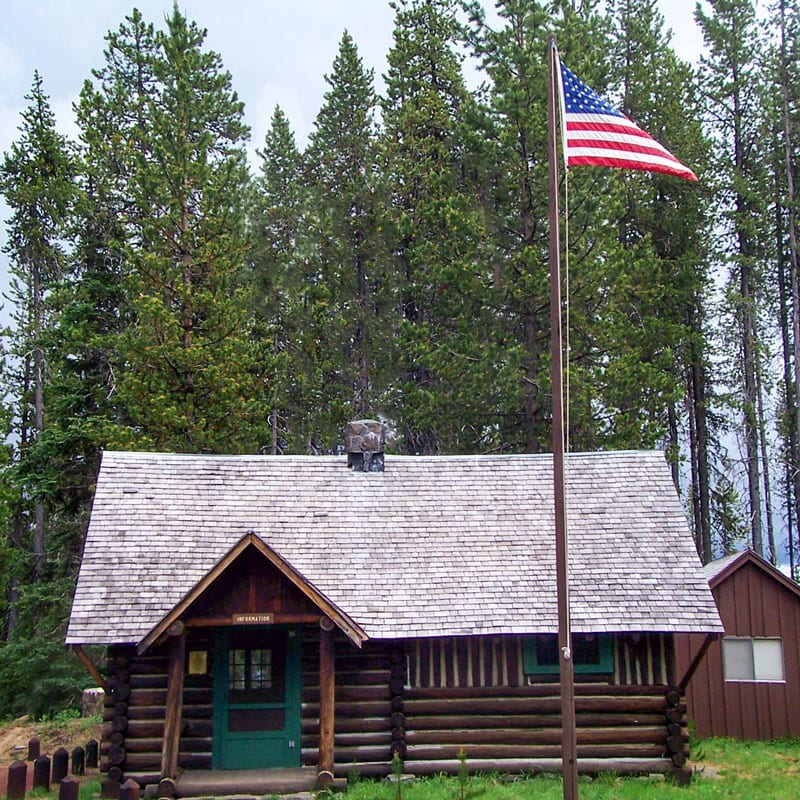 Dick and Dave Robins at Paulina Lake Guard Station
In the summer of 1942, John P. Robins, his wife Helen and their young sons Dick and Dave arrived at the Paulina Lake Guard Station, just as the Civilian Conservation Corps, finished building it. District Ranger Henry Tonseth had hired Robins, a former Sisters High School principal then teaching algebra in California, as his summer forest guard in the Newberry Caldera. Robins had previous experience as a Deschutes National Forest guard and fire lookout. He'd be at Paulina Lake Guard Station for seventeen summers, and Dick and Dave would grow up there, tagging along with their parents and eventually helping their father with his work.
Dave recalled helping pack supplies to Paulina Peak Lookout on burros when just a little guy. "My job with the burros was to apply an electric shock from a battery operated [livestock prod] whenever the burros stopped walking to get them going again," he said.
Once, when Robins and his sons were working at the start of the trail up Paulina Peak, the boys spotted a mother bear and cub. When the bear began moving toward them, the boys jumped in the truck and—taking normal precautions—locked the doors. This left their dad outside the truck. He yelled to the boys, they unlocked a door, he jumped in, and all were safe.
Dick and Dave grew up and eventually left Paulina Lake Guard Station for college and careers. But they always returned for visits to Deschutes National Forest—specifically to a cabin their mom and dad had built on a Metolius River summer home tract.
The refurbished Paulina Lake Guard Station now serves as a Newberry National Volcanic Monument summer visitor information station. Stop in on your next visit to this national monument within the Deschutes National Forest to see where Dick and Dave grew up.
Frances Wynkoop at Elk Lake Guard Station
Dick and Dave were "old hands" at Paulina Lake Guard Station when, 30 miles to the northwest, 6-year-old Frances Wynkoop arrived at Elk Lake Guard Station in June, 1947 for the first of two summers there. Her dad, Clifford Wynkoop, a teacher in Sherwood, Oregon, was assigned as forest guard there.
Fran recalls that her mother, Marjorie, who'd grown up in New York City, cried all the last 35-mile dirt road stretch from Bend to Elk Lake, wondering where her husband was taking her and their child. But when she looked out the cabin's window the next morning, she exclaimed "I never want to leave!"
On the northwest side of the lake, just north of Elk Lake Resort and surrounded by summer homes and campgrounds, the 1929 Elk Lake Guard Station was then the hub of a major recreation area. There, both Forest Guard Wynkoop and his wife greeted forest visitors, issued campfire permits and provided information and assistance.
Young Fran pitched right in around the station—where she helped with chores and trained a chipmunk she named Whiskey—and in the field when her dad collected campground garbage in his own 1930 Model A Ford pickup.
Fran had a lot in common with the Robins boys. Her parents also built a summer home on the Metolius River not far from the Robins' summer home. Fran spent her teenage summers there and remembers fondly the accordion duets she and Black Butte fire lookout Paul Strebel played at the Camp Sherman dances.
Last occupied by a Forest Service recreation technician in the mid-1990s, the historic Elk Lake Guard Station was restored by Forest Service personnel and Passport in Time program volunteers between 1998 and 2001. The historic station was reopened as a visitor information center and historic site in 2001, welcoming thousands of Cascade Lakes National Scenic Byway visitors every summer since.
Each station

 

tells a story
Other historic guard stations along Deschutes National Forest roads have similar stories and offer enjoyable visitor experiences. Built by the CCC in the mid-1930s at the headwaters of the river for which it is named, Fall River Guard Station has been restored and available as a recreation rental cabin for more than a decade.
Historic Deschutes Bridge Guard Station, along the Cascade Lakes National Scenic Byway on the Deschutes River about three miles south of its Little Lava Lake headwaters, was recently  restored and is scheduled to be available as a recreation rental soon. Behind this CCC-built cabin, an old log structure of the first Deschutes Bridge Guard Station compound remains.
Further south, in the Crescent Ranger District, historic Crescent Lake Guard Station has been a recreation rental for several years. And, to the north in the Sisters Ranger District, the restored Suttle Lake Guard Station is a rental property of The Lodge at Suttle Lake.