A cup of fro-yo after a day at the lake, a cone at the ice cream shop down the street from your childhood home, or a scoop of gelato after dinner at your favorite restaurant. Whatever flavor—and wherever you find it—these frozen desserts have a nostalgic place in everyone's hearts. To recreate the sentiment and beat the heat on a hot summer day, try cooling down with one of these Central Oregon frozen treats this summer.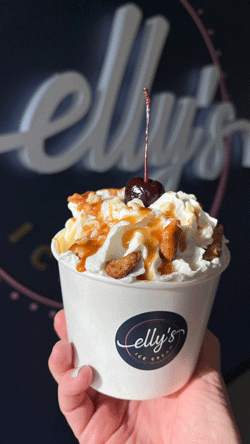 The Three Sisters Sundae has a double meaning to Elly Sisney, who started Elly's Ice Cream with her husband, Tim. Of course, there's the triad of mountains just outside of Bend which the name is attributed to, but this sundae is also special to Sisney because there are three sisters in her family. Starting with a delicious base of vanilla ice cream and drizzled with salted caramel, the Three Sisters Sundae is topped with house-spiced cashews and dried pineapple and finally, whipped cream and a local cherry. "We serve small-batch, super-premium ice cream with high-end, locally sourced ingredients—whenever possible—with endless flavor inventions," Elly said. After walking through Northwest Crossing one day, the Sisneys were inspired to create an ice cream shop in Bend. With more than sixty rotating flavors, and eccentric ice cream desserts, Elly's Ice Cream is becoming a Bend staple nearly one year after opening its doors. 
Visit Elly's Ice Cream at The Grove in Bend's NorthWest Crossing.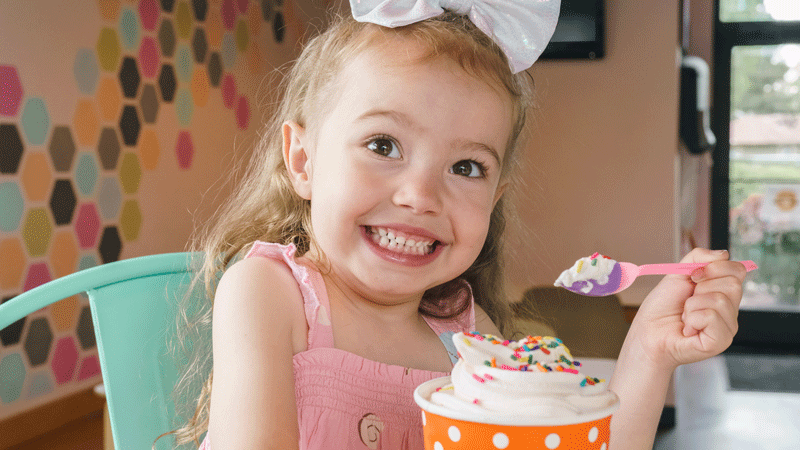 A once lone frozen yogurt shop on Bend's west side, Cuppa Yo now has multiple locations and franchise opportunities, so that every family can experience the fun environment wherever they are. No matter what, the Original Tart flavor will always be a perpetual flavor among those that rotate every two to three weeks. According to Keith Clayton and Crystal Lomeli—owners of Cuppa Yo Frozen Yogurt—there are many customers who return specifically for the Original Tart. Although Cuppa Yo is all about topping the frozen yogurt yourself for a recipe that's made for you, Clayton and Lomeli recommend topping the Original Tart with fruity pebbles, granola, nuts and fresh fruit that mesh well with the sweet, tangy pure-yogurt taste of the flavor. 
Visit Cuppa Yo at its original location on Newport Avenue in Bend, or on the east side of Bend on Northeast Cushing Drive.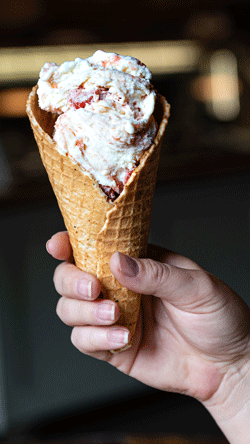 Bontà – Strawberry Rhubarb Swirl
In the heart of downtown Bend, Bontà is thriving in its mission to stay small, local and make artisan gelato. A favorite that has been tweaked over the years, but remains true to itself, is the Strawberry Rhubarb Swirl. Made with Oregon rhubarb that's been roasted in the oven with sugar, and pureed, it is layered on carefully crafted salted vanilla gelato, bursting through the dessert with every bite, according to Jeff Labhart, who owns the restaurant with his wife, Juli. "Juli is responsible for the bulk of the flavor creation. Making good, artisan gelato actually has a lot of math and science involved in it, with balancing sugars, fats, solids and liquids. Juli has a degree in math and a natural culinary knack for coming up with fun, but still appealing flavor creations," Jeff said. 
Visit Bontà in downtown Bend, or find pints of their gelato in grocery stores around Central Oregon.
---
Click here to read more about our local food and restaurant scene.