Evocative art is the culmination of a life's journey.
Written by Lee Lewis Husk
Photography by Alex Jordan
Fascinated by monsters and mythical creatures since childhood, Toby Putnam has evolved his art into bold, stylized, symbolic images. Like all artists, his work expresses a culmination of his life experiences.
In 2015, Putnam walked away from his nine-to-five life and auto upholstery business in Salt Lake City and road-tripped for seven months. He traveled across the West and up the California coast in a Sprinter van retrofitted for sleeping. He eventually came to Drake Park. "It welcomed me for the night," he said, adding that a second night's rest in Bend's iconic park was scuttled by the city's no camping laws.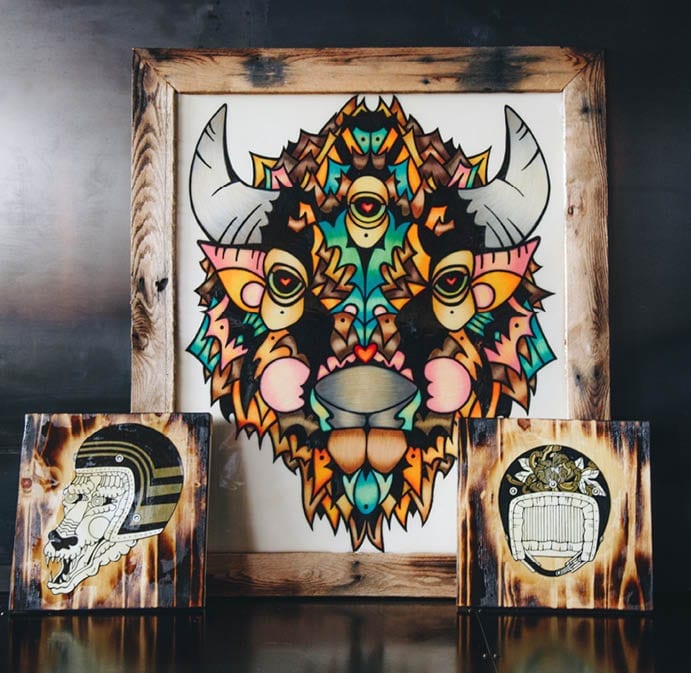 Nonetheless, he decided to stay awhile longer in Bend. He gravitated toward other creatives at the Cindercone Clay Center and The Workhouse in Bend's Old Ironworks arts district. Not long thereafter, The Workhouse commissioned Putnam for a series of large-format, mixed media works for its Last Saturday art walk in October 2016. Putnam titled the series "Love Monster" and evoked the words of Sylvia Plath: "I desire the things which will destroy me in the end."
To prepare for the show, the self-taught Putnam isolated himself for two-and-a-half months, living on five acres near Sisters. "I spent a lot of time alone, listening to hawks and owls screaming at me. It was the perfect energy to create and be present with yourself." One painting shows a powerful, geometric and stylized wolf with hearts in its eyes and one in its mouth. "I explore the duality of love," he said. "I created a love monster that is ravenous and can devour and destroy you. I also created a softer creature, a bison, which has a more welcoming nature."
Some of the love monster prints can be seen at Spoken Moto, a motorcycle-themed gathering spot in the Pine Shed near the Box Factory. Wearing a black denim jacket, the soft-spoken artist told of his own efforts to restore a 1975 Honda dirt bike. In the spring, he and tattoo artist Cheyenne Sawyer will collaborate on a show at See See Motorcycle in Portland.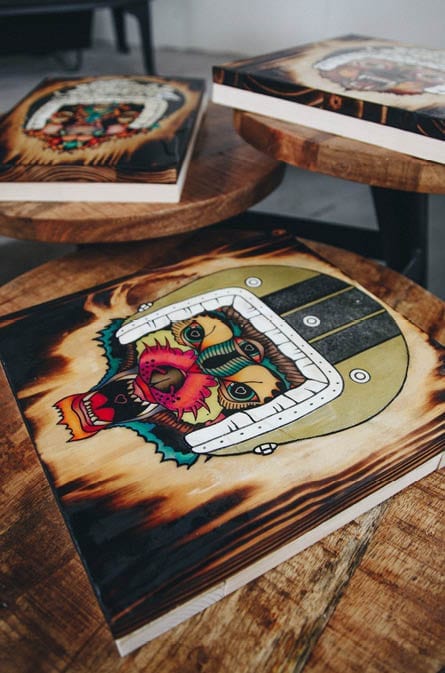 Putnam was a featured artist at The 1 Moto Show in Portland in February. To create five flashy, graphic motorcycle-themed images, he first drew with an ink pen on paper, overlaid the resulting image with gold foil and then added more definition with ink. The next step involved cutting out the image and attaching it to a 14 square-inch board with gels and resins. To achieve a weathered look, he beat the boards with chains and even scorched them. The resulting images include creatures—a lion and a dragon among them—wearing motorcycle helmets. Another depicts a set of handlebars intertwined with flowers and a snake.
"All of us have a journey. I've had a lot of tragedy. But I'm surrounded by beautiful people, and it's been very healing to be in this place," the 39-year-old artist said of Bend.