Growing up 56 miles east of Prineville on a cattle ranch along Beaver Creek, artist Greg Congleton learned to never throw anything away. "You just never knew what might be useful one day," he said. Back then, a scrap pile was an important resource to keep ranch equipment running; today, a scrap pile represents creative potential for Congleton. Rusted axe blades, dilapidated gears and worn-out springs are piled outside his workspace—items that could be mistaken for junk, but instead are the raw material from which he draws out magnificent beasts, regal personages, and scenes redolent of Central Oregon's frontier past.
Congleton got his start at the age of 16 through an art correspondence school. He studied this way for a few years until the rigors of college forced him to focus on his bachelor's degree. For twenty-eight years, Greg ran a Bend-based construction business while raising his family. After his children had grown, Congleton turned his focus to his art. In 2001, he took a weeklong sculpting workshop in Scottsdale, Arizona. He initially started with bronze, then moved toward sculpting in steel with found objects. It was partly thrift, but Congleton was also motivated by the joy and raw creativity he found in making a unique and valuable work of art from something that had been cast away.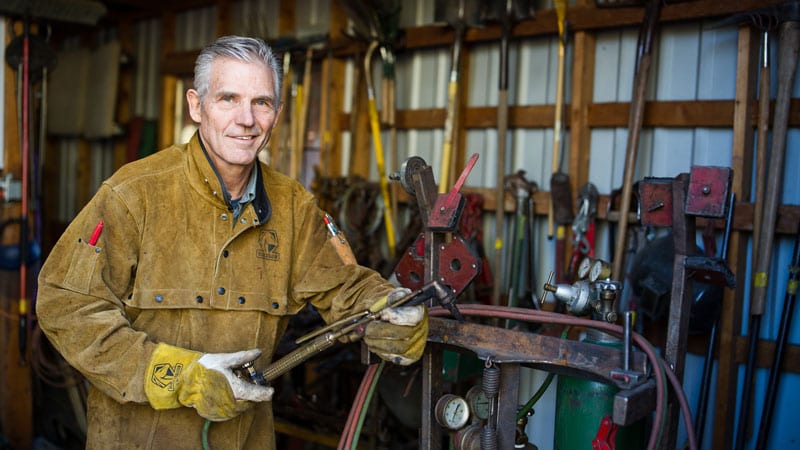 Congleton's talents in both carpentry and drawing have a place in his art. He builds the foundation of his sculptures much as he would frame a home. Every line is measured, and every angle is exact. The endoskeletons, as he calls the interior support structures, are perfectly engineered to bear the weight of the hundreds of pounds of steel they must hold. He draws sketch after sketch and studies structural models of humans and animals before he ever starts piecing together the rusted metal flotsam that eventually becomes a horse, or a buffalo or a rodeo rider.  
In 2019, Greg was selected by the city of Prineville to create a sculpture for a newly built roundabout. The city had a theme in mind—a high-spirited rodeo horse named War Paint who threw off nearly every rider. There's a bit of Prineville in this story. There's grit, determination and a sense of identity. There's the will to hang on, even when things get tough. This town was built by people like this. People like Congleton's granddad, Charles, who established a cattle ranch in the early 1900s. People like Congleton's parents, Lowell and Florence, who met as shipyard welders during WWII. And people like Congleton himself, who built homes and businesses around Central Oregon to make a life for himself and his family.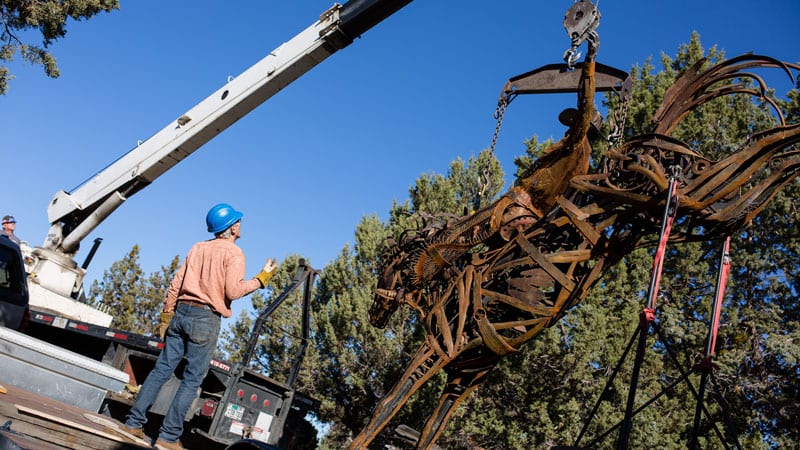 Once Greg has a solid sculpture armature, it's time to choose the layers that will differentiate this sculpture from any other. The selection is deliberate. Humor and storytelling play a large role. Four-inch wood screws and nuts create the cowboy's head and forks are bent into eyebrows and hair. Two manure forks become a rib cage with an oil pan for a chest. The cowboy's chaps are made from metal grating, lending the rider a subtle sense of movement. A conveyor chain represents the horse's backbone that bucked so many hopeful riders. Inside War Paint's head is an iron level, no doubt an apt choice for this stubborn bronc. Two antique rifles are situated in the horse's belly along with an iron sign letting the viewer know that "we don't call 911." This whole process takes more than six months.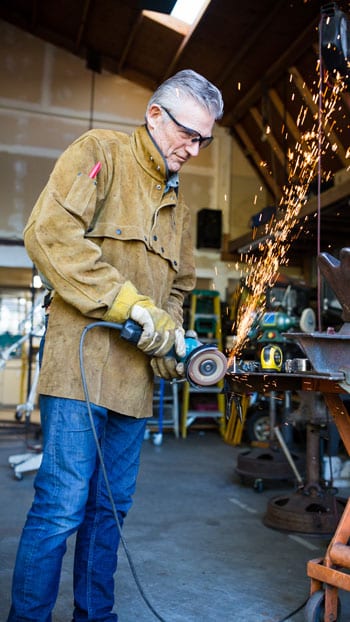 Greg's unique sculptures have captivated collectors and museums alike. There are several of his sculptures in prominent places around Central Oregon, including pieces in bronze, new steel and found object steel. Each piece tells a story. For War Paint, it's the story of Prineville's rugged, pioneering past. The story of holding onto things you might need. It's the story of building something new from the past. It's the perfect full circle for an artist who grew from this land and has now left his indelible mark, creating something beautiful from a pile of old parts.
Take your own Greg Congleton tour
Bend
Two Bits, Farewell Bend Park (Found object steel sculpture of a horse pulling logs)
Spires, The Pavilion (Steel sculpture celebrating the athletic attributes of aspire, perspire and inspire) 
Redmond
Air Traffic Control, Western 'Y' on the road to Sisters (Heroic-sized bronze sculpture of an eagle)
Western Swing, Northern 'Y' where 5th and 6th Streets converge (Heroic-sized bronze sculpture of a "cutting" horse, a cowboy and a yearling calf)
Papoose, Redmond Chamber of Commerce (Found object steel sculpture of a Native American woman with a baby) 
Prineville
Maverick, Prineville City Hall (Heroic-sized bronze sculpture of a cowboy and two horses)
War Paint is currently on display at the Prineville Courthouse through April. It will be installed permanently in the Tom McCall roundabout on Highway 26 before the grade descending into Prineville.