Soaking in afternoon backyard bliss is a favorite pastime for Central Oregonians. Outfitting an outdoor space conducive to both solo R & R and family time often makes the top of a wishlist for a high desert homeowner. Luckily, carving out such a space in one's backyard is perhaps the most accessible and approachable do-it-yourself home-build project of remodeling dreams. 
Just take Allison and Derrick Clouser's recent deck make-over for example. As owners of a home design company called Clouz-Houz, the couple had a leg up on their own DIY project. Allison has been guiding clients on interior design journeys for almost two decades. Derrick is a licensed general contractor and real estate agent. To glow-up a deck, follow the Clousers' inspiring how-to tips below.
Upcycle and Reuse
It's less expensive and good practice to reduce the ever-growing carbon footprint and reuse materials. The couple used this approach in their DIY deck project by reusing existing deck boards. "We flipped them over and planed the side that hadn't been exposed to the elements," Derrick said. "Once planed, we stained the boards with a dark espresso water-based stain to give the deck a more updated and fresh look. The railing style existed with the original deck. We sanded and restained it black to tie into the new stain on the deck boards."
Reflecting the inhabitants 
Because Allison wanted to stick with the coziness of the existing deck footprint, she made a point to enlist every inch of it. "The BBQ is used every week all summer long, so we needed that to be accessible. We chose a large sectional, perfect for our family to hang out on. Two of our three children are in college but come home in the summers," she said. "I wanted the ambiance to feel like a quaint patio with bold prints and comfy furniture, thus creating a little outdoor oasis that coordinates with the interior of the home as well."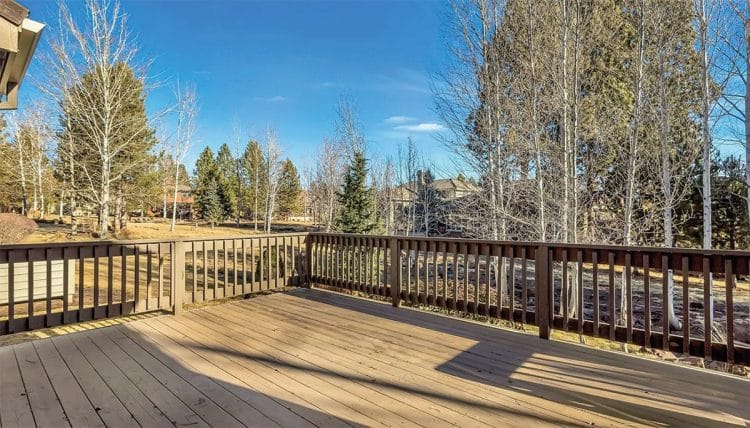 Maximizing with Minimal
Needing to maximize on seating, storage and space in general, Allison chose a modular sectional, then strung cafe lights way up high and hung hooks to house necessary items accessed from the deck frequently. "The modular sectional is an awesome way to build seating which can literally fit into any space," she said. "The sectional is the perfect spot for enjoying cocktails while Derrick barbecues. Many nights we turn on the white lights and just sit outside under the stars. The hooks outside the back door are spot on for holding warm throw blankets to curl up with as it gets late and leashes for our two other family members, golden retrievers Max and Lucy."
A collection of baskets, an end table and a coffee table that doubles as an ottoman also help store and organize keys, drinks, games, homework and other odds and ends. 
Tips for Selecting Economical Goods
Allison found her sectional pillows on Etsy and says there are numerous vendors and operations for customizing with outdoor fabrics. The indoor-outdoor area rug came from the Studio McGee Collection at Target. "This is a nice way to keep the deck soft underfoot, preserve the boards from the wear-and-tear of weather and make for a comfy nap spot for our golden retrievers," she said. For the finishing touches, Allison added small terracotta pots for fresh herbs such as basil, mint, rosemary and lavender for use in the indoor kitchen or outdoors on the barbeque and pizza oven, creating a welcoming space for warm summer days. 
---