Mary and Joe Ostafi are both trained architects, so they know a thing or two about building design. They're also minimalists, who enjoy being purposeful about their possessions, their spaces and their lives. That's why during the pandemic, as they sat working remotely from their 550-square-foot apartment in Oakland, California, they realized a change was in order. Mary had always dreamed of living in Oregon and both were eager to immerse themselves in the outdoors and escape some of the chaos of living in the city. "We'd never been here before, but I'd wanted to live in Oregon my entire life," Mary said. "We were just looking to get closer to nature." Joe had heard good things about Bend, and they liked that Central Oregon was less rainy than the Willamette Valley. "We took a chance and packed up a van and moved here," Joe said.
Seeking sustainability
As the couple settled into a rental home in Bend, they began looking for a permanent space to live that embodied their values, including sustainability. Mary started her career as an architect focusing on sustainability, getting in early on efforts focused on green building. She traveled to Sweden to pursue sustainability in grad school in the late 2000s and returned to practice architecture along with Joe at a firm in St. Louis. Today she's a high-performance coach who works with social and environmental entrepreneurs, guiding her clients to grow the sustainability movement. Meanwhile, Joe continues to practice architecture, designing mostly new research-and-development laboratories in Silicon Valley. When it came to looking for a home in Bend, they wanted something environmentally friendly, with a small footprint.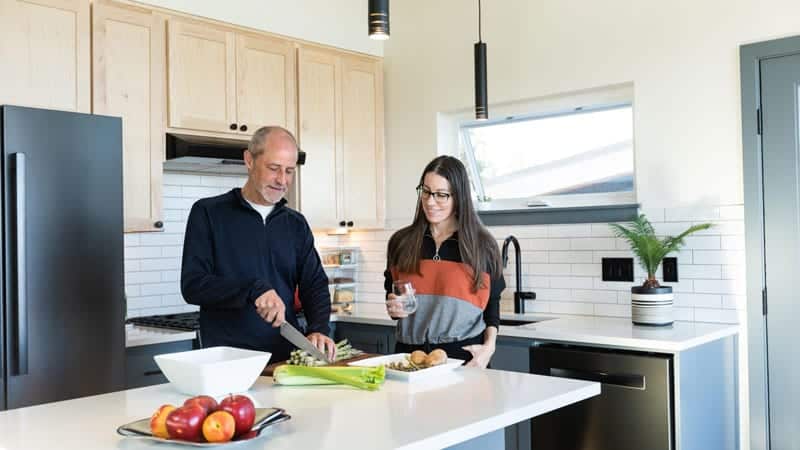 Luckily for the Ostafis, the new Hiatus Roanoke development was just underway, and their dream home wasn't far out of reach. The west Bend development features ten two-bedroom homes perched on a hill, each 1,200-square feet in size (including a 350-square-foot finished garage) and expertly designed to be energy efficient—about 40 to 50 percent more efficient than current building codes require. It's the second development by Hiatus Homes, following Hiatus Benham, a community of eleven studio-sized tiny homes in southeast Bend, which are also energy-efficient. As Joe said, the couple's new home at Hiatus Roanoke is high-performance—a perfect fit for his wife, a high-performance coach, and himself, a high-performance architect. The home was built with non-toxic materials, features a ductless, high-efficiency ventilation system, wall-mounted tankless toilets and high-performance windows, all details that make the home more environmentally friendly. The Ostafis were first in line to buy, and moved into their new home in late March.
Home at last
All settled in, the home feels purposeful and not too confined, with the Ostafi's furniture sliding into place just right. It's a perfect amount of space for the couple, along with their 14-year-old rescue cat, Adison, who loves basking in the home's plentiful natural light, but is still deciding what she thinks of the scruffy little dog that lives next door. The two-level home features a compact garage with entry into the downstairs bedroom, which is used as Joe's office or a guest room, with its own full bathroom. Upstairs is the main bedroom (also used as Mary's office), main bathroom and open concept living, dining and kitchen area. The highlight of the space is a massive folding glass door, opening up the living room to the upstairs outdoor patio and incredible views of Bend, including the Old Mill District. Peering to the right, the Ostafis can see Mount Bachelor in the distance, behind a towering Ponderosa pine tree that partially covers the snow-capped peak. The home's unique angled roof is designed to complement the sunlight year-round, blocking harsh light in the summer evenings but still offering plenty of natural light for the winter. Down below the deck, the Ostafis can see the last few homes in the mini development taking shape. The first five homes have sold, with the remaining five, still under construction, expected to hit the market this summer. As the neighborhood fills up, the Ostafis expect to get along well with the new residents. "We all probably share similar values if we're buying smaller homes," Mary said. 
The Ostafis adore the design of their new home, and Mary loves that the lower square footage encourages the couple to continue the minimalist lifestyle. "What we love about it most is that it's a small house," Mary said. "We love the modern, minimalist design. They really leveraged every inch of space." Even if the Ostafis had used their own architectural skills to design something custom, the end result would have been very similar, Mary said.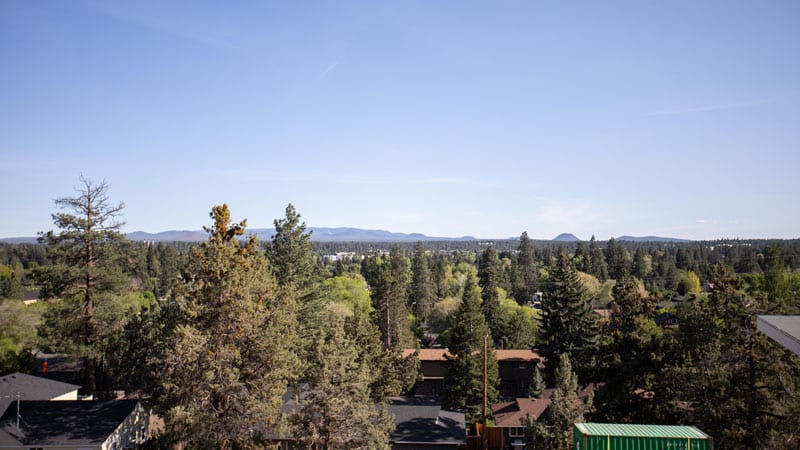 Soaking in the sunshine from the patio on a late spring evening, the Ostafis said they're eager to see more of what Bend has to offer, post-pandemic. They're taking care of a gardening plot at Millers Landing Community Garden, and are regulars at the Bend Farmers Market, where they like to pick up fresh produce for Joe—a former sous chef—to use in home-cooked meals. They feel like they've just begun to explore the region's culinary scene and are eager to meet more people in the community. They've already met their first two neighbors in the development, who have moved in on either side of their house—and are enjoying exploring the outdoors via biking, with plans to get kayaks or paddleboards in the future. Joe said, "We love the idea of being in this community of people with like-minded views."