The façade of the modern home facing a busy Bend street may garner an appreciative glance at its angled roofs, wide walkways, attractive plantings, an overarching Russian olive tree and a Zen-like enclosure near the front door. Yet a second glance could make a curious person wonder what's on the side that overlooks the Deschutes River because that's where the home unfurls its remarkable layout. Let's go there for a moment.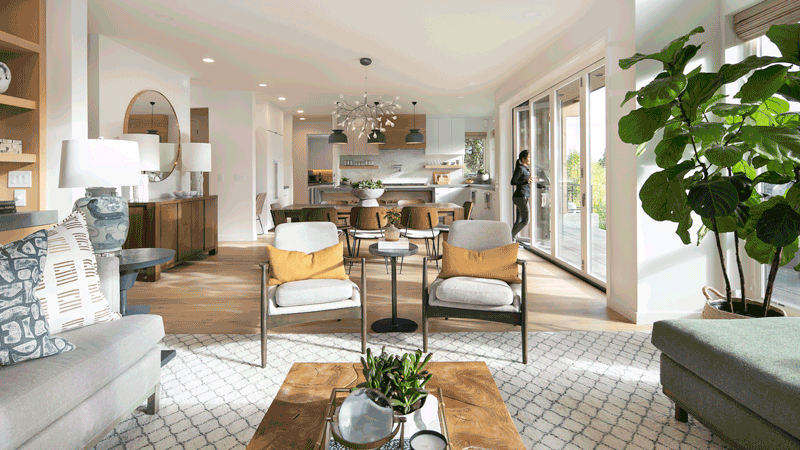 It's a warm summer evening with the low hum of voices rising off the river. Inside, a person tending bar passes drinks through a large kitchen window hinged at the top. The window opens out over a covered bar where guests converse with those inside. Around the corner is a covered patio where someone asks about a South African-inspired wood-burning oven known as a braai which can roast chickens or even a whole pig on a spit.
The kids are hanging out in the family room. The home's only TV is silent. Who wants to watch TV when friends are over to play shuffleboard, listen to tunes and lounge on the daybed? Outside below the family room window is a large warm-water spa where parents enjoy a soak after kayaking the river or hiking in the Cascade high lakes. A cedar-enclosed outdoor shower is a few steps away for a quick rinse off before dinner.
After the meal, people gather around a firepit to relax and recount the day's adventures. A couple takes the stairs to the river for a last look before sunset and to be sure the kayaks are secured on the river's edge.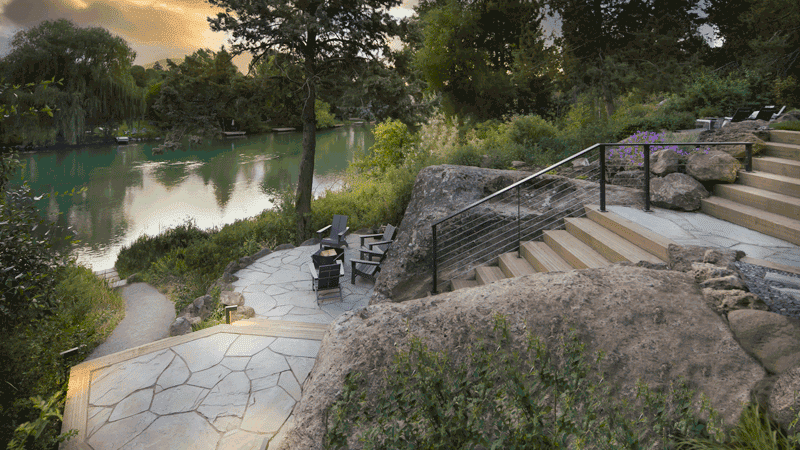 Old makes way for the new
Until 2019, a 1920s-era cottage stood on the site. A family moving to Bend from overseas fell in love with the home's riverside location, proximity to downtown and safe river access for their children. They bought the property and hired Bend architect Karen Smuland to determine whether it was possible to remodel and expand the existing structure.
A feasibility study revealed that only a fraction of the home was supported by a foundation, and retrofitting a second story would be prohibitively expensive. The owners made the tough decision to dismantle the cottage and build a two-story home with modern energy efficiencies.
Trevin Duey of Trevin Duey Construction, who was brought in as the builder, said "A conscious effort was made to recycle and repurpose rather than throw everything in the landfill." Doors, windows, cabinets, appliances, plumbing and lighting fixtures went to Habitat for Humanity's ReStore and others who would repurpose them. "It took a little extra time to do the right thing," he said. In the end, they were able to recycle about half the original structure.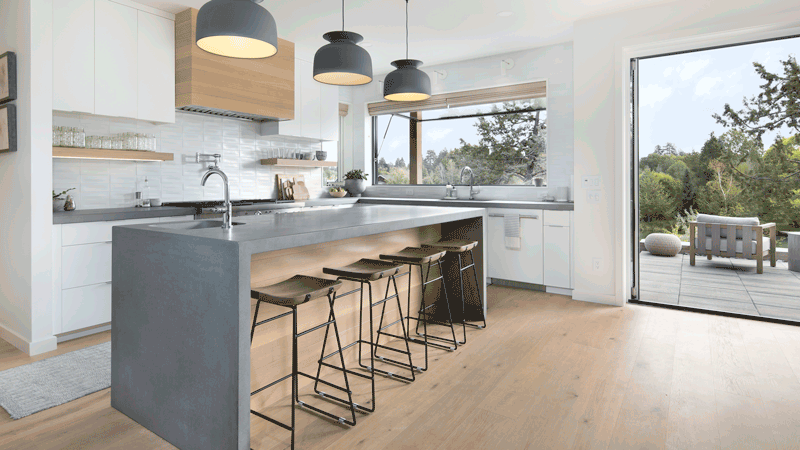 Two other professionals were hired, Mike Szabo of SZABO Landscape Architecture and interior designer Lucy Roland of Harper House Design. The group, which formed a tight design and building pod, felt it was important to preserve some elements of the former home, such as mature trees, including the Russian olive and heritage crabapple trees. Incorporating native features such as rock outcroppings, juniper trees and riparian vegetation was also important.
The site presented challenges—proximity to the Deschutes River required extensive storm-water management to prevent river contamination; a popular park and playground next door called for privacy screens; and a 20-foot right of way in the front couldn't be encroached. To avoid having handrails throughout the property's sloping grade, Szabo said the strategy was to create a series of terraces starting at the house all the way to the river. Each level would create a different zone for different use. The upper terrace was for cooking, dining and entertaining, the middle terrace for playing lawn games and the lower terrace with a firepit cupped by a huge boulder was for enjoying a nightcap or a morning coffee break. He noted the use of board-formed concrete imprinted with a natural cedar pattern adds organic texture to landscape walls and harmonizes with the cedar-siding-clad house.
Designing indoor-outdoor living
The design group's overarching goals included using sustainable building practices to create a home that flowed seamlessly from inside to outside, and that would accommodate the family's active sports and outdoor pursuits, their love of music and entertaining family and friends from around the world.
Smuland designed a 3,800-square-foot, four-bedroom home with two stories and river views from most rooms. The structure is covered by a series of shed roofs, including one that supports solar photovoltaic panels for renewable energy. The couple's preference for Scandinavian design lends a sense of minimalism with sleek, unfussy lines throughout the home's interior.
"Karen created a house that isn't enormous, but every square foot of the house has a function so it works well for a family of four," said interior designer Roland. "There's a place for everything and everything is in its place."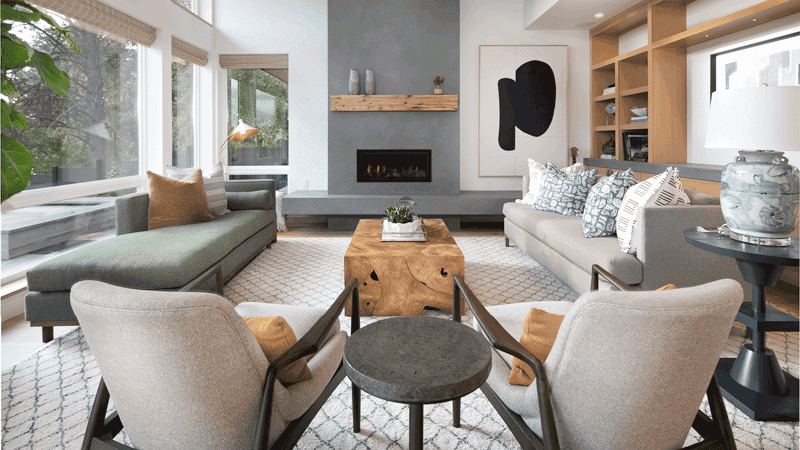 The initial inspiration was a casual and family-friendly home that was chic, timeless and sophisticated, Roland said. "Placement of the home within its environment was important so we were careful not to compete with the gorgeous views around the house," she said. "We didn't lean heavily on pops of color but rather chose layers of textures, neutrals, earth tones, crisp white walls and cement accents.
"The kitchen is the showstopper for most people who see the home," she said. "It comes down to a mix of materials—Cement Elegance-crafted countertops, white oak and white cabinetry and handmade Heath Ceramics tile backsplash. The open-plan kitchen, dining room and great room spill onto the multilevel patios through a large folding glass door.
The built-in bar at the awning window marries the interior kitchen to the patio while celebrating the spirit of hospitality and whimsy true to the home's vacation cottage legacy, Smuland said. The outdoor kitchen with the braai oven also includes a gas grill, sink, refrigerator and cabinets. "The built-in cabinetry is topped with concrete counters which play with the concrete board-formed patio walls to create a soft-organic feel consistent with the interior's concrete theme," Smuland said.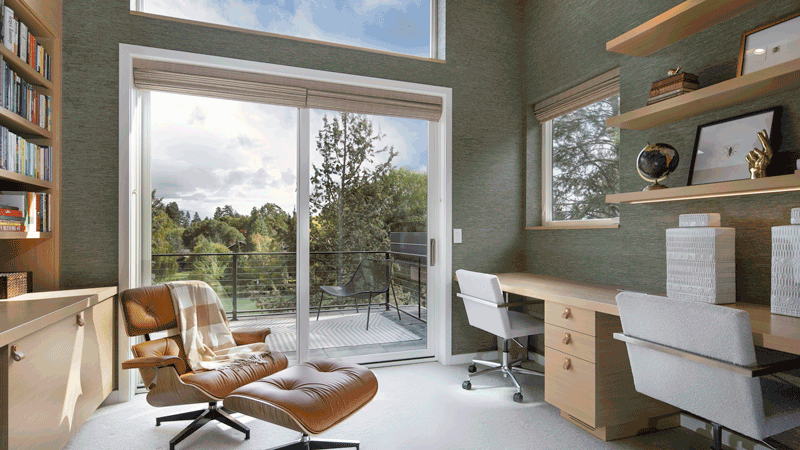 The inside contains a myriad of spaces designed to hide and tuck away appliances, sporting equipment, laundry and other clutter that would compete with the Scandinavian aesthetic. A large butler's pantry stores kids' snacks, canned and dry foods, toasters and other appliances, under-counter beverage coolers and anything that the owners want to keep out of sight. The mudroom, accessible from the garage and side of the home, allows individuals to wash off muddy feet and hang wetsuits to dry.
Upstairs is where the family sleeps. The primary suite's unusual configuration includes a galley hallway that connects a built-in daybed as a reading nook, a shared office with built-in bookshelves, a small bedroom, a large walk-in closet and bathroom with a stand-alone bathtub and skylight. The other upstairs wing contains two kids' rooms, each with its own bathroom.
"It was enjoyable to create something so unique in a high visibility area to be enjoyed for generations," builder Duey said.
"It's mind-blowing when you stand back and see how well the home was designed and built. It looks like it's always been there. It blends into the environment," Roland said. 
Architect: Karen Smuland, Karen Smuland Architect | Builder: Trevin Duey, Trevin Duey Construction | Interior Designer: Lucy Roland, Harper House Design | Landscaping: Mike Szabo, SZABO Landscape Architecture
---