For Deborah Adams, clinical operations director of Partners in Care, the new Hospice House is an opportunity to advocate for her staff who have done incredible work in an aging building with a less-than-optimal environment for today's standards. At the open house of the new building, watching the faces of the team of physicians and registered nurses of Partners in Care looking at the building they'll soon provide patient care in was a memorable experience for Adams.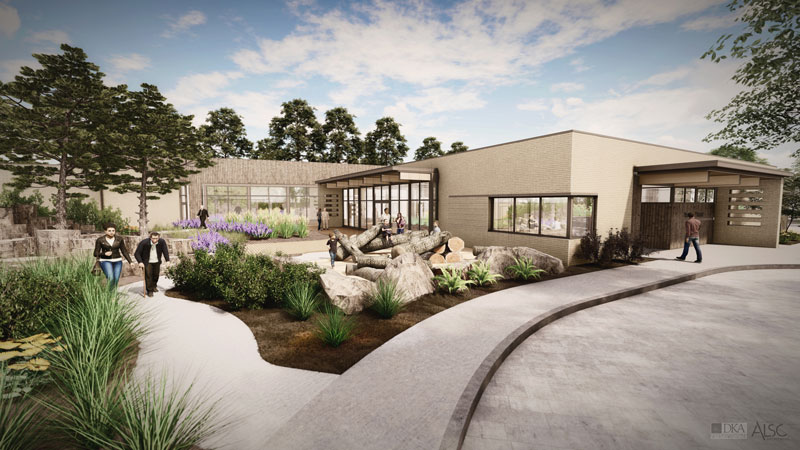 "It's a once-in-a-lifetime opportunity for most to have an experience of having been part of creating a building like this and watching it open," said Adams.
The Only Specialty Hospital in Oregon East of the Cascades
Hospice House is the only specialty hospital in Oregon east of the Cascades, and there are only three in the entire state. Partners in Care serves a 10,000 square-mile region of Central Oregon, offering hospice, palliative care, home health, transitions and grief support in addition to the Hospice House, where end-of-life care is given. Patients that come to Hospice House receive 24/7 care by a nurse, are seen by the in-house physician daily and have access to a fully stocked pharmacy. 
"Hospice House comes into play when a patient is at home being cared for by our team on hospice care and something happens where maybe they have a pain management need or symptoms that can't be adequately or fully addressed in a home setting," said Marlene Carlson, director of development and communications. "The patient can come in here to have those symptoms managed. Sometimes they go home again after they're able to, and sometimes they pass away here at Hospice House."
The New Hospice House
The new Hospice House, located next door to the original Hospice House on the eastside of Bend near the hospital, features twelve rooms in a homelike environment that feels like an oasis of tranquility and peace. The modern design includes a great room with a fireplace, an activity room, a full-service commercial kitchen and kitchenette, a medicine room and a beautiful chapel complete with a sound bowl—all surrounded by the comforting elements of earth, air, fire and water.
"I like to stand in my favorite spot here [in the heart of the patient area] and look up and down the two wings—six rooms on each wing with curved hallways designed to be calming, pleasing, homelike and accessible—very functional, but also just very attractive," said Carlson. "Considering this could be a high-stress time of somebody's life, you want to do everything you can to meet those needs."
Each room is named for a unique feature of Central Oregon landscape and has artwork reflecting the landscape on the walls. All patient rooms have large windows that let in abundant natural light and can be opened to bring in fresh air, also giving views of a rock garden just outside. In addition to state-of-art technology, the rooms have personal touches including a donated handmade quilt, a lantern welcoming visitors to the room, and ample visiting space with a private bathroom. The rooms were designed by architects experienced with hospice homes and a working group team from Partners in Care who met with the current Hospice House for recommendations. 
Partners in Care provides an important service to the community, and it was time for an upgrade. "Our old building was, well, old. It was a lovely building that was a community effort over about twenty years ago, and it was almost out of date the minute we moved in," said Adams. "There are a lot of features for providing optimal patient care that are standard of care now that were missing, and with only six beds and the growth in this area, we were looking to the future."
The new 14,600 square-foot Hospice House cost $12 million. Partners in Care's reserve, accumulated over the years, covered half the cost, and the community raised the other six million. Many donations came from locals who had a personal hospice experience and the medical community, including grants from St. Charles Health and Summit Health. 
The new Hospice House anticipates opening its doors to patients soon, with continued patient care at the current Hospice House until then. 
"We've always been centered on the patient and their family, and now it's going to be an enhanced experience for them—more space to spread out, more amenities, and we'll be able to serve more respite patients who have often been on a waiting list because we've had such a small facility," said Carlson. "We'll serve more people, serve them better and be seen by the whole region as an asset." 
For more information, or to volunteer or donate, visit partnersbend.org.