A unique framing style once reserved for barns and warehouses is growing in popularity and leading to a new wave of creative homes and structures. Pole barn, or post-frame construction, design allows for walls of windows and breathtaking views, something a conventionally framed home couldn't easily support. And as the use of pole barn construction gains traction, traditional builders are seeing more demand for barn-inspired homes, including here in Central Oregon.
Metaphorically, the pole barn framing structure of poles and trusses are "tree-like," said Steve Nuetzel, a Bend-based architect and general contractor who built a few pole barns for clients before deciding he'd like to build himself one as a home. "Pole sounds like it would be round, but they're actually square or rectangular," Nuetzel said, explaining that each pole in a pole barn structure is placed twelve feet apart and set four to six feet deep in concrete like a flag pole. Trusses are then bolted to each side. 
Nuetzel's pole barn home vision comes to life just south of Sunriver near the Deschutes River, where the indoors transition seamlessly into the live lodgepole and ponderosa pines outside. The barn home is split into a residential side and a workshop area. The residential side includes 1,100 square feet of space with one bedroom, one bathroom, the kitchen and living room. An expansive covered deck just outside its glass doors offers an additional 1,200 square feet of outdoor living space perfect for lounging and dining. The workshop side of the home is the most barn-like, providing another 1,100 square feet for a combination workshop-office area complete with a 14-foot-high door where Nuetzel renovates RVs and trailers. 
On the residential side, the home's exterior is made up of red cedar siding and top-to-bottom walls of windows, interrupted only by the naturally stained Douglas fir poles that support the home, while the workshop side of the building has metal siding. Nuetzel carefully considered aesthetic and efficiency in building a home he would love, installing clear, vertical grain Douglas fir cabinets and concrete slab countertops, polished to a high sheen. The natural materials complement the light, organic feel of the home. "It's a really uplifting space," Nuetzel said, explaining the high ceilings, natural light, and views of the sky and treetops through an atrium over the living area make the home feel "almost spiritual."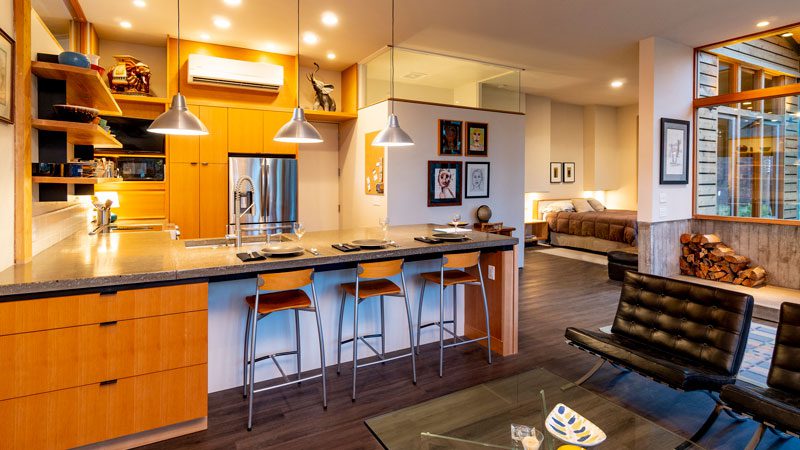 Many of the home's design features are also energy saving, offering long-term cost-effectiveness, Nuetzel said. The roof's deep overhang shades the home enough that he hardly ever uses his air conditioner, and in winter, an efficient wood-burning stove surrounded by a large concrete hearth absorbs and reflects heat so well, Nuetzel doesn't use his heater much either. 
While not technically pole barn construction, DC Builders out of Damascus, Oregon, is known for building barn-inspired residences, which also offer wide open floorplans. One barn-inspired residence built in Central Oregon features a barn-style RV garage downstairs with a spacious living area on the second story. 
Generally, pole barn construction is a little more affordable than for a conventional house, meaning homeowners can turn and invest those cost savings into higher-end finishes inside, or save the money altogether. 
Cost was a concern for Amber and Josh Blount, who sold their Bend home to purchase a ten-acre property in Terrebonne, with plans to build a custom home. When faced with escalating prices along with labor and material shortages related to COVID-19, they decided to get creative with their construction plans. "We (were) standing at the property and looking at this forty-eight-foot by twenty-four-foot pre-existing (pole) barn at the top of the hill and thought to ourselves, 'maybe we can make this work?'" Amber Blount said.
Bend-based PJ Hurst Design and PSE Consulting Engineers, Inc. of Klamath Falls were excited to guide the Blounts on their remodel for the home they're calling "Terrebarn." Having lived on a Portland floating home, a hobby farm and a unique hillside house in Bend, the family is at home in unusual spaces. And because they rent out their house when they vacation, the Blounts can appreciate the appeal of a one-of-a-kind abode.
That fits well with the design style of PJ Hurst, whose motto is to "do the unexpected." Her design will showcase sweeping views of Smith Rock and local mountains via panoramic windows and incorporate nods to rock climbing throughout, including a climbing wall up to the Blount kids' secret reading loft and a mural of Smith Rock. With two levels, the three-bedroom, two-bath home will boast high ceilings ideal for a hanging chair and acrobatic equipment hung from the trusses. A library ladder in the kitchen will allow the family to reach high cabinets designed to add storage space. 
While construction hasn't quite begun, Hurst is excited to support her clients in bringing the design to life. "It's such a cool thing to see a modern family jump into this barn lifestyle and really absorb this as their life," Hurst said. "It just kind of shows that it's not just a concept, it's a way of life."