Sponsored Content
To the untrained eye, the many small factors that elevate a house from traditional construction to a green, high-efficiency home are likely to go unnoticed. Whether it's the effectiveness of insulation in the ceilings and walls, the configuration of studs within a wall or the number of panes in the glass patio doors, the details are what make all the difference in the quest to build green. With a little know-how, Central Oregonians can start to spot some of the differences in homes built with energy efficiency in mind, and those building new or remodeling may even push for these sustainable methods to be used in their own homes.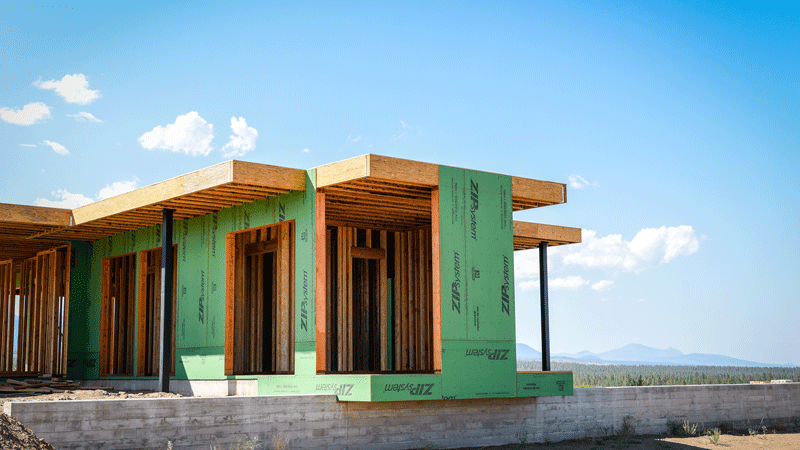 Since 1999, Timberline Construction of Bend has refined its own practices when it comes to green building, keeping up with the latest and greatest in environmentally-friendly building practices that clients seek out, while also making certain green features standard on all the homes the company builds. "Most of our clients have at least some concerns for their own health, the health of the community we live in, and the overall health of our environment," said Kevin Lorda, a project manager for Timberline who has worked for the company since 2001. "Some clients are very motivated when it comes to conscious building, while others may just wish for some of the efficiencies and healthful aspects of these homes." 
Timberline owner Kristian Willman explained that while some of the energy efficient green building practices and products are done at the request of clients, others are standard practice for the company. "We're doing some things as a builder as a standard," Willman said. "These include really focusing on the envelope of the home—the windows, walls and insulation—the shell of the home." Willman said creating a well-insulated, airtight building envelope is an essential part of green building, and something Timberline Construction is well-versed in.
Foam insulation, which is always used by Timberline, is sprayed into wall cavities, expanding to create an airtight seal that helps homes retain their temperature throughout the year—keeping cool in the summer and warm in the winter. Also inside the walls, prospective homeowners can choose whether to upgrade from regular studs in the wall to a staggered stud approach, a framing technique that keeps the two sides of a wall from touching, thus dampening sound and more importantly, reducing the touchpoints for thermal exchange—meaning even better insulating. "Our houses are so airtight, that we have to exchange air mechanically," said Willman, who explained that HVAC systems and the opening of doors and windows help with this exchange, keeping home air fresh. During smoky summers, a home's airtight seal and filtered air exchange is particularly valuable. 
A home's plumbing system is another area where sustainable options are worth exploring. Low-flow and low-flush faucets and toilets are becoming more common, while tankless water heaters continue to be an efficient tool for only heating as much hot water as is truly necessary. One tool that can help in the case of a plumbing emergency is Moen's Flo Smart Water Monitor and Shutoff, a product that alerts homeowners via smartphone of abnormal water usage at home, regardless of where they are. "I think every home should have one of these," Willman said. Timberline can also install environmentally-friendly greywater systems that recirculate used water from showers, bathroom sinks and washing machines for use again in toilets and washing machines.
Sustainable building practices continue to grow in popularity, Willman said, particularly here in Central Oregon, where residents value outdoor recreation and taking care of the earth. "More people are becoming environmentally conscious, and I think people who are living in Bend or moving here are more outdoorsy," Willman said. "It's all about wanting to protect what we have in our backyard."
Earth-Friendly Features
Foam insulation
Triple-glazed windows
Electric appliances
Solar power
Staggered stud walls
Zipwall exterior sheeting
Low VOC paints and products
Low-flow water systems

 

Water monitor and shutoff system