Amy Hazel has been called the "Second Mouth of the Deschutes River," but she couldn't care less. She's just here to fish.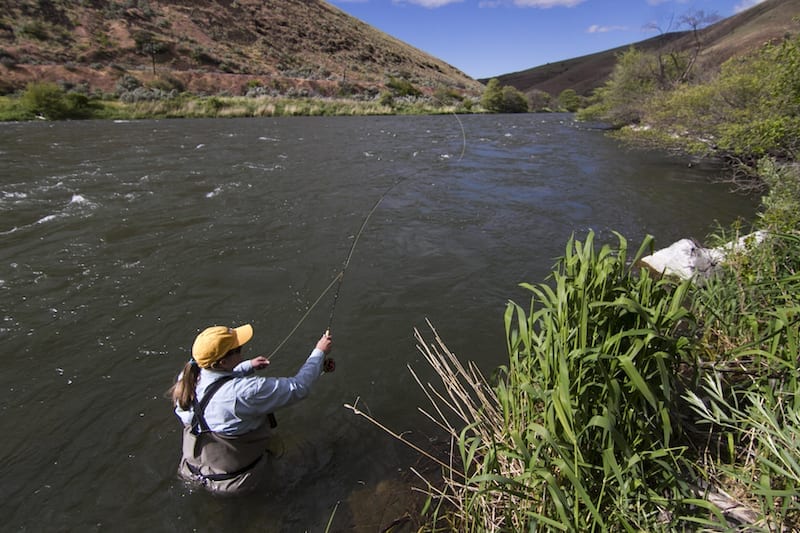 "Can you feel that?" asked Amy Hazel. "This is it."
We were hiking along the riverbank of the Deschutes River in Maupin, waders on, fly rod in hand. Green foliage was just starting to crop up along the bank, a striking contrast to the golden grass and red and brown rocks that painted the canyon walls above us. A blue sky brushed with hazy white clouds stretched seemingly forever beyond the canyon.
Hazel's feeling was something only a fisherman knows. It's how the water flows and how the wind blows, what the foam on the water looks like and where the bugs are. They call it "reading the water." It seems like more of a hunch. Hazel felt it, so we climbed down the bank through the brush and stepped into the water.
We were knee-deep in the river, close to the bank and wedged between rocks and grass that stuck out of the water. After tying a stonefly pattern on the line and throwing a few casts, Hazel explained how an angler knows where to cast the line, something done by feel as much as anything else. It was mid-morning, and a slight breeze was starting to pick up.
A few minutes later. No bites yet. Evan, our shuttle driver and one of her guides, had told her this spot had been fishing well that week. "We'll blame Evan," she said jokingly. "He was lying; this place is shit."
Then, of course, the line tightened. Fish on.
Small Town, Global Sport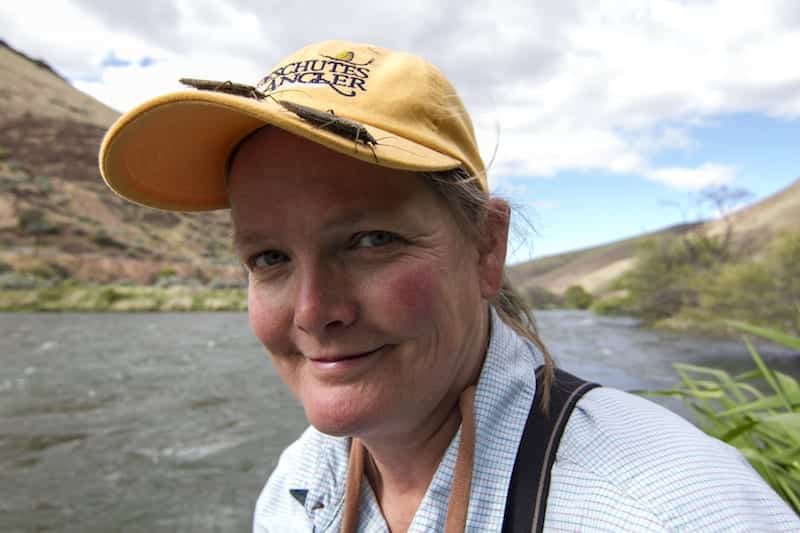 Hazel is a formidable presence on and off the water. At five feet nine inches tall, dressed in waders and a Deschutes Angler baseball cap and with a boisterous voice and a firm handshake, Hazel could be an intimidating figure. But any intimidation is immediately tempered by her kind face. She laughs easily and, in turn, so do the people around her.
Maupin is a hamlet of about 400 people on the Deschutes River between Madras and The Dalles. It's a place built around the river. In the summer, the population swells to a few thousand people, nearly all of them here to raft and fish. Hazel landed here nineteen years ago at age 28, recruited by John Hazel—considered one of the masters of fly-fishing and spey casting—who wanted her to work for him as a guide. They met at a convention in Portland. He also wanted to date her and, after a few months, he landed her. Eventually, they got married and opened Deschutes Angler, a fly shop in Maupin.
This was the late nineties. Hazel had just come off a yearlong journey traveling around the world to fish. One of her shticks is rattling off the countries, in order and in one breath: NewZealandAustraliaIndonesiaMalaysiaSingaporeThailandLaosVietnamNepalIndiaIrelandEnglandScotlandWalesFranceZimbabweZambiaSouthAfricaArgentina. The only continent she hasn't fished on is Antarctica.
Hazel grew up in Minnesota and learned to fish in the lakes and creeks near her home. She didn't pick up fly-fishing until she went to college at Middlebury in Vermont. Leaving school, she had offers to work on Wall Street, but decided to take some time off instead. She traveled to Thailand, then spent some time working odd jobs in the Pacific Northwest before embarking on her backpacking trip around the world.
It's probably fair to say that by the time Hazel got to Maupin, she had reached her 10,000 hours of fly-fishing (the time it takes, per Malcolm Gladwell, to master something). John Hazel brought her in as a guide in his fly-fishing guiding service. The only female guide in the group, and in a sport that's male-dominated, Hazel did encounter some sexism. But it didn't take long to prove her skills.
The culture of sexism continues to pervade some aspects of the sport—especially for those making a living at it—and social media compounds the issue, she believes. Hazel said she's grateful that she came of age as an angler before the advent of platforms such as Facebook and Twitter. Women today who show interest in fly-fishing get mocked for being try-hards or get accused of getting sponsorships without earning them. It's a brand of misogyny that's common in outdoor sports. Sometimes the aggression is more direct. She encounters men on the water who yell or put up a fight over a spot she's fishing. 'He'll yell at me, 'It's a big river' and I say, 'Yeah, it is.'" As in, he can find somewhere else to fish.
She and her husband live on a 300-acre property on the outskirts of Maupin on a cliff overlooking the river. They have two dogs, and Hazel has a couple of horses. They don't have children, but she calls the guides who work for them, "my boys." It can be easy to romanticize a life on the river, but the days are long and the pay isn't great. Deschutes Angler, their fly shop, doesn't see a lot of customers in the winter. They rely on times like the salmon-fly hatch in late spring that brings anglers from all over the country and on repeat clients of their guiding service. She and John travel all over the world to fish now, but after almost two decades on the Deschutes, Hazel doesn't have a desire to move anywhere else. "You can't get this kind of fishing anywhere else in the West," she said.
Fighting for the Future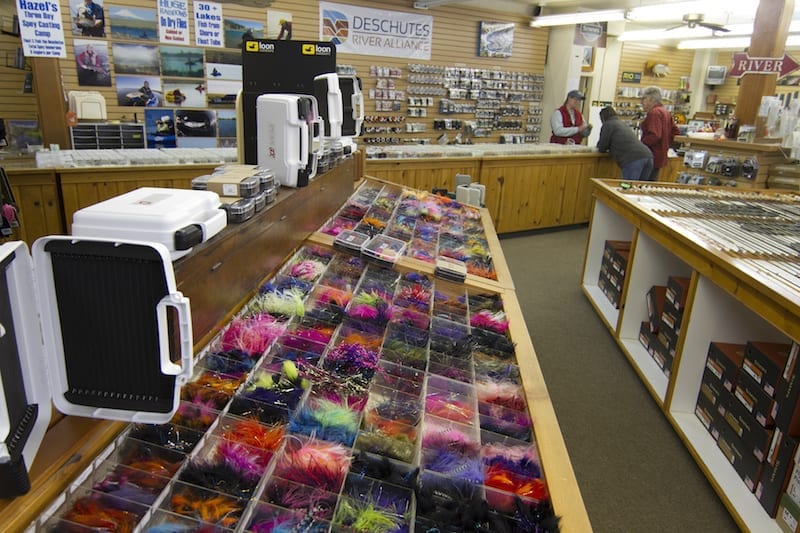 Her passion for the Deschutes River is also why she's playing an active role in the politics of it. In 2013, she joined a group of fisherman, scientists and activists to form the Deschutes River Alliance, or DRA. The nonprofit is aimed at addressing and correcting issues they say have arisen on the lower 100 miles of the river since the installation of the Round Butte-Pelton Dam Complex fish passage facility in 2009. The DRA has waged a public relations and awareness campaign about the issue and is currently suing Portland General Electric (the current owners of the dam complex) for violating the Clean Water Act. PGE tried to have the lawsuit dismissed earlier this year, but that was denied, allowing the DRA's suit to proceed. The case is currently pending in the United States District Court.
Hazel isn't often serious, but when she talks about the lawsuit and the DRA, her frustration is visible.
"I just don't want to see this river turned into a shithole," she said, in characteristic frankness.
A Day's Work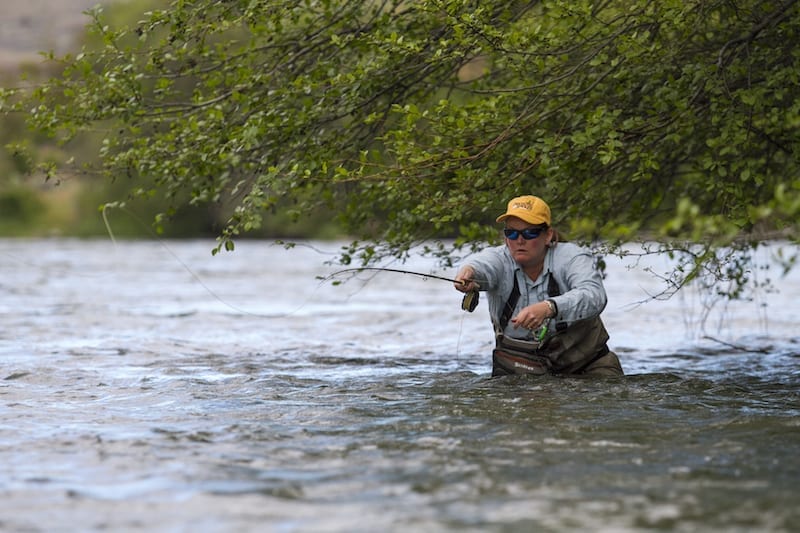 Hazel promotes the organization and its primary cause: getting clear, cold water back in the lower river. She's not shy about sharing her opinions. She'll talk about it—along with any other thoughts, good or bad, she has that day—in her shop and on the blog she writes almost daily on the fly shop website. It's what earned her the nickname "The Second Mouth of the Deschutes River" on an online forum, made by an anonymous poster. She shrugs off the ill intent, though, chalking it up to just another encounter that happens when you're on the river.
Hazel talks the whole day while we're on the water, mostly unprompted, though she'll constantly interrupt herself to identify the bird in the water or one that's flying overhead. Identifying birds and bugs is a hobby she picked up from endless hours on the river guiding and teaching people how to fish.
With most of her time spent in the shop, Hazel doesn't get a lot of time on the water these days. A day like the one we spent together, where she just gets to fish, is rare. But she rattled off tips and tricks all day without hesitation.
"I can't help it," she said. "I'm always teaching."
"Yeah, but this time you're the one that just gets to fly fish all day," I said.
She looked out at the river toward her line in the water. A small, knowing smile broke out across her face.
---