In 1904, a handful of citizens who lived in the not-quite-yet-incorporated community of Bend were craving greater access to news from all around the nation. They formed "The Bend Magazine Club," a subscription club that allowed members to read a multitude of national magazines by borrowing them from one another. With this initial modest idea of sharing resources for the greater good, Central Oregon's first lending library was born.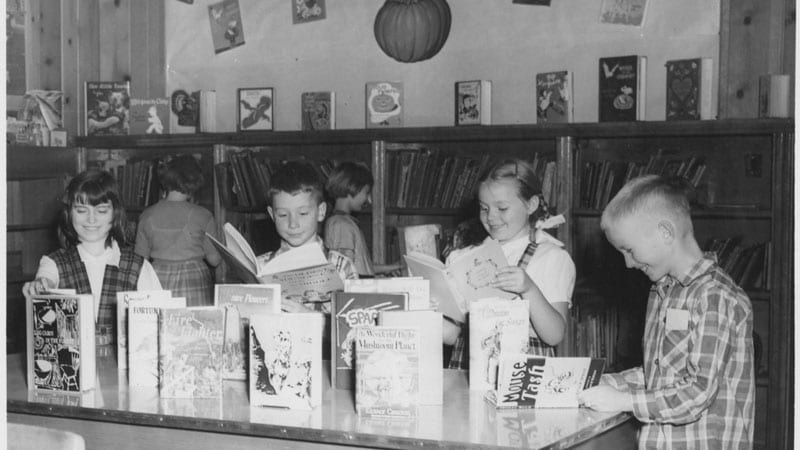 The idea quickly grew to include books donated from citizens or borrowed from the State Library, explained current Deschutes Public Library Director, Todd Dunkelberg. But what the library didn't have, was, well, a "library." Without a specific location to house books and magazines, patrons would meet wherever they could to make their exchanges, usually in various public spaces. "We did not have permanent homes for our libraries, relying on various store owners to lend us space to operate," said Dunkelberg.
Deschutes Public Library was officially formed in 1920, bringing together independent, informal library systems both in Bend and Redmond. But it wasn't until nearly twenty years later that a permanent structure was built, at the cost of $27,000. The Bend Library—today in use as the library administration building in downtown Bend—opened in 1939 as the region's official library.
From there, the library only continued to grow. "By 1970, we had permanent facilities in La Pine, Sisters, Redmond and Bend, and a bookmobile service that traveled to the outskirts of the county," said Dunkelberg. The bookmobiles brought the library to all sorts of people who may not otherwise have access to its resources, including those at the local lumber mills and living in rugged logging camps. Plenty of citizens traveled long distances to visit the library itself, too. It wasn't unusual to see dedicated patrons ride up to the library on their horses, having come from the region's most rural areas, said Communication and Development Manager Chantal Strobel, who's worked at the library for 26 years.
Even back in those early decades, the library made available more than just books, Dunkelberg added. "Customers had the ability to check-out hardware and tools from our tool library collection."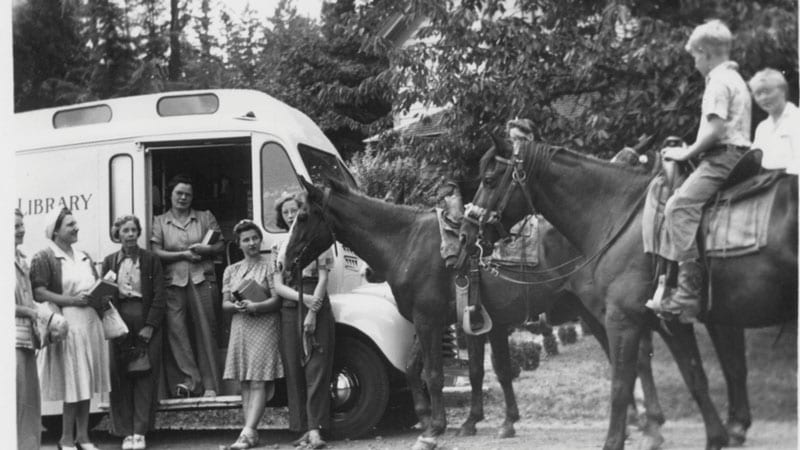 Despite the variety of services offered and the popularity with patrons at the county's libraries, Dunkelberg says there were dark days in Deschutes Public Library's history in 1998, when the organization faced permanent closure because of lack of funds. After a few months of closure, the library secured a small, but reliable tax district base, voted in by the people of the county that same year.  Contributions from private donors, coupled with fundraising efforts by the non-profit Friends of the Deschutes Public Library, keep the library running.
Still, surviving a centennial is no easy feat for modern libraries, amidst the vast changing technologies and ever threatening budget cuts. To stay relevant, our library had to become more than just a place to borrow books, it had to become the heart and soul of our community. Those old enough to remember searching for books alphabetically in card catalogues housed in long wooden drawers or when librarians had to hand stamp the due date on the front page of a book, know how transformational the changes have been.
In 1920, the founders could never have imagined the kind of resources the six branches of the library would offer. Today's Deschutes Public Library provides hardback and softcover books, audio books and downloadable electronic books. Patrons can also use computers, borrow movies, check out music of every genre, and attend a plethora of free cultural programs and speakers. The library partners with more than 180 agencies to help expand outreach, everything from working with the AARP and United Way to help senior citizens with their taxes and finances, to helping patrons with resume writing and interviewing skills through The Opportunity Foundation.
"Community librarians visit senior centers, day care centers, schools, low-income apartment buildings, and several other community areas that may not have access to library buildings or the technology to access information," said Strobel. "We have partnered with 'Thrive' to bring social service assistance into our libraries to support people with basic living needs and access to affordable housing, food and other support systems."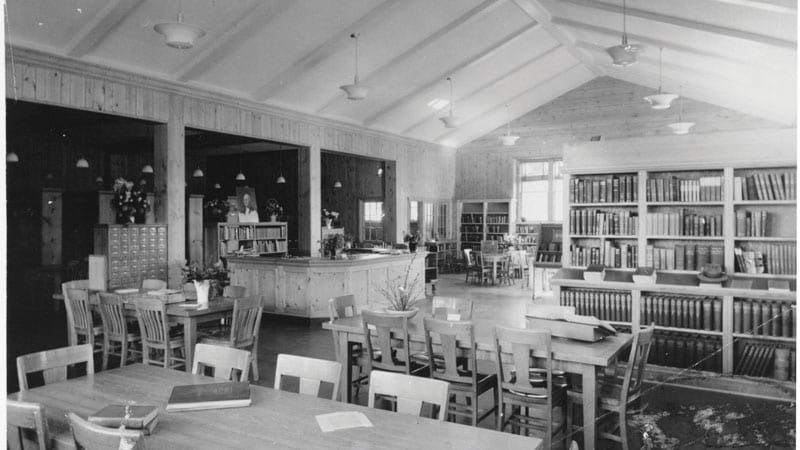 "What has not changed is the importance of being the vital infrastructure that helps bind our community together," said Dunkelberg. "We remain one of the few spaces in our community where people can gather to converse, learn, work, play, connect and read without cost."
"I would argue that libraries are more relevant today than in the past as we are immersed in this daunting Information Age. We are information stewards for the public," said Strobel.
One hundred years ago, when Deschutes Public Library opened its doors, it allowed anyone who entered an opportunity for knowledge and empowerment. Anyone, no matter their color, employment level or financial situation, could enter the library and travel anywhere their imaginations took them, or learn as much as they could about any given subject. In that respect, the library hasn't aged at all.