An unlikely collaboration brings a groundbreaking ski manufacturing program to Bend Senior High School.
written by eric flowers
photos by will saunders
There is nothing to suggest that extraordinary things are afoot in Gavin Meyers' Bend High classroom. Desks are filed in horizontal rows and class expectations are spelled out on a handwritten wall poster. Examples of students' past work rings the walls. But the kind of learning that takes place here is unlike anything else on campus, and it's about to get a little more interesting.
While other students are plodding through trigonometry or perhaps slogging through Jane Eyre, students in Meyers' engineering class will be designing and building custom downhill skis and snowboards. Using a combination of computer drawing programs and hand tools, students learn to replicate the same process used by high-end custom ski manufacturers. Think of it as woodshop for the 21st Century.
"We had drafting when I was a kid, and this is that on steroids," said Meyers, a fit, 38-year-old engineer-turned-teacher with lightly stubbled cheeks and a full head of tousled, sandy brown hair—the kind that might entice a certain demographic of students to opt for his engineering class over, say, A.P. chemistry.
Meyers was looking for a way to channel students' creativity and enthusiasm for recreation into a project that could dovetail with the engineering and problem solving work that was already occurring in his classroom. What has come together, at least in the early stages, is well beyond his wildest expectations—thanks to a serendipitous partnership with a traveling ski manufacturer dubbed Community Skis, that Meyers found through an internet search.
Community Skis is the brainchild of Michael Lish, a mohawk wearing formal martial arts instructor, and business partner Kristin Boumas. The two-person operation builds custom skis from a mobile studio that also serves as the pairs' living quarters. The travel trailer/factory is a marriage between a tree house, or maybe a hobbit hole, and a Winnebago with elbow-to-elbow living quarters in the front. In the back is a three-bench workshop that's no bigger than a restaurant walk-in cooler. Don't let the set-up fool you. The pair can build a fully custom ski in a matter of hours, oftentimes in the context of a hands-on workshop that allows the consumer to build as much as 90 percent of the finished product. It's also highly self contained. Boumas and Lish can work off-grid from locations as diverse as an urban parking lot or a desert mesa.
"We are a non-automated platform and we are fast—probably the fastest shop in the world to do a custom ski start to finish, but we are heavily reliant on technology," said Lish, who developed custom software to speed the process from design to construction.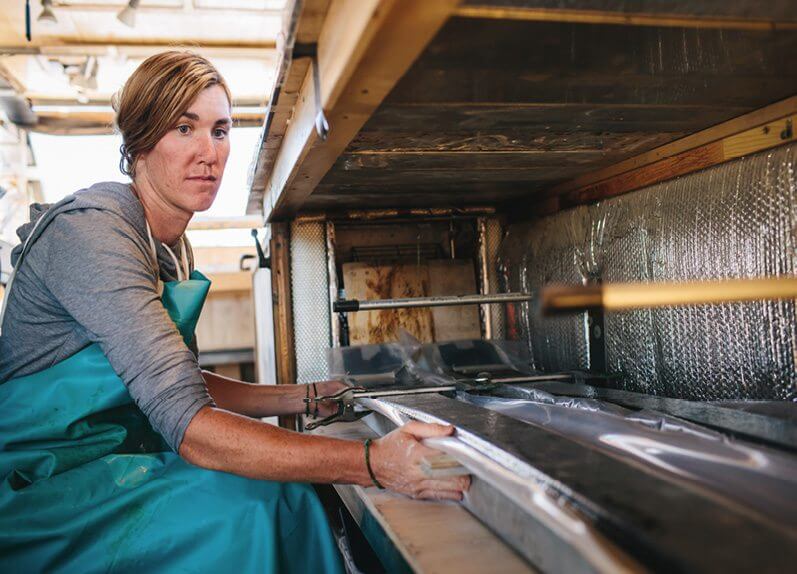 Lish has been building skis, more-or-less, since the mid-1980s when he and his mother purchased a small, debt-ridden ski making business after it became clear that the enigmatic Lish was not going to be working in a traditional nine-to-five career. Lish has spent the better part of the last thirty years building skis or setting up manufacturing operations for others to do the same. Within the small and, as it turns out, often shrill world of custom ski manufacturing, Lish is best known for founding 333 skis almost a decade ago. This iconic, if sometimes maligned, brand aimed to break down the price barrier in the custom ski market while challenging the notion that American companies can't build a quality ski at an affordable price. The skis he built were leading-edge technology, but a perennial work in progress.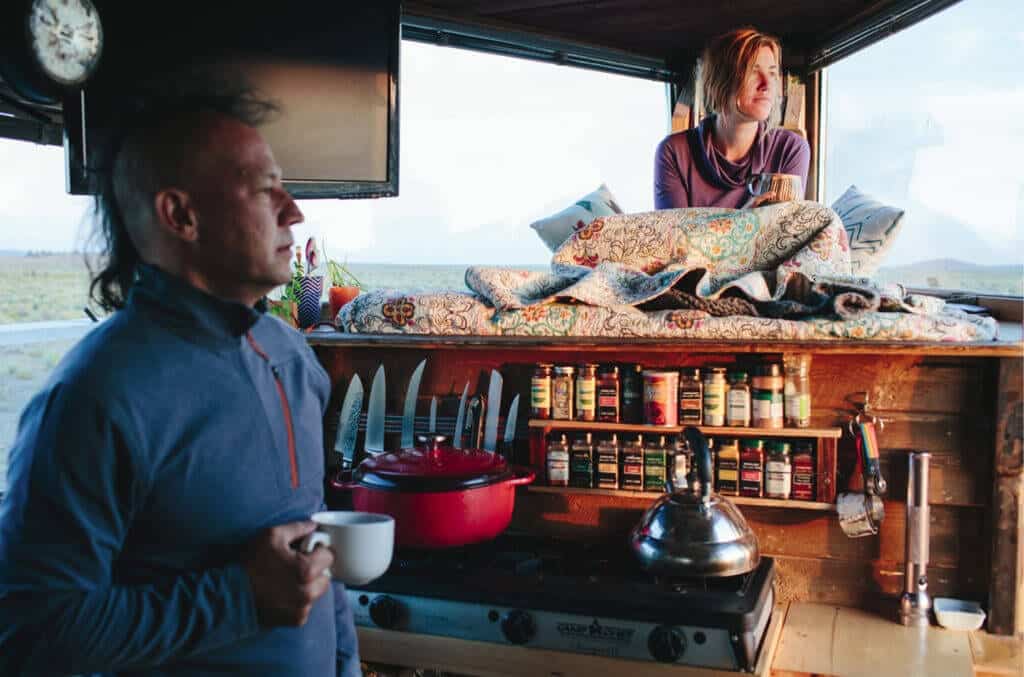 Unlike name-brand skis that come in one-design-fits all configurations, custom ski makers allow skiers to tweak small details from graphics to edge profile and stiffness to suit their style and taste. It's a small but growing segment of the ski market.
At 333, Lish offered lifetime warranties on all broken skis in exchange for valuable customer feedback on what worked and what didn't. The trial and error field experimentation allowed Lish to test his central theory that a world-class ski could be made using a totally different process than what had been the industry standard for almost a century. That process relies on cookie cutter designs, bulk raw materials and expensive industrial equipment. Lish wanted custom designs, low material overhead and only the equipment he could fit in his travel trailer.
"I was learning how to do something that was never done before. And as I was figuring this out, I kept getting better," he said.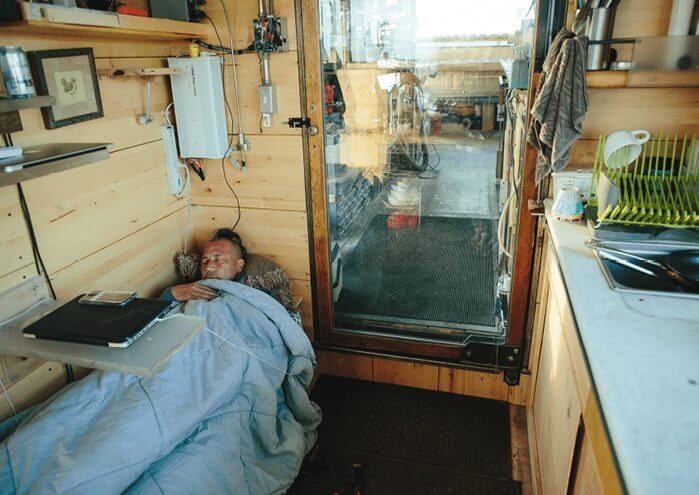 In the process, he gained loyal fans and, also, loud detractors. Change, it happens, is not always what the goggle-clad masses crave. Eventually Lish was ready to move from word-of-mouth to Main Street. He enlisted Boumas, a former business manager at a Boulder, Colorado architectural design firm, to help him grow and re-brand the business. The two moved the operation from southern California to Mammoth and set up shop as Community Skis with a storefront and studio. Customers came from across the country and even as far away as Europe to take part in the one-of-a kind workshops that allowed them to build their own skis, from graphics to edge grinding. The idea wasn't just to build a better ski, but to build a better way of building skis. At its core, the endeavor has always been about empowering and teaching. Like open source software, the technology at the heart of Community Skis was designed to be given away. That may not sound like the best business model, but it's what positioned Community Skis to partner with Meyers on a program to bring ski manufacturing into Bend High.
"We have a platform that is designed for knowledge transfer. It's in our DNA," said Lish.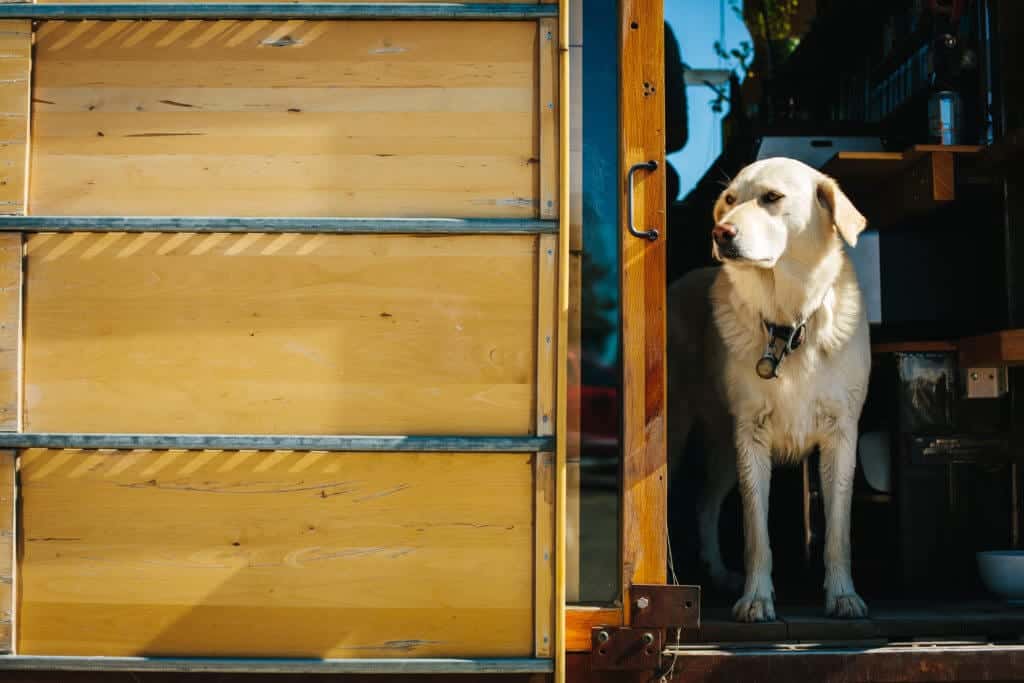 The question was how to integrate an outreach program into schools with their existing business while remaining profitable. Previous efforts in the Mammoth area had failed to come to fruition. Moreover, the duo had become disillusioned with some of the small-town politics in Mammoth, opting to sell their building and move their entire operation back into a mobile live-work studio.
As it turns out, the timing was perfect for Meyers. An engineer by training, Meyers owned his own landscape architecture firm in the early 2000s. Like many others in the building industry, Meyers saw his work dry up as the housing market nosedived in Central Oregon. Looking for a second career, Meyers was referred by a former client to Bend High, which happened to be looking for an engineering instructor. It turned out that Meyers was well suited for the job. He's now been in the classroom for nine years teaching students applied engineering and problem solving. The curriculum has grown as Meyers has progressed as an instructor. His yearlong engineering class includes a capstone project in which students are asked to identify and solve a problem using the principles of engineering. Recent projects have included a backcountry water filter, a self-regulating thermostat for reptile cages (for which they are currently in search of a manufacturing partner) and, because it's Central Oregon, a better gun holster.
By all accounts the program is a success, drawing in students from all walks of life to work in this environment of applied problem solving. But Meyers was looking for something more, something bigger and better that would complement the existing program while captivating the attention of students. He drew inspiration from Sisters High School, where a guitar making program serves as the capstone for an extremely popular woodworking class. That class plays off Sisters music culture, including the annual Sisters Folk Fest and Americana songwriting project in the high school.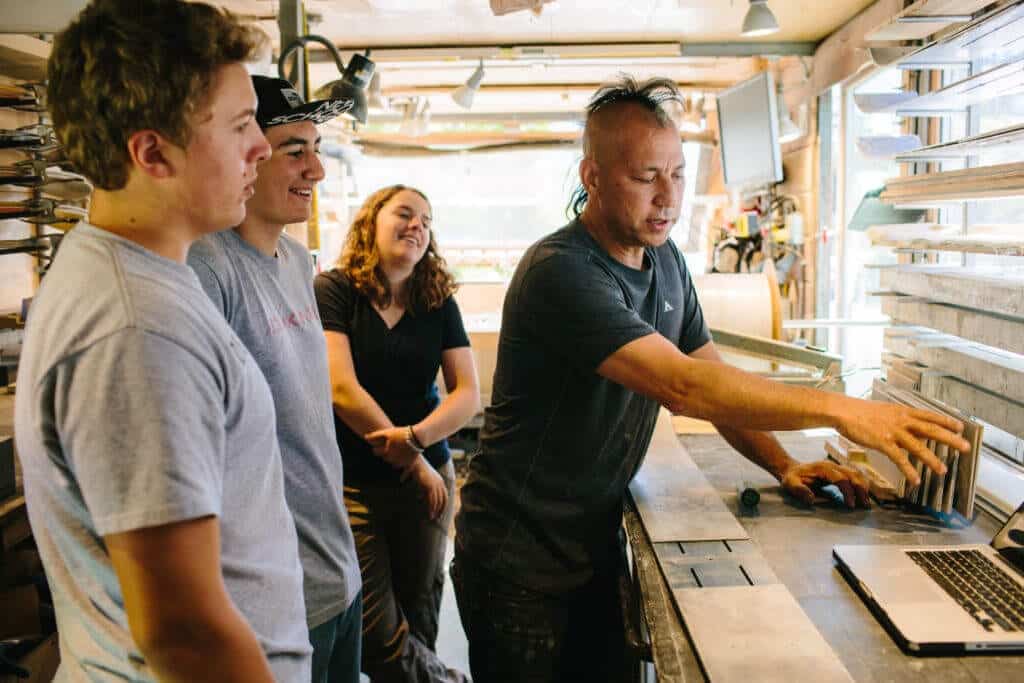 "I've always wanted to have a program like that because it grabs kids. It also grabs the community and pulls them in. I knew guitars wasn't my thing. So, I picked skis and snowboards because it was something that I could relate to," said Meyers, a snowboarder who hadn't skied in more than ten years when he hatched the idea of a ski building program.
With no experience and little more than an idea, Meyers sat down and wrote a grant to seed the program. The request was a success, but Meyers soon learned that there was more to ski manufacturing than he expected.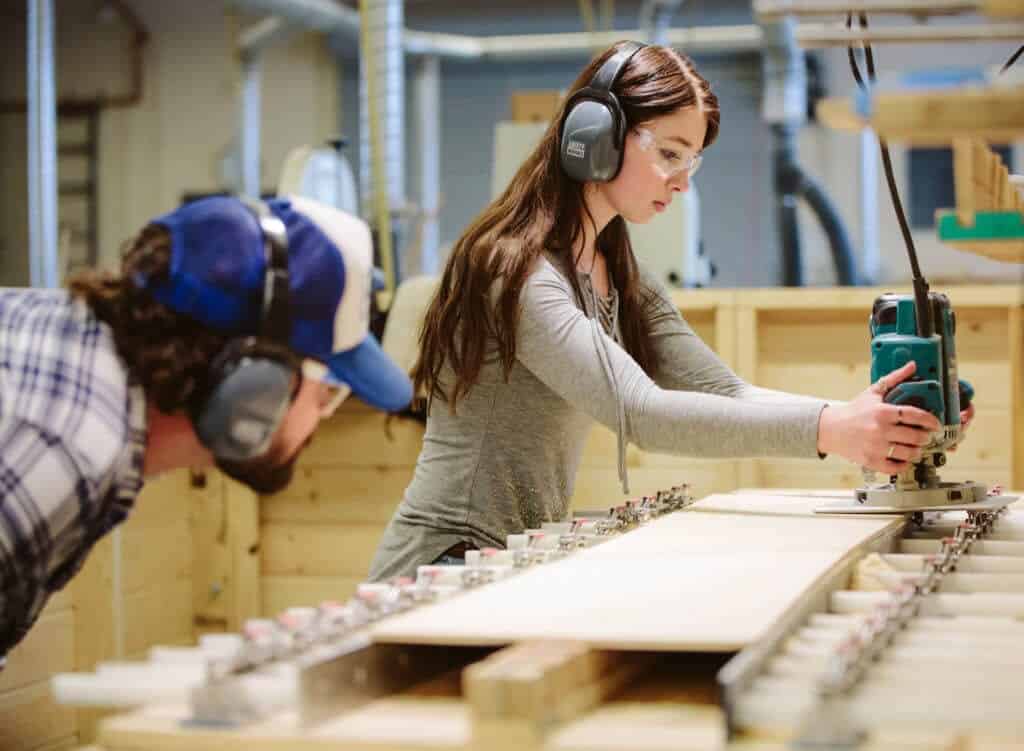 It was then that Meyers discovered Community Skis. He made his first research trip two years ago to build a pair of skis with Lish and Boumas in their Mammoth shop. He ended up spending a week there, convinced that he had found the perfect partner for his program. The low overhead and agile manufacturing program that Lish had been honing over the last 25 years, first with 333 skis and later with Community Skis, was exactly the kind of platform that could translate to Meyers' classroom. The footprint was small enough to fit in the limited space and the entire process was built to incorporate the work of non-professionals.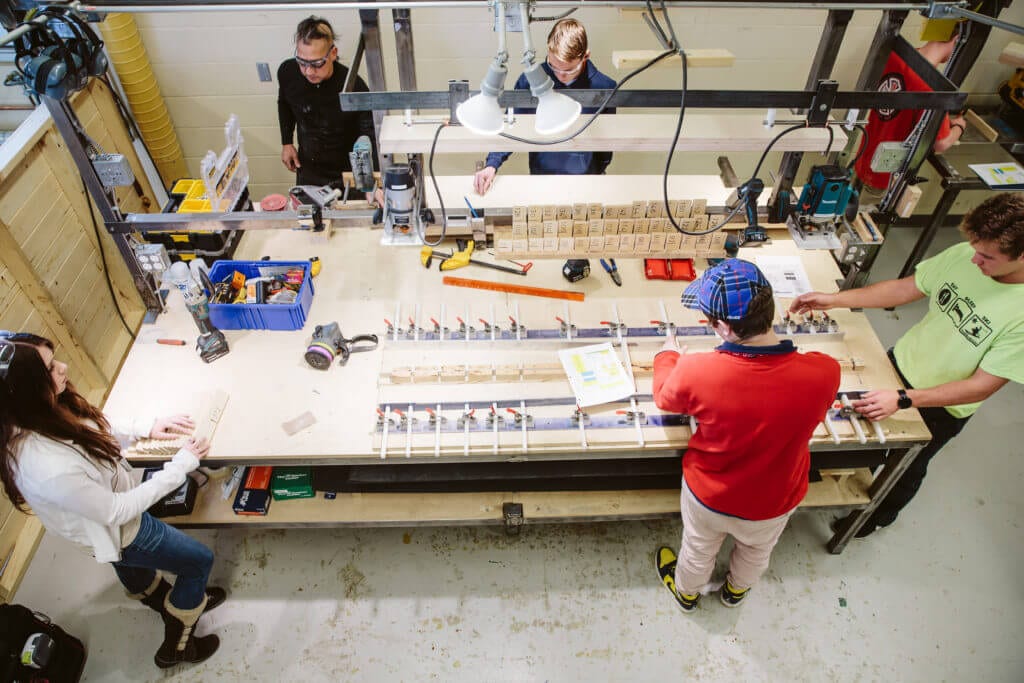 Sensing an opportunity to build on the education side of their business, Lish and Boumas quickly engaged with Meyers' program. Lish finished work on the Community Ski's mobile factory/trailer last spring and the pair headed north to catch the tail end of the ski season in Jackson Hole, Wyoming. On the way, they rolled through Bend to visit Meyers and whet students' appetite for the new program. The idea was to bring in a few students to build a pair of skis with Lish and Boumas. The response was overwhelming, recalled Meyers. When Lish and Boumas arrived on campus, students flocked around the mobile studio. High schoolers packed into the thirty-foot trailer, as Lish talked them through the secrets of off-grid and mobile manufacturing. The demonstration skis never got made, but the spark was lit, said Meyers. In the ensuing months Meyers identified an initial crop of would-be ski makers. Lish and Boumas set to work on building a custom manufacturing platform for Meyers' class. Lish also developed a series of online tutorials and videos to support Meyers' curriculum.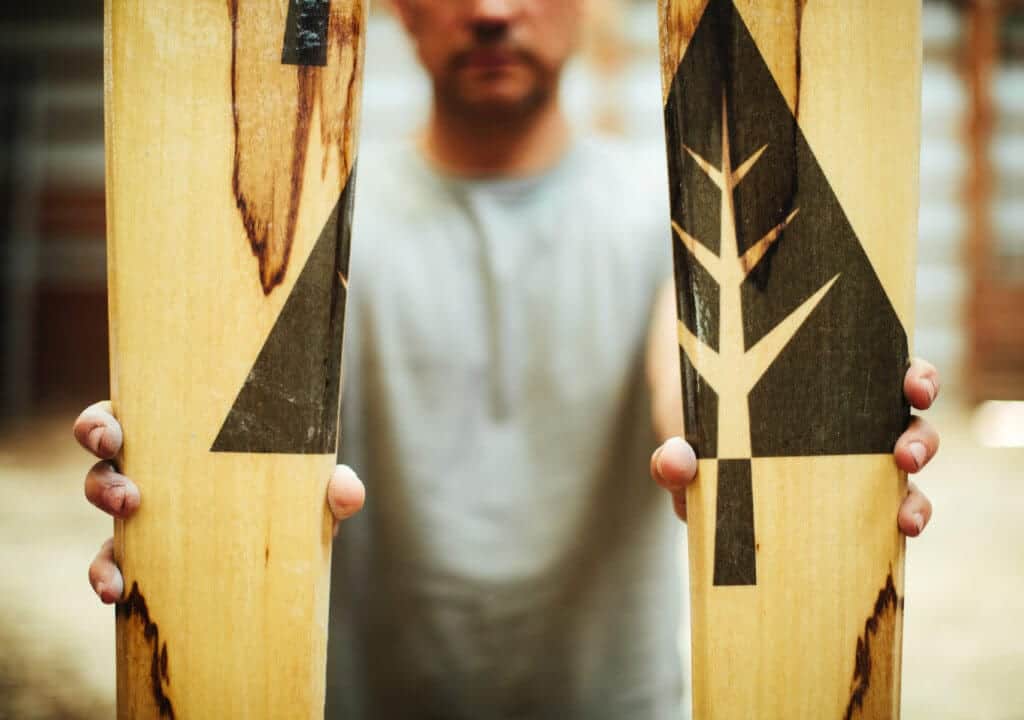 The short-term goal is to get each student to manufacture a single pair of skis over the course of the school year. If all goes well, Meyers hopes to steal another page from the Sisters' guitar-making playbook by having students build a second pair that can be auctioned off at a fundraiser. Proceeds from the sale could be put back into the program to fund ongoing costs, which is key since Meyers' startup grant only covers one year. Hurdles, however, remain—namely the liability question.
"A guitar is one thing, but a set of skis is another," said Lish. "In the event that they can get past that, it's a fundraising freak show—top tier skis made by high schoolers with custom graphics made to specification with delivery on time. Boom!"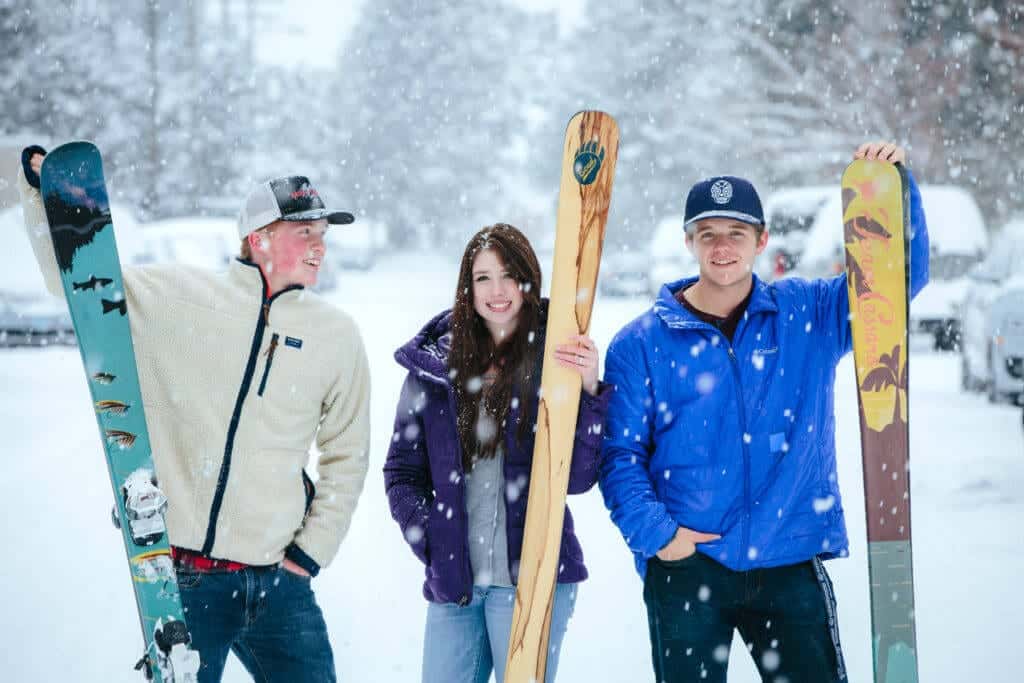 Looking beyond this year, both Meyers and Community Skis see the opportunity to grow the program into an interdisciplinary course that incorporates marketing, graphic design and business principles. Ideally, students would leave the program with the ski building skills, but also with the knowledge of how to operate a small manufacturing business.
"We're starting small and building, but I think it's just going to explode," said Meyers.
While Bend High was the first to pick up on the concept, other schools are already lining up. In Bend, Cascade Middle School has expressed interest in doing a similar program. At least one school in Idaho and another in Colorado are also watching closely in hopes that it can be incorporated into their curriculum.
For Lish and Boumas it's a new beginning for their enterprise. In another sense, it's also the culmination of years of efforts to integrate an educational component into their business model. Their labor of love has been supported by workshops and apprenticeships, but it's never been a source of revenue. A school-based curriculum offers the opportunity to change that. While it's not a windfall by any means, it's enough for a couple of ski-loving gypsies to continue blazing trails.
"Really the focus for us has never been money based," said Boumas. "We've never been about profit; we've always been focused on value," said Boumas.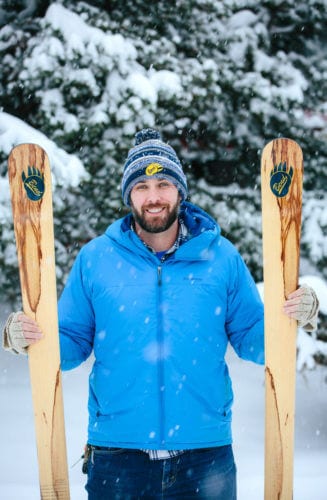 Elective Development
While ski-making is a novel addition to local schools, students in Sisters have been blurring boundaries between public schools and private enterprise for almost a decade in a one-of-a-kind guitar building class. It was this class that served as inspiration for Bend High engineering instructor Gavin Meyers to pursue a ski building program for his students.
Meyers said he loved how the program connected with the students as well as community members and played off the town's folk music reputation.
Instructor Tony Cosby recalls that he and friend Jayson Bowerman first hatched the idea while picking up trash during a volunteer river clean-up day in Bend. Bowerman was working as a top builder at Breedlove and Cosby was running the woodworking class at Sisters High School.
Eleven years later the program is stronger than ever, said Cosby. Each year about a third of the senior class opts to take the guitar building elective. There is typically a fifty-fifty male to female ratio for the course.
Whether it's a custom guitar or a handmade ski, Cosby and Bowerman agree that the process of building a product from start to finish opens students' minds to the elegant dance between art, design and execution.