What do you get when you connect a married couple who come from global marketing, design and filmmaking backgrounds at Nike with an award-winning Northwest architect known for sculpture- and landscape-inspired building designs? An artful home drawn from the Central Oregon high desert.
Greg Hoffman, former Nike chief marketing officer, and his wife Kirsten Brady, a former film producer at Nike and now a nonprofit consultant, were looking for an architect to design a home for them in Bend. In doing their research, they found several buildings they admired which shared a common designer, Corey Martin, a principal at Hacker Architects. The company's portfolio in Central Oregon includes the Unitarian Universalist Fellowship building in northwest Bend and the Lakeside Bistro and pool house at Black Butte Ranch. Both structures are an evolution of Northwest Modern design with walls of glass that transport those on the inside to the desert landscape outside. "We reached out to Corey and asked what a home would look like with similar design elements," Hoffman said. "We wanted a design that respected the environment and a design language that integrated it into the landscape."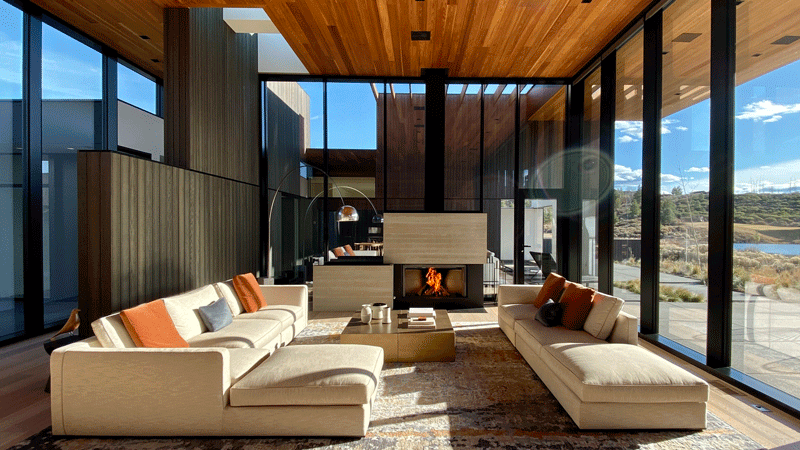 The result of this creative collaboration is a 4,300 square-foot structure of modern minimalism reminiscent of Japanese homes that blur boundaries between inside and out. "It's not trying too hard to say, 'Look at me,' but rather to fit into the landscape," Martin said. "It's sophisticated and at the same time very simple." Situated in the community of Tetherow, the home is built in three segments that form a "U" shape around a courtyard that serves as the main entry and a place for a moment of Zen, according to Hoffman. Highly polished panels on the ground and fourteen-foot windows reflect sunlight and changing weather patterns that can only be described as spectacular.
The front entry leads to a large open space for living, dining and kitchen areas. The front wall faces the resort golf course through floor-to-ceiling glass. The interior spaces are defined by discrete elements, or panels, that look as if they're slipping past one another. "We framed the views and also blocked other views," Martin said. Two large exterior rectangles are offset like squares of a checkerboard and connect with a large roof overhang to create a covered outdoor dining and entertainment area. The remaining exterior space opens to a firepit set in large concrete slabs that blend into the natural landscape, which leads toward the golf course and lake. 
In a traditional home's living room, the wood-burning fireplace would be the focal point, but in the Hoffman-Brady home, it is surrounded by windows that carry a person's gaze upward into a protected courtyard between the open room and master suite with a layer of wood louvers at roof level that let the sky in while creating shadow patterns in the living room and hallway. 
Martin's years as a sculptor influences how he approaches architecture. He designs with a carving versus a building-up process. "We conceptualized a solid form and then removed space from within to create the design," he said. "The house is seen as having been carved out from within."
Two wings angle off the main living area—one side contains four bedrooms, including the primary suite with its in-ground whirlpool and a den, while the other wing houses the pantry, mudroom, laundry and garage. 
Keeping with the minimalist design, interior cabinets are devoid of handles, and the sleek, horizontal pendant lights over the kitchen island blend with the kitchen's horizontal cedar back wall. Panels throughout the structure are unembellished and are "seen as discrete elements" Martin said. Countertops in the baths and kitchen are quartz with a thin reveal—the principle being less is more. And unlike more traditional homes, there's no trim on any wall or door.
Taking cues from the Central Oregon environment, colors throughout the home are earth tone. The dark cedar walls in the interior and exterior siding are inspired by charred tree trunks from wildfires and volcanic eruptions. A natural cedar covers the open room's ceiling. The kitchen has dark wood and countertops versus "an entirely white kitchen that screams," Hoffman said. "The color palette and form should reveal the character and personality of the owners."
Brady selected textural items such as rugs and furniture, and worked with Portland interior designer Hether Dunn to choose interior elements. Furnishings include mid-century modern European pieces that soften and contrast with the home's angularity. Art is present in every room, including sculptures, paintings, prints and wall hangings by mostly Northwest artists. A painting of Sparks Lake hangs in the entryway, seemingly saying "welcome to Central Oregon" to those who enter. 
As the family's second home, the couple travels back and forth from their primary residence in Portland but would eventually like to spend half their time in Central Oregon, where they love hiking and walking their two dogs, Ruby the Tibetan terrier and Rocco the French bulldog. Their two college-age children are welcome to bring their friends to the home so long as they always use a coaster—dad's cardinal rule. "Overall, it's important to always be in an environment that is greater than yourself," Hoffman said. "What draws people to Central Oregon is being surrounded by geographic wonders. It keeps everything in perspective."
---