Fergal Donoher and Caprice Neely had a few key items on their wish list when beginning their new home build journey back in 2019. Neely, an artist and mostly-retired athletic footwear designer, wanted a gallery wall and plenty of space to hang art—both collected and created herself. Donoher, a native of Ireland who first moved to the United States in 2007, needed a bar area, or a few, to remind him of a pub back home. Together, the couple dreamed of a courtyard area to enjoy the outdoors, and a home layout that maximized views and spaces that embodied their colorful, bold style.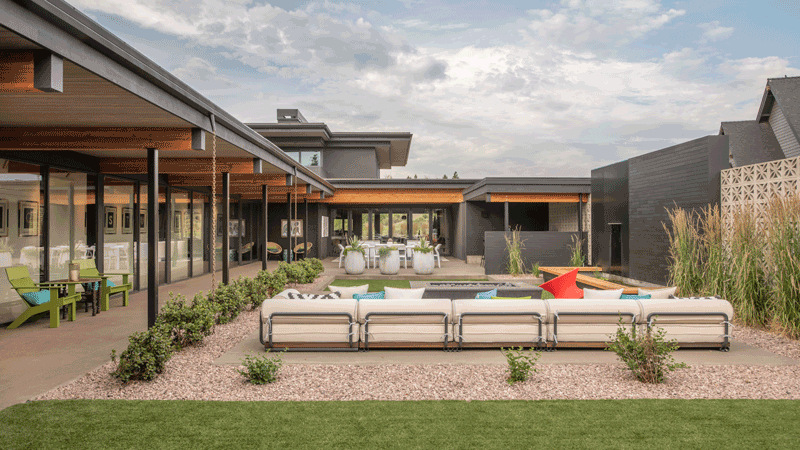 The couple met in Portland in 2008, and they bought a second home built by Copperline Homes on Awbrey Road in northwest Bend in 2012. By 2018, they'd made the move to Bend full time and were making plans to design a new space for the family, which includes 10-year-old Maisie and a couple of large pups—Rosie, the 1-year-old Great Dane, and Charlie, the 4-year-old newfydoodle. 
After buying a large, narrow lot at Tetherow, the family arranged to work with architect Eric Meglasson and use Copperline Homes for the build. "We immediately began sketching a home with two masses at each end of an oversized courtyard, connected with little more than a gallery space between the two," Meglasson said. After about eighteen months of design and construction, the family moved into the home around Thanksgiving 2020, and have spent the last year-plus getting settled.
The residence is entered from the north by way of the garage, courtyard or an understated black door that blends into the home's black exterior. Visitors will immediately see the courtyard beyond a wall of glass windows to the right, and a long interior hallway ahead, adorned with a twenty-six piece art collection. The prints are from Russian-born, French artist Erté, who completed "The Alphabet" from 1927 to 1967. The images bring to life the 112-foot hallway that connects the spaces of the home.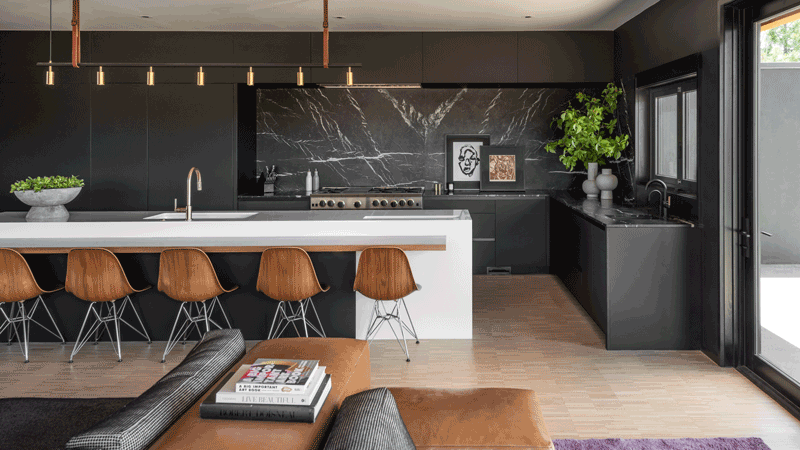 Halfway down the hall, between letters Q and R, is a door to a wing of rooms, with a bedroom and craft room for Maisie, a guest room and a bathroom. Following letter Z is one of the home's most striking spaces, a bold powder room that showcases a table-turned-vanity that Neely's father brought back from China in the 1940s, along with a bold Ferrick Mason wallpaper that exudes Chinoiserie and Hollywood Regency style, according to Neely. "The powder room should always be the jewel box of the home, where you can really think outside of the box," said Lucy Roland of Harper House Design, who worked with the homeowners on interior design and furnishings. 
At the far end of the hallway is the main living space, with huge glass accordion doors that open to the courtyard. Nero Marquina black marble slabs on both the walls and counters, paired with matte black cabinets underneath make the kitchen a "showstopper," Roland said. "I love how Caprice and Fergal weren't afraid to take risks, and it paid off," Roland said. "That room ended up being so striking—who says a kitchen can't be sexy?" An accordian window from the kitchen opens to golf course views and an outdoor bar counter, which Donoher and Meglasson described as the "golfer heckling bar." The living room is anchored by an oversized, custom-made couch that Portland's Mad Furniture designed for the space. 
Adjacent to the kitchen is the entrance to the home's primary bedroom, where mid-century modern furniture pieces steal the show. The bed is flanked by walnut nightstands with a cushioned emerald green, velvet headboard between them, all of which are connected as one piece—also a Mad Furniture item. Opposite the bed is a long couch with built-in side tables, another mid-century modern piece that Neely received from a friend's father. The primary bathroom features a shower with ten-foot glass walls to capture steam without completely trapping it in. An oversized walk-in closet offers room for plenty of clothing and—with Neely a former footwear designer—ample space for shoes. "I have to support her work," Donoher joked about all the shoe storage in the home. 
Between the kitchen and bedroom is a staircase, covered in wooden tiles constructed of narrow flooring scraps, leading up to the home's office. Donoher, an executive in tech manufacturing, works from home in the cozy space, which he refers to as the "snuggery." Both the office and the living room/kitchen area below share the same incredible views of golf course greens in the foreground and Cascade Range views in the distance. "The space upstairs is very calming," Donoher said. "You go up there at 5 or 6 a.m. and it might still be dark, but you can see the white mountain tops." 
Back at the home's entry, near letter A of the alphabet wall, is a second staircase, leading up to a mother-in-law suite with a living area, kitchenette and bathroom, with windows placed to take in the same mountain views, and a great space for guests.
Far and away, the most dramatic and striking aspect of the Donoher-Neely home is the courtyard, a focal point from many spaces in the house and a private space for the family to enjoy time outdoors. The courtyard includes a cement, outdoor bar area, space for a daybed to lounge and a koi pond. Maisie, a fifth-grader at Bend's Forge School, is quick to toss in food to the four koi, named Peachy, One Eye, Big Daddy and #4, some of which are easier than others to distinguish based solely on name.
Since moving to Tetherow in 2020, the Donoher-Neely household has had time to fully explore what their new community and the greater Bend area has to offer, and they particularly enjoy activities like overlanding and tent camping, attempting to golf and indulging at food and drink spots around Bend. "We're big supporters of the restaurant community," said Donoher, listing off favorites that include BOSA, Drake, Washington, Zydeco and Flamingo Room. Maisie is partial to Elly's Ice Cream in NorthWest Crossing. Together for fourteen years, Donoher and Neely were only just married in November 2021, meaning the couple's first wedding anniversary is on the horizon. If a trip or celebration isn't in store, perhaps a visit to the courtyard bar, nine holes on the course out back or an evening appreciating the views from the snuggery will do.
Resources:
Architect: Eric Meglasson 
Builder: Josh and Mark Wilhite, Copperline Homes
Interior design, furnishings: Lucy Roland, Harper House Design 
Landscape design: Ani Cahill, Cahill Design 
Cabinetry: Bladt's Custom Woodworking 
Flooring: Castle Bespoke Flooring, Absolute Hardwood Floors
Tile: Brian Stephens Tiling, Inc.
Courtyard fireplace: Andy Wach, Weld Design Studio