John Fawcett is a local violin prodigy who is in the top one percent of violin students nationally and recently performed for NPR's "From The Top."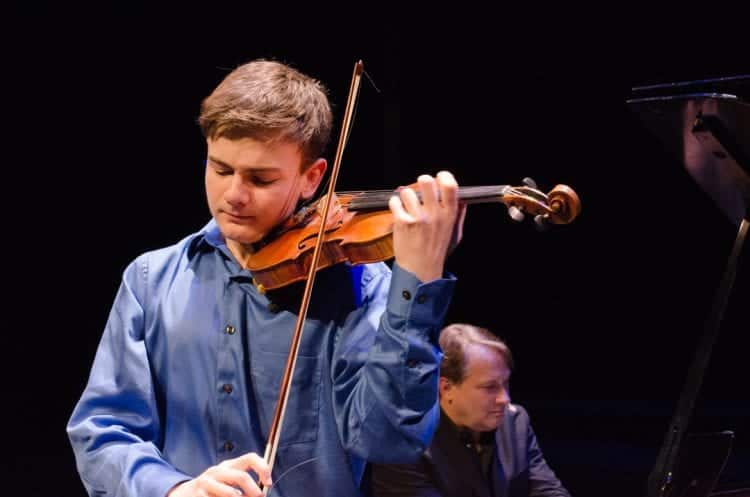 Like any kid born and raised in Bend, 18-year-old John Fawcett can navigate a ski slope or mountain trail. He loves to watch soccer and play with the family dogs. But unlike most of his peers, he has a particular affinity for 19th-century classical music and performing on stage in some of the country's top concert halls. And when he picks up the violin, the shy teen recites a universal language in harmonics and vibrato.
"Music is my first language," said Fawcett. "I understand it so much better than spoken English. That's the way I communicate."
Fawcett started playing violin at 5 years old and was encouraged to continue with the instrument by his parents. He attended St. Francis of Assisi in Bend and then Redmond Proficiency Academy, graduating as a valedictorian a year early. The academy offered Fawcett a flexible schedule for the four to five hours a day he needed to practice.
"The majority of people don't realize the time it takes to perfect a craft," he said.
As his violin mastery progressed, he sought instruction outside the area. His weekly lessons were by Skype with teacher Jan Mark Sloman, an internationally renowned violinist, retired associate concertmaster of the Dallas Symphony Orchestra and now faculty member at the Cleveland Institute of Music.
"John is in the top one-percent of students nationally and shows all the earmarks of a career violinist," said Sloman. "He has a terrific work ethic and is mindful in his approach to music."
Sloman encouraged him to apply to this year's Heifetz International Music Festival in Staunton, Virginia, a six-week summer internship that gave Fawcett a chance to perform and compete with other accomplished young musicians from the United States and abroad.
"Recently I've been traveling a ton," said Fawcett. He has performed twice at Carnegie Hall in New York, most recently during last year's holiday season with the New York String Orchestra Seminar. "The Christmas Eve performance was one of the best experiences of my life," he recalled. He also recorded a solo at Berkley's Zellerbach Auditorium for "From the Top," a National Public Radio program featuring America's best young classical musicians. The episode aired April 30, 2018 to a national audience.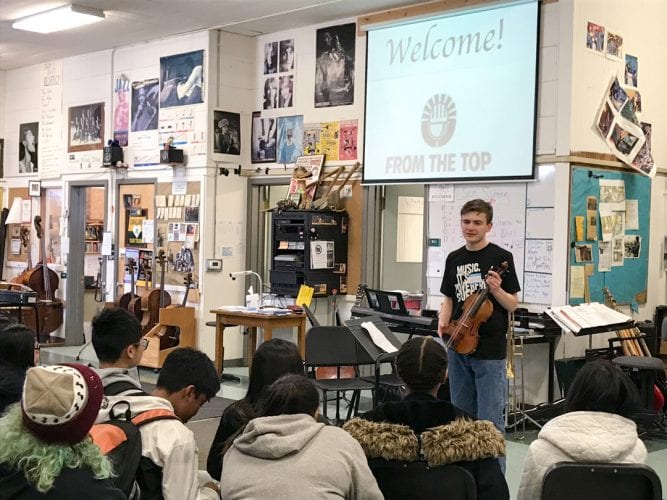 One of his favorite performances happened at Bend's Tower Theatre with Portland-based Pink Martini, who invited him to play with the band in 2015.
"It was an incredible experience, and they played some of my favorite songs," he said.
In the fall of 2018, Fawcett will head to Los Angeles where he will attend the prestigious Colburn Conservatory of Music on a full scholarship. The school year kicks off with a two-week tour of Great Britain with the school's orchestra.
"I dream of becoming a soloist or being in an orchestra, performing all the time, and inspiring people with music," he said, adding that he loves the adrenaline of being on stage. But when he needs an outdoor fix or romp with the dogs, the Bend native is just one flight from home.