How to update your kitchen with open shelving, a trend that's not so new after all.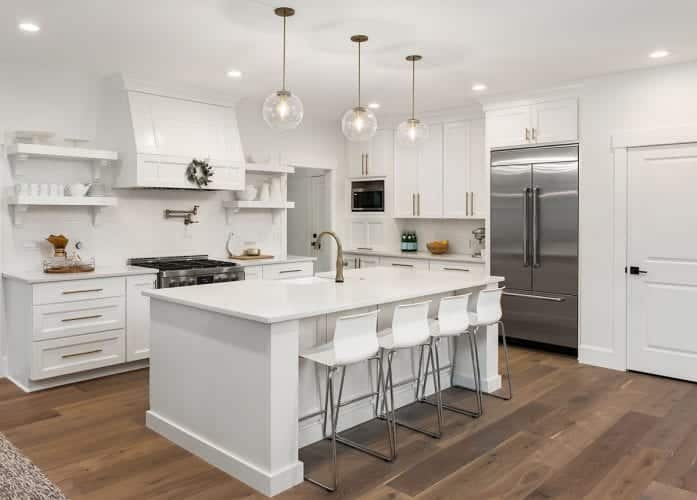 Popularized by reality remodeling TV and expertly curated Instagram feeds, open shelving is the current darling of kitchen updates. But open shelving isn't really a new trend after all. Before all of our chipped dishware, best-dad-ever mugs and mismatched wine glasses were hidden behind cabinet doors, it was common for dishware to be displayed and easily accessed. It was only into the 20th century that everything went behind cabinet doors.
Open shelving is an affordable and easy way to update a kitchen. It can also bring some needed personality into the most used room in the house, allowing knickknacks, art, plants and more to be displayed alongside coffee mugs.
In a small kitchen, open shelving that is painted the same color as the walls can provide the illusion of a larger space. Conversely, installing shelving that stands out, especially if it is used in just one area, can have a big impact on the look of the kitchen—white lacquered shelves can turn a kitchen into something Joanna Gaines would approve of, while steel or copper on top of a brick wall can make a kitchen look like it came straight from an urban loft.
There are some risks to be considered before unscrewing hinges or tearing down a cabinet.
One factor to consider is if mismatched plates, glasses and mugs fit the kitchen's aesthetic. Those nostalgic mugs that have been in use since college might be sentimental, but in the open air they may not compare to a crisp set of new dishes that are often shown in glossy magazines and home tours with open shelving. It can be tempting to want to update everything from water glasses to flatware when it's in full-view of every day—and that update does not always come cheap.
One trick to ease in to open shelving is to start by just taking off the cabinet doors. That, plus a fresh coat of paint on the remaining cabinet shelves, can help remodelers decide if open shelving suits their lifestyle. That built-in look also adds a new element to the trend that is reminiscent of the 19th century farm kitchens, and it won't break the bank or require a demo day.
When it comes to styling the shelves, less is more. This part of the process may require one to channel their inner Marie Kondo (of the now ubiquitous "Konmarie" method. Does this platter spark joy? If not, and it hasn't been used since in a few years, maybe it's time to donate.) Leave out only the number of dishes that need to be used each day. The rest can be stored in a pantry or bottom cabinets.
Consider pairing dishware with something green to liven up the space, like a houseplant that does well in a variety of temperatures and environments. A favorite keepsake or tsotchke could also be used here to contrast a collection of monochrome dishware. A canister of coffee could be set next to mugs; a set of cookbooks could be displayed alongside plates—get creative with the infinite possibilities for adding some character into the kitchen.