Giving back to the community is something most people think about and many do, from offering up a Saturday to clean up a park or looking for a service project around the holidays. But some volunteers take things to another level. These volunteers from around Central Oregon have gone the extra mile to support the organizations they work with, and the people they serve.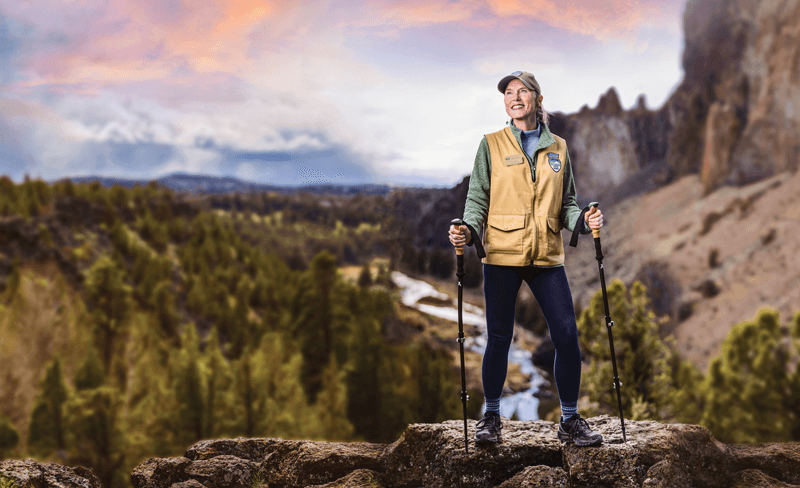 Amy Sue Matthews | Smith Rock State Park
When Amy Sue Matthews retired from her career as a middle school teacher and moved to Central Oregon full-time in 2016, she quickly discovered Smith Rock State Park and its gorgeous hiking trails, including the 7.5-mile Summit Trail. "The more I started hiking here, the more I fell in love with it," said Matthews, who in 2019 signed up to be a park Trail Steward, offering first to clean up dog poop, and as time went on, to answer visitor questions, report on trail conditions and help in other ways. She continued to avidly hike the summit trail about twice a week, earning her the nickname "Summit Trail Amy," from the operators of SmithRock.com, an independent website about Smith Rock for which Matthews serves as an ambassador. When the pandemic caused staffing and volunteer shortages at the park, Matthews offered to staff the park's Welcome Center, do extra litter pickups and provide a presence on the trails, allowing the park—which sees upwards of a million visitors a year—to continue operating smoothly. "Sometimes people are getting ready to go up Misery Ridge with flip flops and no water, and I try to help people understand what they're getting into," Matthews said. Her incredible efforts to support the park earned Matthews a glowing nomination from a ranger for an Oregon State Parks Outstanding Volunteer Award, which she won last year. "She's a true asset to our agency, our park and our community," the nomination read. Matthews, who actually moved into a house across the street from the park last year, said the roughly sixteen hours a week she volunteers is just more quality time she gets to spend in the park she loves. "There are a million ways to volunteer, everyone just needs to find their niche and what they're passionate about," she said. "I just feel really blessed that it ended up being the perfect fit for me." Ongoing volunteer opportunities are available at parks throughout Central Oregon, including Smith Rock State Park. See stateparks.oregon.gov.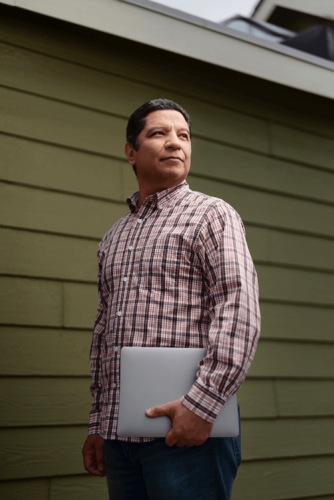 Reneé Frausto | Latino Community Association
When Reneé Frausto moved to Redmond from Guadalajara, Mexico three years ago, he realized his English wasn't as strong as he'd thought. Coworkers recommended he connect with the Latino Community Association of Central Oregon, which offers free English classes. After taking all the classes offered through LCA and through Central Oregon Community College, Frausto's English improved, making his life and new job at a Redmond restaurant easier. Because he owned a computer systems engineering company back in Mexico, Frausto offered his computer skills to LCA to help others in the Latino community with basic computer literacy. He began teaching a ten-week-long class on basics such as powering up computers and opening programs and windows, and advanced courses on Microsoft Word and Excel. "We try to make the courses fun and keep people interested," Frausto said. Computer skills can help Frausto's students search for employment, secure better paying jobs or help them support their children's schoolwork. "We are trying to give them the tools they need to better themselves," said Frausto, who left behind a wife and three children in Mexico to make a better living in the United States. He sends home money and hopes to bring them all to Oregon one day. Frausto encourages others in the Latino community to pursue opportunities available to them through organizations like LCA. "There are so many opportunities here that feel far away, but they are not that far," he said. LCA seeks volunteers for a variety of roles, including office assistants, tutors, fundraising and event support, with need in Bend and throughout Central Oregon.
See latinocommunityassociation.org.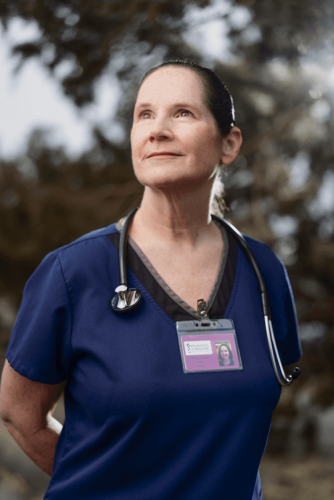 Dr. Cheryl Hadley | Volunteers in Medicine and Deschutes County Health Services
Dr. Cheryl Hadley was eyeing retirement and ski days at Mt. Bachelor when she and her husband moved to Bend seven years ago. She soon signed up to volunteer as a physician with Volunteers in Medicine, an organization that helps the uninsured or medically underserved in Central Oregon access healthcare. Her patients over the past six-and-a-half-years have shown great need, and also great gratitude, something Hadley has enjoyed. "The people want to be there, and they are happy and grateful for the care," Hadley said. With experience in healthcare and giving back, Hadley and her husband were quick to get involved in Deschutes County's mass vaccination clinics, beginning in January 2021–she by administering vaccines and her husband by helping with event support—things like traffic flow, parking and paperwork. Hadley took on a couple of shifts a week, and as of this March she'd volunteered nearly 270 hours. The clinics, run by Deschutes County Health Services and supported by groups such as Volunteers in Medicine, were well-run, and a rewarding experience, Hadley said. "As a doctor working in a practice, I could count on my hands the number of times something I did saved someone's life. But if you vaccinate hundreds of people, statistically you saved lots of lives," she said. "It was amazing to work in a setting where almost every single day, every shift you worked, someone would thank you for being there." There are ongoing volunteer opportunities with Volunteers in Medicine and Deschutes County Health Services. See vim-cascades.org or deschutes.org/health.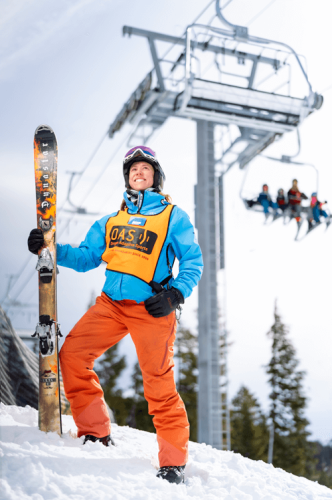 Kara DiFrancesco | Oregon Adaptive Sports
Kara DiFrancesco grew up skiing on the East Coast, in her home state of Connecticut and on winter break trips to Vermont and New Hampshire. Her regular ski buddies were a pair of brothers—one named Scott with a cognitive disability. "We did everything together as kids," DiFrancesco said. "Scott did everything that we did, he just did it a little differently." As an adult, DiFrancesco moved to the West Coast, attending grad school at Oregon State University and living in the Bay Area before landing in Central Oregon. As an environmental consultant, Di Francesco has a flexible schedule, allowing her to become a regular volunteer with Oregon Adaptive Sports, an organization that aims to help all people experience the benefits of outdoor recreation, regardless of ability level. As a winter volunteer with the organization, DiFrancesco is paired with skiers of varying abilities—perhaps a high school student with a cognitive disability, a blind skier also working with a Mt. Bachelor instructor or a skier with a physical disability, learning to use adaptive equipment like a sit ski. "It's inspirational," DiFrancesco said. "Everyone involved is so great. It takes a village to make all of this happen." OAS seeks summer and winter volunteers each year to help with adaptive recreation year-round. Summer volunteer signups typically open in April. See oregonadaptivesports.org.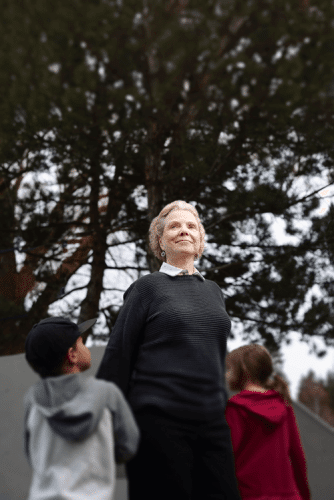 Aelea Christofferson | Court Appointed Special Advocates
Deciding to volunteer with Court Appointed Special Advocates of Central Oregon, or CASA, was an easy choice for Aelea Christofferson of Bend. She'd once been a social worker, and after meeting her husband Tom Hall and his two children back in 1989, the family adopted two babies out of foster care and another years later as a teenager. After retiring in the mid-2010s and selling the telecom company she owned, Christofferson was ready for something new, and CASA just made sense. "I knew how messy foster care is," she said. Volunteers with CASA advocate for the best interests of children in the system, who are often moved in and out of various living situations, foster homes and family homes as their parents work to regain custody or as circumstances change over months or years. During that time, a CASA is often the only consistent, stable adult in the child's life. "What you want most for the kids is to be in a stable home," said Christofferson, who described the work as difficult and impactful, but also rewarding. "Aelea is an incredible voice for the children that she advocates for," said Heather Dion, executive director of CASA of Central Oregon. "She often takes on challenging and nuanced cases with multiple children and more complicated legal issues. She isn't afraid to jump in and make sure that children's needs are advocated for." More than seventy children in Central Oregon are currently waiting for a CASA. Volunteers participate in a forty-hour training class before being sworn-in by a circuit court and taking their first case. See casaofcentraloregon.org.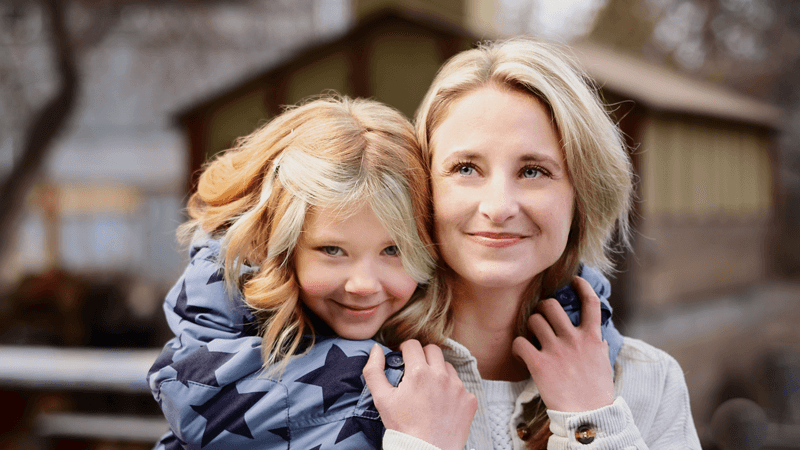 Natalie Evers & Bella | Big Brothers Big Sisters of Central Oregon
Bend native Natalie Evers spent ten years away from Bend after high school, but upon returning to Central Oregon two years ago, she knew becoming a mentor was something she wanted to do. "I have always wanted to do Big Brothers Big Sisters because I know the mentors in my own life have made a huge impact on me," said Evers, taking a break between playground sessions with 8-year-old Bella at Larkspur Park in March. Bella and Evers were matched together in early 2021 and while Evers isn't one of the organization's longest volunteers, her commitment to Bella and to bringing new volunteers into the program has impressed organization leaders. "When Natalie became a Big Sister she then made referrals for three others to join the program because she believes in the program," said Jenn Davis, program director for Big Brothers Big Sisters of Central Oregon. "Bella has really grown through their time together." On a play break at the park, Evers is quick to explain the value of the mentorship for Bella and for herself. "It brings a lot of joy and light to my life," Evers said. "I think I get as much or more out of it as she does." Nearly thirty "littles" are on the the waitlist for Big Brother Big Sisters of Central Oregon, and the organization has a particular need for mentors in rural areas, those interested in mentoring LGBTQ youth, mentors with experience working with people with disabilities and mentors of color. "Bigs" volunteer about six to twelve hours a month. See bbbsco.org.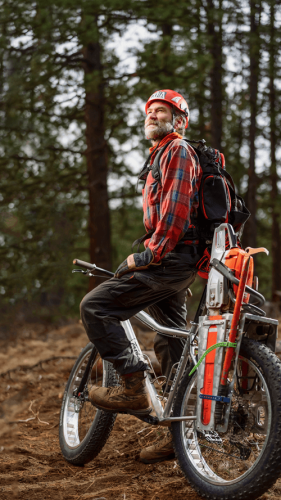 Gary Meyer | Central Oregon Trail Alliance
Gary Meyer was dreaming of fat biking on snowy trails even before fat bikes became a commercially available product around 2009. He'd been an avid mountain biker since moving to Bend in the early 2000s and over time became more involved in trail-building and maintenance efforts in the area. Easing into retirement from his career as a visual effects engineer for films including Star Wars, Meyer had a dream of engineering something new—winter fat biking trails in Central Oregon. He approached the nonprofit Central Oregon Trails Alliance in the early 2010s with a plan. With COTA's support, Meyer led the charge to create a pair of designated and groomed loop trails for fat biking at Wanoga Sno-Park. The efforts involved trail mapping, clearing of vegetation, signage and winter grooming. Meyer and a team of others keep the trails groomed each winter, and Meyer also volunteers to manage COTA's online volunteer log and other administrative tasks as well as sitting on the organization's trails committee and joining trail work crews year-round. In 2021, Meyer volunteered more than 800 hours with COTA. "Giving to the community brings me joy and satisfaction, and there's no place I'd rather be than out in the forest," said Meyer, who encourages others in the biking community to get involved, too. "Even if you only come out for one work party a year, it's a great benefit to maintain the longevity of the trails." More than 2,500 people are registered with a Meetup group that lists upcoming trail work events in Central Oregon, and new volunteers are always welcome. See cotamtb.com.
---
Read more of our feature articles in Bend Magazine: Adventure Inspired or Community Inspired.