Bend couple's infill home adds a modern twist to an established westside neighborhood.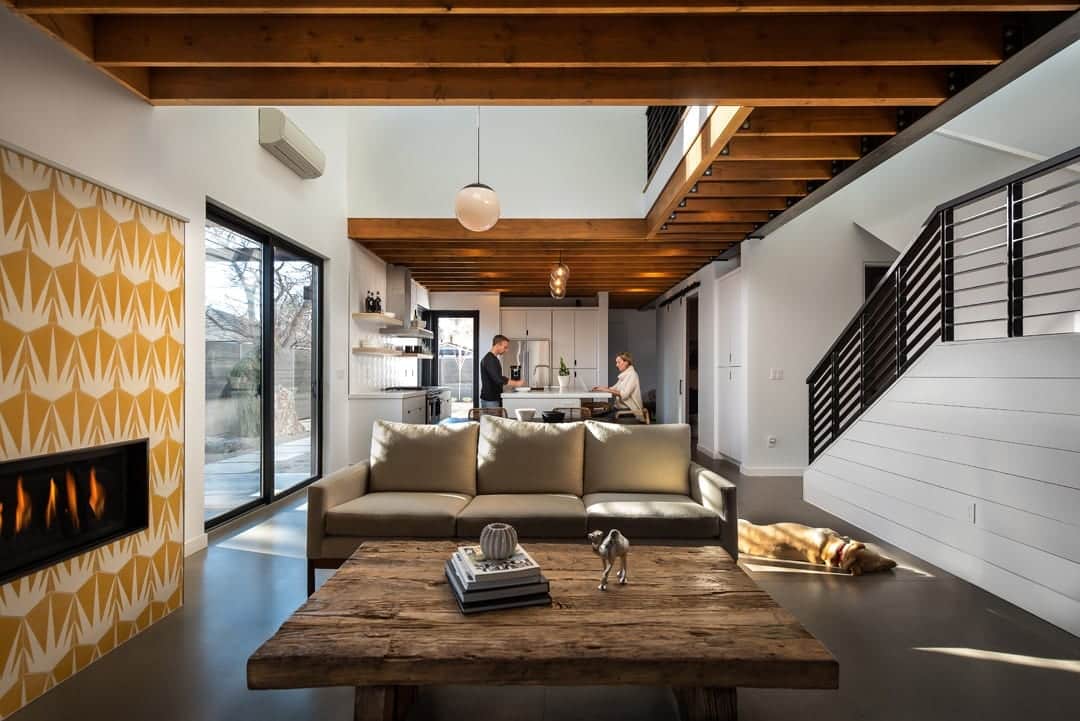 By the time Andy and Jenny Boyd had sold a successful business, traveled the world and returned home to Boulder, they were ready for a change. "Bend felt like a better place [than Boulder] to raise our kid," Andy recalled. "We get outside here more often, and exploring the area is way easier, plus we love being within striking distance of West Coast cities and the ocean."
During a visit to Bend in the "snowpocalypse" winter of 2017, they found an empty lot (buried under a mound of snow) that met their requirements. It was a block off Galveston Avenue, steps away from the food trucks at The Lot and easy strolling distance from the Deschutes River and Drake Park. They'd lived in San Francisco "where we shared a car, walked everywhere and got hooked on a pedestrian lifestyle," Jenny said. Also, Westside Village Magnet School was nearby and their son, Emmett, could walk to school until the eighth grade. "That was huge for us and helped us pick the neighborhood," she added.
The couple hired Brandon Olin of Olin Architecture to design a contemporary home. A top priority for the Boyds was to maximize natural and direct sunlight. To achieve this, Olin placed the house toward the north side of the property, thereby opening up the south side by putting windows, doors and outdoor space there. Natural light floods the great room through an open ceiling and a span of skylights in the two-story home. "Brandon just crushed it," Andy said. He recalled a moment last December shortly after moving into the house. "I came downstairs in the morning and the room was lit up. I didn't have to turn on any lights."
Besides a lot of light, Andy and Jenny sought clean, unfussy lines. The floor and kitchen counter tops are concrete, the walls industrial white, there's a steel guardrail at the stairs and no trim around windows or doors. In short, everything about the home from finishes to furniture speaks minimalism.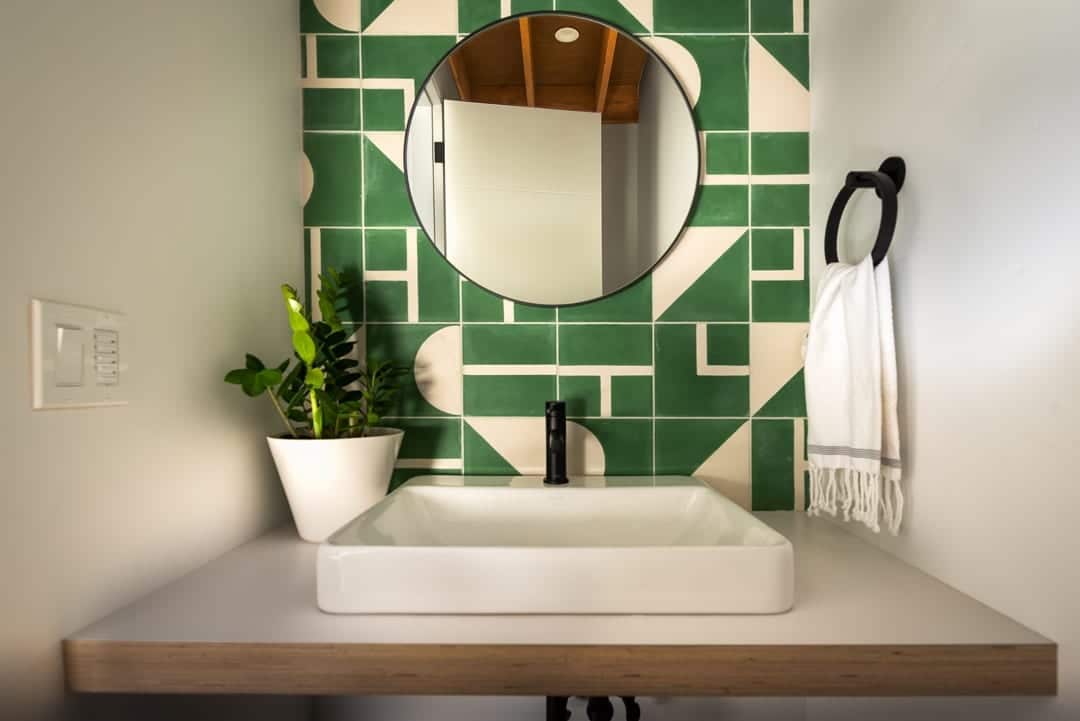 The Boyds hired interior designer Kate Darden to help them realize their minimalist aesthetic and select furnishings. "Jenny and Andy steered away from soft finishes, such as carpeting, wall coverings or drapery," she said. "Instead, they opted for pops of bold color, nothing moody or dramatic."
Exposed wood ceiling beams in the living room, hardwood floors upstairs and splashes of colored tile and area rugs soften and complement the hard surfaces. Darden selected Moroccan and handmade tile in primary colors for several places, including a showpiece gas fireplace in the living room. The artichoke-patterned yellow tile is "beautifully fired and feels really warm," she said. Olin added that the fireplace with its yellow tile "is cool because it is substantial enough that you see it from the front of the house."
For consistency, Darden stuck with primary colored tile throughout the home. She chose hexagon blue tile with stars for 9-year-old Emmett's upstairs bathroom and a green tile in random shapes in the downstairs powder room. For the couple's master bath, she went with white tiles etched in black lines on the back wall to match the square cabinetry and retro Schoolhouse pendant lights. Cabinetry throughout the house is by Harvest Moon Woodworks and features exposed plywood-edges with cutouts for pulls, rather than hardware.
The 2,300-square-foot home has one great room that flows from living room to dining room and kitchen. Behind the kitchen is a narrow hallway with a cozy TV and reading room that can be closed off by a sliding barn door, and a mud room at the back. Olin added a second side-yard-facing garage door at the back which gives the homeowners another opportunity to blend indoor and outdoor living. "We located three bedrooms upstairs for privacy and to take advantage of elevated views of the neighborhood with an additional covered outdoor patio off the master bedroom," Olin said.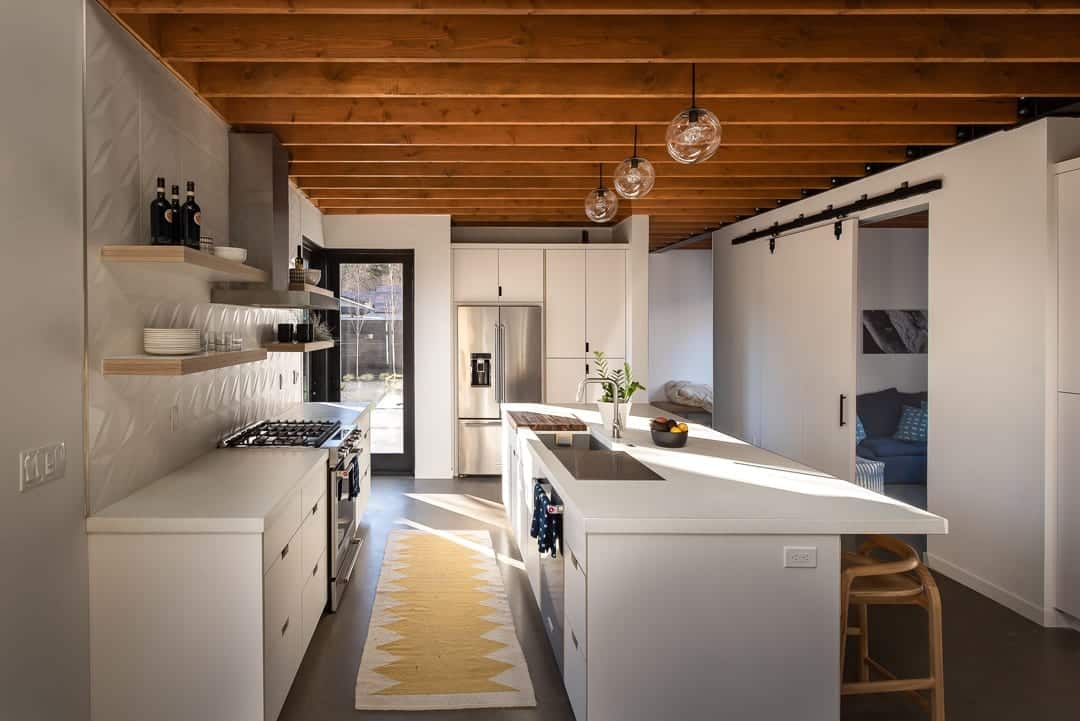 An interesting feature of the home is its view of the Texaco station on Galveston, especially from the master bedroom. "Jenny and Andy embraced the fact that their neighborhood is about as urban as it gets in Bend, and they enjoy having The Lot and Galveston literally right out their door," Olin said. "I think their background of having lived throughout the U.S. and in urban environments…contributed to the feeling of being comfortable right in the city."
Land Effects installed the landscaping, which includes large concrete blocks with gravel and turf strips between them, small trees and giant rocks. The front yard is bordered by a low, concrete wall, with seats arrayed around a firepit, a place where the couple hopes to entertain friends and neighbors who stop by.
The exterior continues the interior's sleek, contemporary lines. The siding is vertical board and batten painted white, broken up by horizontal cedar boards and a black front door with opaque glass panels. "The house turned out taller and stands out more than we expected, but we love it," Andy said. "This was a fun project. It turned out to be a super home."