After downsizing into a 1,180-square foot home, Kathi and Tom Denton have no regrets, although Kathi misses a walk-in closet, and Tom parks his car on the street because the single-car garage functions as their primary storage space. The residence is about half the size of their last home, but the couple says its location in NorthWest Crossing's Farmstead 12 development and the thoughtful layout has made the transition smooth.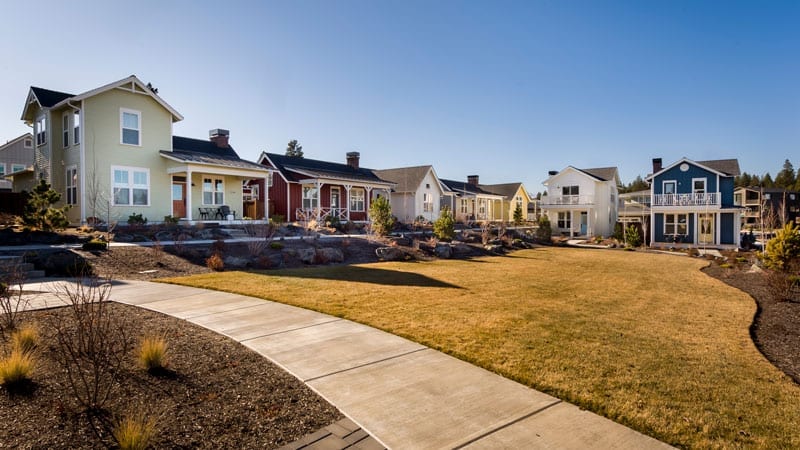 "This location is perfect," said Kathi. "We can walk to Portello Wine Café or Discovery Park, meet our neighbors at the firepit or snip herbs from a small raised garden bed." It's also close to hiking and biking trails and Shevlin Park, where Tom goes to practice tenkara, a Japanese fly-fishing technique.
Farmhouse 12 is one of several small-scale cottage developments in the popular and growing Northwest Bend neighborhood that prides itself on sustainable building practices, where every home is required to be Earth Advantage certified. Eric Meloling Construction teamed up with Greg Welch Construction to form Farmstead 12 LLC, which recently finished its last dwelling.
"Our intent is to make small homes livable and not feel like a small home," Meloling said. The project features farm-style cottages arrayed around a parklike setting with a common area and a small barn with picnic tables and a fire pit where residents can gather.
The philosophy of downsizing corresponds with a housing-market trend toward smaller, more affordable homes. A recent story in the Washington Post cites data from the National Association of Home Builders that shows the average size of new houses fell for the third straight year in 2018. (Data for 2019 is not yet available.)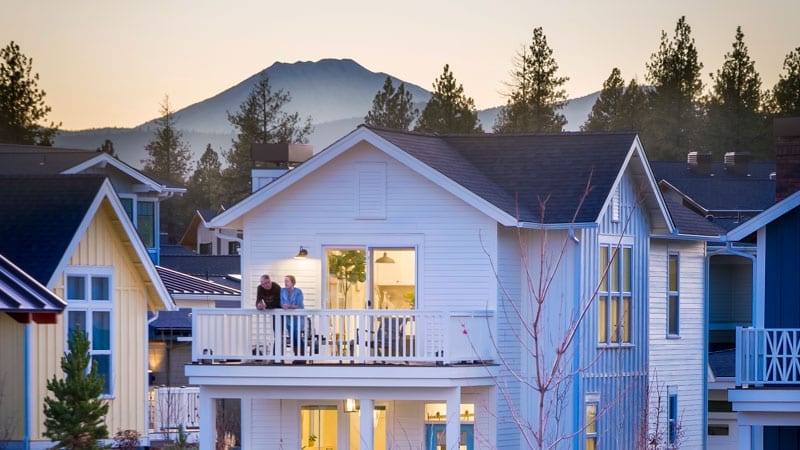 The Dentons bought their residence less than two years ago after Kathi completed treatment for breast cancer, and they found themselves regarding their lives differently. "Life is short, and the new house gave us a fresh start," she said. "I don't think about having cancer all the time."
The two have been married twenty-three years and feel strongly about reducing their environmental impact. Moving into a smaller, more energy-efficient home is a big step toward that goal. They've never had kids, although they parent two cats, Gus and Deud. The couple explored the idea of small-scale living and became obsessed with tiny-home TV shows but ultimately decided that 400 square feet of living space wasn't for them.
Instead, they ended up with a home that relies on a "reverse living" design that features a kitchen and master bedroom on the second level. It may seem novel, but it's a case of form following function.
The Dentons' home is squeezed into a narrow lot that required their designer, the late Charlotte Van Valkenburg, to create a two-story home that captured views, sunlight and access to Farmstead 12's common outdoor areas. "It's the genius of the designer who is able to see a piece of dirt and imagine what is not there now, but will be there someday," Meloling said.
By necessity, the ground-level had to include the garage, which currently sports a T@B teardrop camp trailer as a fun sleeping place for visiting nieces and nephews. Tom added tall storage cabinets for shoes and coats that they don't have space for in their bedroom. Sports equipment hangs on racks from the ceiling, and plastic bins store everything from photo albums to holiday decorations.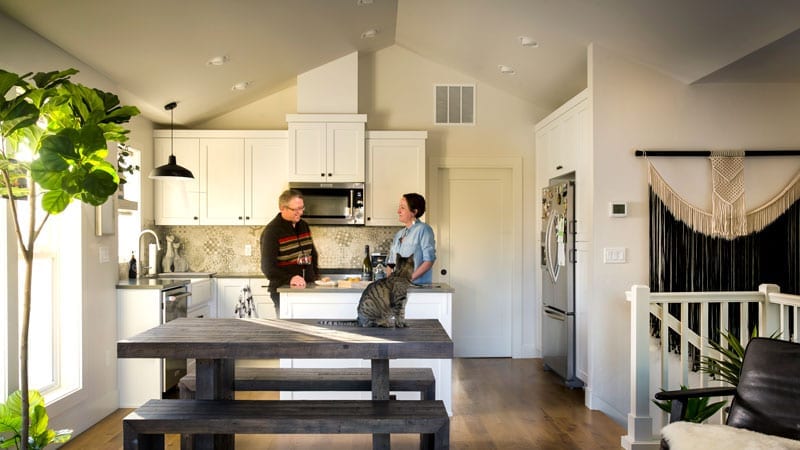 Visitors enter the cottage on the first floor, where a sliding barn door opens into a den that functions as a guest bedroom, TV room and office. A guest bath with a soaking tub, a laundry room and a converted coat closet for the cats complete the first-level layout. 
But it's the upstairs "reverse living" where the magic happens. A narrow staircase opens into a large, vaulted and contiguous space for the kitchen, dining and living rooms. One comfy chair and a sofa face the natural-gas fireplace and TV. The room is filled with plants (plastic because Kathi says she doesn't have a green thumb), a large dining table with bench seating, an island and well-appointed kitchen with high-end appliances and hardwood floors. A deck off the living room is where the Dentons go to enjoy coffee with the sunrise or fresh air in the evening.
At the opposite end is the master suite with the bath, and one shared sink that they say is just fine. The bedroom has a view of Mount Bachelor and is large enough to accommodate a king-size bed and two nightstands, as well as a small nook with a view of Awbrey Butte. To add texture and character to the room, Tom built a floor-to-ceiling herringbone pattern on the wall behind the bed made of pre-cut barn wood.
When the Dentons moved into the residence, they left most of their previous furnishings behind and instead selected much of the cottage's décor based on functionality, style and artistic preferences. "Living small forces you to choose the things that make you happy," Tom said. "This fits our needs."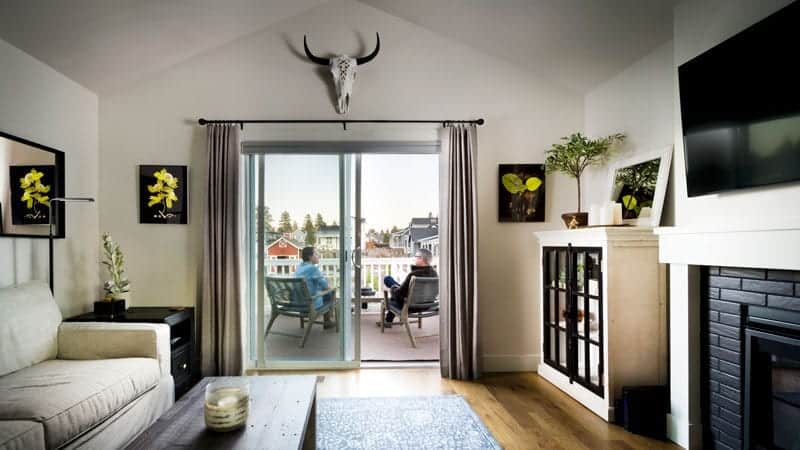 Editor's note: Designer Charlotte Van Valkenburg was killed along with her cousin in an automobile collision with a drunken driver in British Columbia this past summer. Bend Magazine featured Van Valkenburg previously for her work as a mentor and coach of the Summit High robotics team.