Today's range of outdoor furniture can set the tone for the many ways we use our outside spaces—with a big trend toward what's comfortable, durable and, especially in Central Oregon, what can withstand the weather.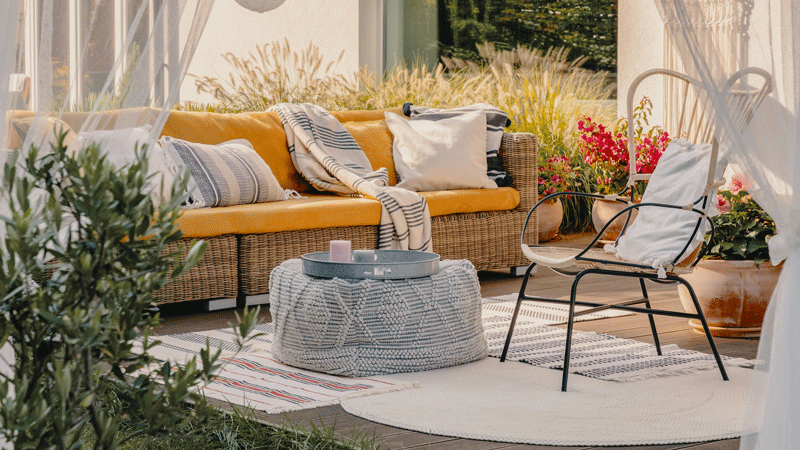 After considering what's desired in terms of design, use and style, look for furniture, textiles and decor made with the following materials to create an outdoor space that looks great and stands the test of time. 
Metal, Stone and Ceramic
Powder-coated aluminum and steel have soared in popularity in recent years, including here in Central Oregon, according to Shanda McGee, co-owner of Powder House Ski and Patio. Powder-coated aluminum is not only available in a variety of colors and textures, it's a durable material prepared to meet Central Oregon's extreme weather. While it's recommended to cover or store all outdoor furniture in the winter, McGee pointed out that powder-coated aluminum can withstand a beating from the high desert sun, and it can be rinsed off with a hose for easy cleaning. Many powder-coated aluminum seating options offer a modern, low, sleek style, and often feature deep, thick cushions on top, ideal for lounging.
Just like indoors, stone materials including granite are a coveted option for outdoor pieces like tabletops, though it can be tricky to maintain through changing seasons unless it's heavily sealed. As an alternative, look for tabletops and other materials made from poured ceramic, a material that's rising in popularity, according to Jed Teuber, co-owner of Furnish. Teuber said that poured ceramic can provide the look of stone or concrete but be much more durable. 
Natural Materials
Natural materials, including rattan, cane and seagrass can provide a light, coastal, even spa-like feel for a patio or backyard. But these natural materials aren't usually associated with the mountains for a reason, and basic versions of these materials often don't hold up to the Central Oregon elements.
Weather-resistant and vinyl wicker are better choices if you want to keep your patio furniture in good shape for the long-term. While traditional, round-topped wicker pieces are still an option, today's weather-ready wicker can also be made to fit in with modern design, with clean lines and wide armrests perfect for lounging and resting your drink.
Recycled Plastics
Plastic can withstand a beating from inclement weather—including snow—even if left outside over the winter. Many companies even make their plastic outdoor furniture out of recycled items such as milk jugs to give
single-use plastic a second life. 
Bendites have likely spotted the colorful traditional leaning Adirondack chairs made of recycled plastic that Powder House has in front of the shop each spring and summer. Furnish also carries a brand of recycled plastic Adirondack chairs that offer a more modern aesthetic, with a low profile perfect for sitting around a firepit.
Woods
Wood is a classic option for outdoor furniture, but choosing this more traditional material can require more time and care to ensure it lasts a long time. A good wood option, especially in Central Oregon's climate, is teak, according to McGee. "Teak is a dense wood with high oil content," McGee said. "It will come from the factory really smooth, then get a peach fuzz to it, but it doesn't crack and splinter."
Ipe wood, which comes out of South America, is another smart choice for outdoors, according to Scott Holmer, owner of Patio World, explaining it holds a better finish than teak does. "It's a good, rich wood, but it's for someone who doesn't mind putting work in," Holmer said.
Mixed-material furniture is also an option to consider if your heart is set on wood. For example, Powder House has carried powder-coated aluminum chairs that feature teak armrests, so there is a natural element in the design without the full upkeep wood might require.
Textiles
In the more than twenty years McGee has been selling outdoor furniture, one of the biggest shifts she has seen is from traditional dining sets to deep-set, comfy lounge furniture. And the fabrics chosen to make umbrellas, cushions and pillows are just as important as the materials that make up the furniture. Outdoor furniture made to last costs more upfront, but it's worth the investment for the life you will get out of it, said Holmer, who explained quality is ensured in the creation process. For textiles, it's that the fibers are treated before the fabric is even woven.
Most modern cushions are made of materials that are fine to get wet, but it's important they get the chance to dry out again. Ideally, you're moving cushions inside and covering furniture over winter, so that piles of snow aren't soaking and dirtying your furniture for months out of the year.
Choosing outdoor fabrics that are designed to be fade-resistant, washable and made with durable materials is key to creating cozy and comfortable outdoor spaces that feel inviting for years to come. 
---