Small-town commitment and a champion hell-bent on a comeback meet at the Sisters Rodeo on the eve of its eightieth year.
Steven Peebles is in the bucking chute, on the bare back of a bronc. He runs his gloved right hand into a leather rigging on a cinch around the horse's powerful chest.
It's a crucial moment, technically and psychologically, Peebles says. "You know it's gonna hurt, and in a sick, twisted way, you've gotta crave it, love it." That's the only way to summon the final shred of strength to hang on with that one hand for at least eight seconds—or walk out a loser. To score well, though, he'll have to stay on longer.
He leans back and nods—that's the signal. The gate swings open and the 1,400-pound animal does what it was bred to do: buck like hell.
Three rolls of athletic tape strain to keep Peebles' wrist, elbow, every bone, muscle, tendon and joint from tearing, breaking or hyperextending. The world champion rider from Redmond who, at age 30 has broken his back three times, is about to look like a rag doll on a roiling, insane roller coaster — fringes flying, left hand flailing, cowboy hat flipping furiously into the dirt. He'll hang on for dear life, with points awarded for technical style.
Peebles fell in love with this in seventh grade, after moving from Salinas, California to Redmond. His uncle, a rodeo veteran, like a second father to him, introduced him to a friend, Bobby Mote, of Culver, who was halfway to becoming a four-time world champion in the event.
Peebles and his family would go to the Sisters Rodeo every year. As soon as he turned 18, he was eligible to compete in the professional event, practically in his backyard, using it as springboard to a career that has spanned two decades and the continent. On the pro circuit, traveling to scores of rodeos across the country, his goal became winning a world championship, which he did in 2005. He'd qualified for the national finals seven times, until 2016, when he broke his back twice and had elbow and shoulder surgery.
Even for someone who has reached the pinnacle of the sport, the Sisters Rodeo, among the oldest and best attended in the Pacific Northwest, bears a distinct significance.
"It stands out from the rest," says Peebles. "Riding is a little different when your family, friends, your hometown are in the crowd. You don't want to mess up. If you're in Kansas City or somewhere—every time you want to win—but if you don't do good, you go somewhere else and don't dwell on it. It puts a little twist on it."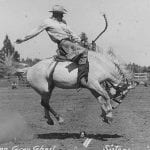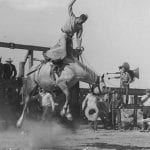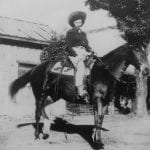 A Seventy-Nine Year Ride
For the rodeo to have endured for seventy-nine years, though, has demanded that many people think well beyond the excitement in the arena. Like a tenacious bronc rider, it has held on tight, maneuvering through hard times and evolving from an amateur event to a professional one with a permanent home because of locals who've loved it and worked hard for it.
Several of the rodeo's eleven board members have been with it about a half-century. That includes Arena Director John Leavitt, who began competing in the rodeo at age 17 in tie-down calf roping, steer wrestling and doing pickup riding (scooping up competitors on horseback after bull riding, saddle bronc and bareback riding). He reminisced about those early days, when his sister barrel raced and the rodeo was right downtown, on North Pine Street, where Hoyt's Hardware & Building Supply is today.
He ran his Western wear store, Leavitt's, in downtown Sisters for four decades, outfitting real cowboys and cowgirls as well as those enamored with Western style. The rodeo queen's outfit would come from the store, a tradition that continues since Leavitt sold it in 2015 and it became Dixie's.
Leavitt takes pride in the work that the board and two hundred volunteers do to make the event run as smoothly as the state's largest professional rodeos, the Pendleton Roundup and the St. Paul Rodeo. He credits Sisters Rodeo Board President Glenn Miller, who has volunteered for about four decades and oversees sponsorships that support awarding $10,000 to each winner in seven categories from bull riding to team bronc riding.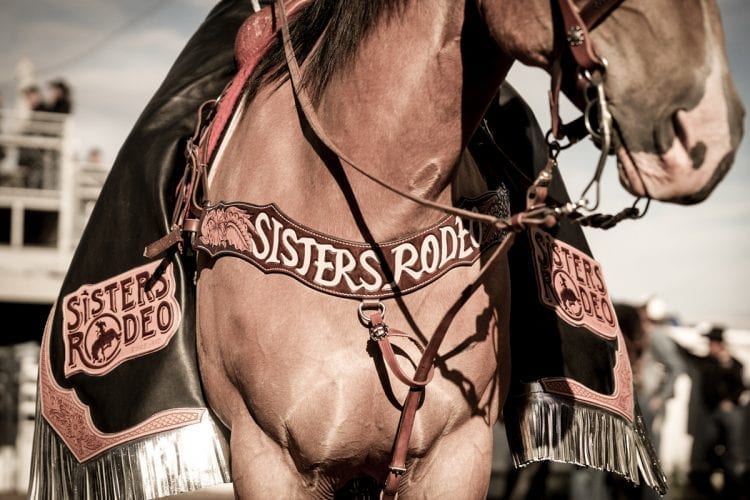 Traditions And New Blood, Too
Board Secretary Bonnie Malone has put her University of Oregon journalism degree to work for the rodeo, leading media and communications for the event she's served since moving here nearly forty years ago. Malone, a chiropractor, savors the stories she finds at the rodeo.
For example, there's Peggy Clerf Tehan, the 2019 Grand Marshal of the Sisters Rodeo Parade. Tehan sang "The Star Spangled Banner" at every rodeo for twenty-nine years, almost always a capella on horseback. That first time, Tehan left her three-month-old daughter in the stands with Jean Wells, founder of the Stitchin' Post sewing shop and the Sisters Outdoor Quilt Show. As the young soprano sang, she could hear her infant howling. Four years later, Tehan sang, albeit not on horseback, a week before giving birth to the howler's sibling.
Last year, Tehan retired from lending her voice to the event. Rodeo organizers asked her to chair a committee to bring on new singers for each performance. Audrey Tehan, the howling infant at her mother's debut, sang in her mother's place at the rodeo opener last year.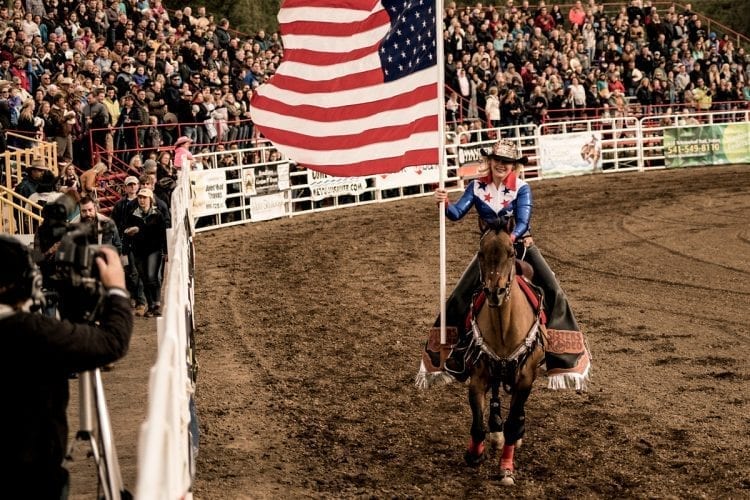 As essential to the rodeo as the national anthem is the rodeo clown. When Sisters hired neophyte performer J.J. Harrison thirteen years ago, it launched his second career. This clown holds a master's degree and was teaching middle school in Walla Walla, Washington when he heard about the opportunity. Last year, the Professional Rodeo Cowboys Association nominated him for Clown of the Year.
Malone recalled one of her favorite rodeo moments, in 2010. Harrison jumped up on a barrel, taunting a bull, and as the massive, horned bovine started toward him, the clown dropped inside the barrel. "That bull took on an attitude and started whacking him down the field, rolling it like a soccer ball, right through the center exit gate," she said. The crowd went wild. "Everyone was like, 'Goal!' It was hysterical. You just couldn't plan this thing."
Harrison appears at Sisters Elementary School on the Friday of every rodeo. "As a former middle school teacher, he just takes over, and his whole message is about not bullying, standing up for people who are bullied, and befriending those who look like they're alone," said Malone. "The kids absolutely love him."
Board member Cathy Williams, 86, volunteered at the rodeo since the early 1980s, and just retired as board member and ticket office manager. After teaching in Portland schools for thirty-two years, she moved to a log cabin, a family vacation home, just north of Sisters.
From the ticket booth, she educated spectators coming to the rodeo for the first time. She let them know about the event's emphasis on animal care.
The animals, Malone points out, are athletes, bred and groomed for their careers in rodeo. They're valuable—six-figures for the best performers—so it makes sense that their owners would take good care of them, she said.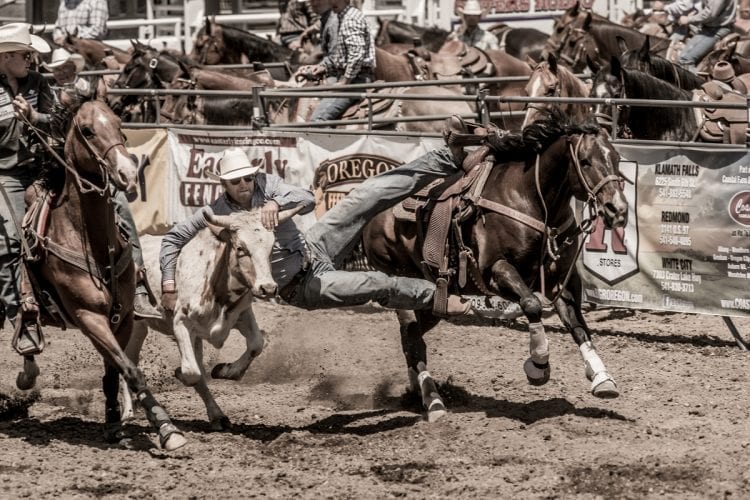 Heading Home and Chasing Glory
Like a successful rodeo, a rider's career is sustained through passion and almost slavish devotion to excellence. It's a journey that has taken Peebles to the sport's highest highs and its back-breaking lows. This year, the Sister's Rodeo and dozens like it will be key to Peebles' chance of another shot at that vaunted high. His goal is to once again qualify for the Wrangler National Finals Rodeo in Las Vegas, rodeo's premier event, in December. If he makes it, it will add an exclamation point to a dramatic comeback.
Last year, he'd finished a rodeo in Austin and was driving home to Redmond after a string of less than satisfying results. Near Llano, he stopped at a store and ran into his old friend Bobby Mote. Peebles didn't know Mote had moved to that part of Texas. He went home with his mentor and friend, who took him back to the basics, refining the essentials of where they'd started nearly two decades ago.
"It took sitting down with Bobby," says Peebles. "He grounded me. I had some time off in spring to slowly heal, and in summer, I started climbing back up. I was barely short of making finals, but it was a game-changer. I've been winning."
Whether he can ride that momentum to Vegas hinges on how he does at the sixty-five rodeos he'll have driven to across the country, between February and September this year. The Sisters Rodeo, June 5 to 9, is one of them, as it has been nearly every year for the past decade.
It's a mental and physical grind. On the road, Peebles will get to a rodeo, ride, and sometimes will drive all night to the next. After the Sisters Rodeo, though, he'll change out of his gear, get to see the second half of the saddle bronc riding, and meet his friends and family in the beer garden. But he won't linger.
With two rodeo buddies, they'll share the driving, to a new state practically every day. "There's Reno, then July 4th weekend. It's called cowboy Christmas. We'll go to twelve rodeos in five days. Arizona, St. Paul and Molalla (Oregon) … Arkansas, Colorado, Alberta…" Enough high scores would mean a return to the finals.
Like the Sisters Rodeo, Peebles has stood up to challenges, which, for other folks, would've done them in long ago. Now they both stand to reap the rewards of hanging on, no matter how rough the ride.
In May 2019, Steven Peebles broke his leg and will not be competing in the Sisters Rodeo.