Marianne Cox does outreach for a spay and neuter clinic in Pescadero, Mexico | photo Marianne Cox
When Marianne Cox first traveled to Mexico in 2002, she was shocked to find dogs littering the streets. She vowed to someday rescue a street dog. Instead, she's saved thousands.
In 2017, despite having no experience running a nonprofit, Cox founded Street Dog Hero, a Bend-based organization that rescues dogs from around the world and flies them to families throughout the Pacific Northwest. Cox's operations sprouted in Sayulita, Mexico, where she first saved "Trece," a Vizsla mix that she found a home for within three days. Now, Cox's rescue dogs hail everywhere from meat farms in South Korea to overcrowded shelters in Texas. "My heart is with the dogs that no other rescues want," said Cox, "because I think they deserve a home, too."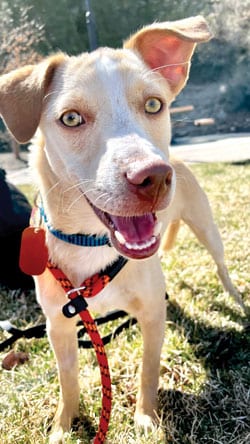 Although Cox wishes she could save every street dog, rescuing and flying them across the world is no easy task. Each pup is rescued by one of Cox's partner organizations, which work on the ground in Mexico, India, South Korea, China, Puerto Rico, Albania and the Virgin Islands. Then, volunteers escort the dogs through the airport and fly them back to either Redmond, Seattle or Portland, where their foster or adoptive families await. 
The COVID-19 pandemic threw a wrench in this well-coordinated travel jigsaw. With most international borders closed, the Street Dog
Hero team moved their operations closer to home. Cox's rescue partners and volunteers drove across the Mexican border three times a week and returned with cars jam-packed with dogs. They also began clearing out shelters domestically, in Oregon, California and Texas, and the quarantine pet-craze only further fueled their adoption rates. In 2019, the organization rescued 450 dogs, and in 2020, they saved over 600.
Cox said, "COVID made us help so many more dogs, and that's why I have so much grey hair right now," she said and laughed. Like most nonprofit founders, Cox is overworked, yet she said, "it's all worth it in the end." Street Dog Hero—which has a six-person team in Bend—relies on fundraising dollars and adoption fees to fund operations. Cox also can tap 10 Barrel Brewing for raffle prizes and event facilities, because her husband is a co-founder of the company. "My husband says I'll kill the family (while driving) to save a chipmunk running across the road," said Cox, who is known for being an animal lover.
Once she started rescuing dogs, Cox quickly realized how many dogs she couldn't save. She pivoted to also combat the root problem of dog overpopulation, holding pop-up spay and neuter clinics several times a year in Mexico. During the pandemic, she instead launched clinics across rural Oregon, in LaPine and Christmas Valley, but she looks forward to the time when the organization can expand these efforts worldwide.
Cox's long-term goal is for Street Dog Hero to no longer be needed because the organization has educated communities on how to address dog overpopulation. Until then, Cox and her team will find homes for one dog at a time.