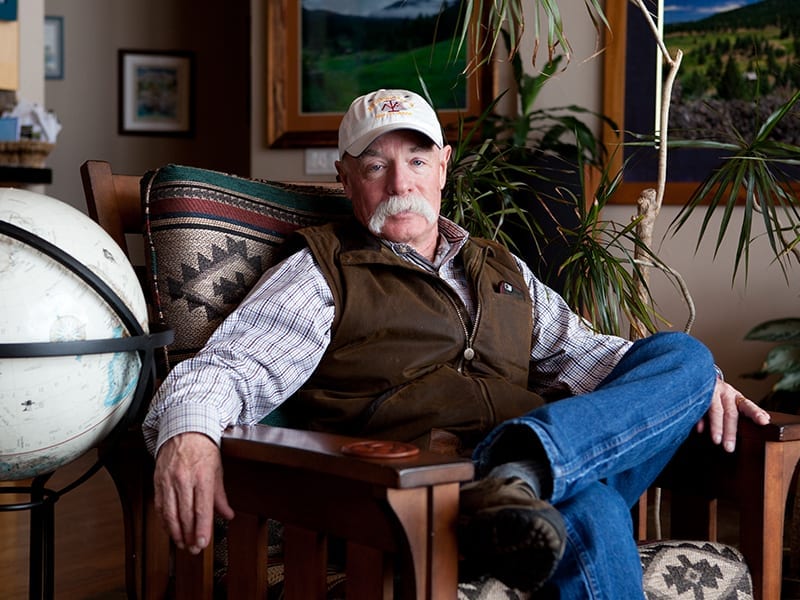 A maverick scientist and a teenaged ditch-digger once changed the course of Bend's economy–while staying true to their roots.
It is 1974: Rod Ray is a 17-year-old, cooking at a former general store in Tumalo where loggers, mill workers and ranchers kick up their boots for a sarsaparilla, or something harder. The sign by the road simply reads: Eat.
He asks out the busgirl, Karen Lonsdale. This teen romance in Bend, a town of about 16,000 people and four stop lights, couldn't seem more unremarkable, except that it would lay the groundwork for one of the most significant parts of Central Oregon's business scene today.
The girl's father, scientist Harry Lonsdale, had been doing biomedical research for a company in the Bay Area, and sought to flee the growing congestion to start his own company. He bootstrapped the endeavor with fellow chemist Richard Baker, with a plan to garner government research grants.
Ray, who was being raised by his single mother, naturally gravitated to the men. "For me, as a senior in high school, to have these mentors who were hatching a company out of Harry's living room, while I was there to see my girlfriend, was really cool," said Ray. "It gave me a view of what you can do. I was just basically really lucky."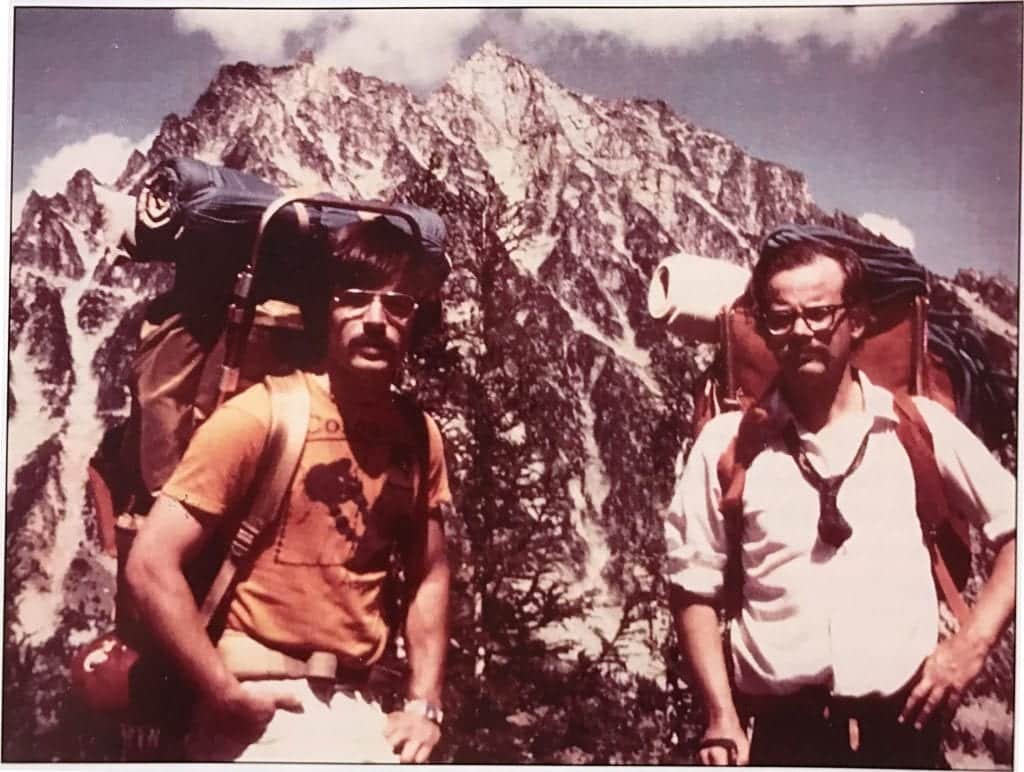 Lonsdale and Baker built a headquarters that looked more like a ski chalet, with a plan to sell it as a house if the business didn't pan out.
"I remember climbing Broken Top, just Harry and I, and he was talking about what the company would be like," said Ray. "I talked him into giving me a job with the same salary as my cook job. I dug irrigation ditches, painted, built fences and took trips to town. I was the second employee besides the founders—them, me and a secretary doing some lab work. I couldn't believe it. I was in some ways their mascot."
Bend Research started operations on April, 1, 1975, with methods for getting drinking water from seawater and water pollution treatment. It was the first research company of its kind in Bend, a timber town amid a sea of sagebrush. 
After graduating from Bend High School, Ray took a year to work, ski and take some classes at Central Oregon Community College in preparation for going to Oregon State University in Corvallis. His mother, Nancy Zahl, the head of the nursing program at COCC, worried that her son's college career might get derailed. She needn't have.
"What those two guys [Lonsdale and Baker] did was make it unacceptable to think about going to college for anything other than a technical subject," said Ray. Ray's father and grandfather were civil engineers. His first lessons in hard work and problem solving came from his grandfather, who took him along to help him on surveying work.
At OSU, Ray studied chemical engineering, a blend of his father's and father-figures' professions. During every school break, he'd work at the fledgling research company in Bend. He and Karen were no longer dating, but remained friends. The bond he'd formed with her dad and his business partner was much stronger.
"As I got close to my BA, they [Lonsdale and Baker] started working on me to go to graduate school," Ray said. "I didn't ever think of myself as Ph.D. material." He applied his philosophy that hard work could compensate for most shortcomings, left Oregon for the first time for the University of Colorado, Boulder, earned a Master's in chemical engineering and returned to Bend Research.
A photo from 1984 depicts Ray, with a thick, chestnut-brown mustache and side-combed hair, conferring with the company's founder and two subsequent CEOs. Looking at it, Ray cites sheer luck. "I was 28, with a brand new Ph.D., and there I am helping them run this company," he said. "I wasn't that good. We just all had a good, close relationship. They were very trusting. It was magic, being part of that group at such a young age. It just doesn't happen very often, and what it did was make me work really, really hard."

Work Hard, Play Hard and Survive, Too
In the subsequent years, the company grew, securing scores of patents in a range of industries: natural gas and oil recovery, power plant emissions reduction, pheromone-based pest-control, home medical-oxygen concentrators, transdermal and controlled-release drug delivery systems, technology for NASA space stations—and even a way to make orange juice less bitter.
One client, pharmaceutical giant Pfizer, grew to dominate, offering the best and most profitable work, and by mid-1990s, Bend Research had an exclusive contract with them.
The company was thriving, based on values established by the founders and CEO Chris Babcock, said Ray. "The goal was always: Do the right thing in business; look for the win-win; don't take advantage and hard work prevails. That's how I was brought up in business and science. Truth in science. Keep talking. Keep working the problem until you and your colleagues feel you've reached the truth, the real scientific conclusion. Stay focused. Relentlessly get to the truth."
To bolster that, the atmosphere had to be one in which it was safe to be wrong. "Risk must be ok," said Ray. "Our clients really liked that we would be honest with them about what worked, what didn't, and what mistakes we made. It's in our values: integrity and honesty. We told clients what we meant by those values. We would keep them informed about how the science worked, and any positive or negative result, and not cover anything up, and clients really came to trust us."
A core asset of the employee-owned, self-insured company was the people. Ray, a believer in the rejuvenating power of exercise, also knew the business benefits of having a fit staff, so he created a culture to promote that. At lunchtime, on the sprawling, roughly fifty-acre Tumalo campus, people would be playing ultimate frisbee, running, riding bikes, Nordic skiing, working out with trainer Kyle Will or doing yoga.
Ray's wife, Lori, the company's former corporate vice president, said, "R & D isn't easy. You fail many more times than succeed, and creativity can't be forced. Being active would give us all a reset. My afternoons were way more productive, and I'd often get great ideas while running which I couldn't access at my desk."
The ideas, bolstered by the truth-in-science mantra, came to fruition, with the company's intellectual property stacking up to more than 100 patents. A major innovation was technology that allows certain drugs to be absorbed in the body, solving Pfizer's dilemma of promising drugs that didn't perform.
By 2008, Bend Research had 175 employees and annual sales of about $40 million with Pfizer as its sole client. In April, Ray became CEO. Two weeks later, New Jersey-based Pfizer called Ray to a meeting—the company wanted to continue working with Bend Research, but wanted to end its exclusivity agreement. Bend Research had a new imperative: survive.
Everything to Lose
Bend Research's Pfizer revenue was slated to drop during the next eighteen months, from about $35 million to $8 million by 2010. "So my first act as CEO was firing about 25 percent of my pals, which was really fun," Ray said with sarcasm. He cut the staff from 175 to 135.
Ray and core team members embarked on a gauntlet of business trips, pitching prospective clients and feeling a keen awareness of his tone and body language. "It had to be positive," he said. "Our goal was to get them to visit us. If they toured our facility, that would make the sell for us. My job was just to get them here. It was up to us to tell the story."
It involved Lori and General Counsel Bruce DeKock, too. "It would be me and Bruce across the table from five blue suits with collectively twenty times my experience," said Lori. "We were all operating up against our limits. Everyone in the company was doing things they'd never done before."
Ray signed the Pfizer deal that ended exclusivity on September 30, 2008, the day his granddaughter was born and just as the stock market and Bend economy were crashing. Pfizer still wanted Bend Research to thrive, giving it the roughly 100 technology patents the Bend company had developed for them and a share in royalties.
Bend's economy was floundering by January 2009, and Bend Research's annual holiday party approached. Ray knew that what he would say that night was critically important for morale. "I was scared to death, although I never showed it, that I know of," he said. "It was my chance to pull the company together and aim it toward the next vision."
Ray stood in front of the crowd, wearing a white shirt, bolo tie and black cowboy hat, a more formal version of his usual Western attire, this time with notes in hand, a rarity for him. The nervous energy in the room was palpable. He promised to speak for only as long as it took for a young woman staffer in the front row to finish her beer. He said:
"You guys are going to walk out on your porch and one of your neighbors is going to have lost their house. It's not going to happen to us. We're going to win."
One advantage was that the pharmaceutical industry was faring well, and it became easier to hire workers and keep them. "Our [employees] didn't want to leave, no matter what happened," said Ray. "Those early few months were the most intense leadership experience I have ever had."
As they approached their goal of bringing in about $32 million in sales by 2010, Ray knew the company had weathered the storm. By the end of 2012, sales were on track toward a goal of about $60 million. The next logical step would be to build a commercial manufacturing facility. To raise the capital to do that, Ray began to think about selling, but it went against the company's strategic plan, and flew in the face of Lonsdale's vision. "He didn't found it to sell it, he founded it to be in Bend forever," Ray said of Lonsdale.  He didn't need to have his mentor's approval, but he wanted it.
He did a strategic analysis of other options, but concluded that selling part of the company or taking on more debt weren't the answers. "It's one thing when you think you're not going to make it, but it's another when you think you have something to lose, so I was getting pretty skittish," said Ray. "We had this great brand, and we were seeing a lot of new competitors—companies that could copy what we did, but not develop what we could."
Ray wrestled with the idea of selling. Every month, he had routinely gotten together with a trusted group of ten local business leaders. The informal gatherings allowed the opportunity to talk, knowing that everything was strictly confidential. Ray brought his dilemma to his coterie of confidants—how will Bend perceiveus if we sell? Ray said he was surprised by the response: The town will trust you; they will trust that you're doing the right thing. "That key input from my hometown mattered a lot," he said.
The company's board of directors got behind him and the idea of a sale bringing a $25 million commercial manufacturing plant to Bend. In 2013, global pharmaceutical company Capsugel came with an offer. Ray had four criteria. "Price was last," he said. The top priority was opportunities for the employees, followed by capital to build the commercial manufacturing plant and for the business to stay and grow in Bend. Capsugel agreed, and while not disclosing the selling price, Ray called it "very fair." In another twist that speaks to the grow or die mentality of the industry, Capsugel was itself acquired earlier this year by a Swiss-based firm, a move that is not expected to impact the relationship between Bend Research and Capsugel or to affect Bend Research's workforce locally.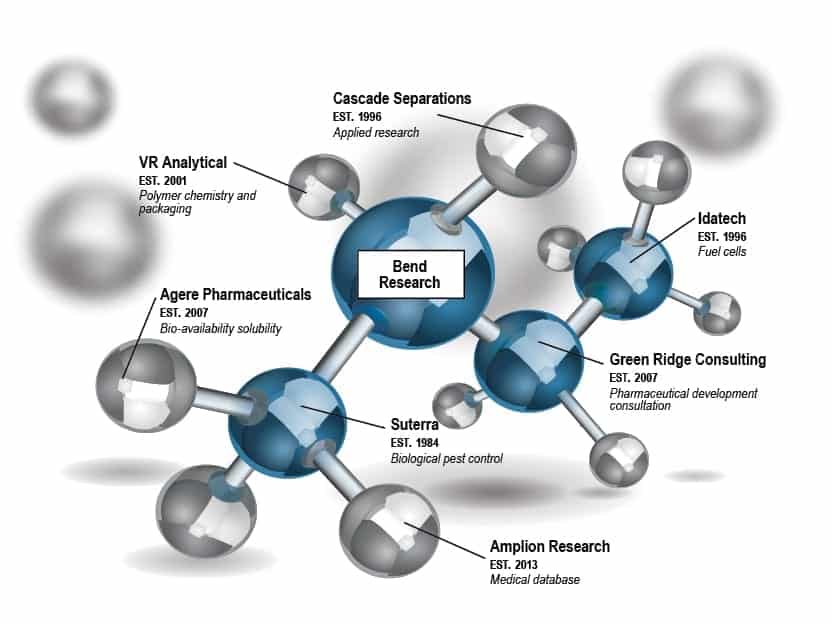 The Roots of an Economic Ecosystem
Today, Bend Research, a division of Capsugel, has more than 250 employees and six state-of-the-art facilities in Bend. Its economic impact, however, extends well beyond that business, having paved the way for the high-tech ecosystem. Companies that followed Bend Research included Orcom in 1976, Advanced Power Technology (now Microsemi) in 1984 and Grace Bio Labs in 1986. "Bend Research was a turning point, in many ways, for Bend developing what it would be after wood products," said Roger Lee, executive director of Economic Development for Central Oregon.
The company has attracted engineers, chemists and Ph.D. scientists, and was the source of five direct local spinoff companies: IdaTech, VR Analytical, Agere Pharmaceuticals (now part of North Carolina-based Patheon), Green Ridge Consulting and Amplion. Of the area's roughly twenty-five local biotech companies, about a dozen startups can be traced to Bend Research, said Dino Vendetti, general partner of Seven Peaks Ventures in Bend.
Ray's support of OSU-Cascades amplifies the synergy that he and Bend Research have had within the region. He'd always sought to hire qualified people from Bend and the new university aids that. "You're organically developing a talent pool," said Vendetti. "You can only recruit so many from elsewhere in an economic cycle. Local companies need to hire local talent to fuel growth of those companies."
One example of the ripple effect includes the Oregon Translational Research and Development Institute Bioscience Incubator's plan to expand to Bend, in collaboration with OSU-Cascades. "That's the beginnings of critical mass and it started with Bend Research," said Vendetti. "It took a crazy entrepreneur like Harry to build it in Bend, and look what it led to. It takes early visionaries to blaze the trail that other entrepreneurs will follow."
Not Run-of-the-Mill Values 
This past fall, Ray sat in a conference room at the new OSU-Cascades campus. The room is named for him and Lori, longtime advocates and donors to the effort for Bend's first four-year university. He was meeting individually with some of the leaders of small businesses in Central Oregon enrolled in his six-session seminar, The Principles of Leadership, offered through Opportunity Knocks, a local nonprofit which helps steer area businesses toward success. In the seminar, Ray details what he learned during his twenty years as president and CEO of Bend Research, applying it to the participants' businesses, from healthcare, digital marketing and banking to garbage removal.
"This town was really good to me as a kid … and I'm in a position now to try and make it better," he said. "I decided to go out to companies and find out about them from the ground up as opposed to the top down. I'm more of a ditch-digger. It's my nature to go in one-on-one with as many organizations as I can, and ask … 'Can I help?'" He's collaborated with the City of Bend and St. Charles Medical Center, where his daughter, Mary, is a nurse in the intensive care unit—something that would have deeply satisfied his late mother, he said.
In the first session of Ray's seminar, he covers business principles and values. He recalls how, when he was 11 years old, his mother would drop him off at Green Mindt Market (now Newport Market) on her way to work at COCC on Saturday mornings. He'd have his .22 rifle with him, hunting rabbits on the wooded, undeveloped butte for half the day, as he made his way to meet up with her on campus. The guys who took him hunting and fishing would later have COCC buildings named after them (Fred Boyle, longtime COCC president, and Orde Pinckney, a professor and theater advocate). Local firemen took him skiing. "In a logging town, it was unusual to have a single mother, much less a professional single mother, so the community sort of wrapped itself around us," said Ray.
Not every small town in America might have done that, but Bend was different. "Everyone was working at the mill—they were one big team," said Kirk Schueler, president and CEO of Brooks Resources, a Bend real estate development firm which began as a lumber company. "If you were not at the mill, your business and life were somehow tied to the mill—serving meals or selling supplies to the mill. Everyone knew they were connected … Rod lived it, and still lives that."
Today, as Ray guides others in leadership and creating meaningful work cultures, he emphasizes that "place" is as vital as vision, values, practices, people and narrative.
For Ray, now 60, it was the Bend of his youth that shaped him and, by extension, his company. The people from that era truly have a shared set of values, he said. "You can count on them."