Must-taste dishes from four food truck pods that serve as the hub of Bend's foodie revolution.
It's been a decade since the first food truck popped up in Bend, the iconic silver Airstream trailer with the Spork name emblazoned on the side. That pioneering food cart showed that great cuisine doesn't require a reservation, a cloth napkin or even a table. Since then, the food truck scene has blossomed. Today you'll find dozens of food carts sprinkled across Bend and beyond. There are food carts in Redmond, Sisters and Sunriver, but the epicenter of the revolution is in Bend where food truck clusters like The Lot and On Tap have become go-to destinations. Here's a look at what you'll find around Bend along with a few recommendations on what to eat.
On Tap
Tucked in a lot on Bend's eastside near the hospital is On Tap, a food cart pod with a view of Pilot Butte. The attractive three-sided structure at the center of the action presents more than thirty rotating taps featuring a wide variety of beer, cider, wine and kombucha. A handful of tables are inside, and a clear plastic tarp closes off the structure entirely to ward against the weather in the off-season. More tables are outside, as well as cornhole, fire pits and more casual seating to enjoy on warmer days.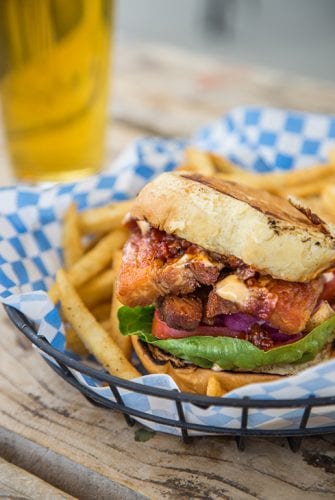 "What shall we eat?" we asked Elliot the bartender. "Do you want quality or quantity?" was his response. We opted for both. Quality came at the Bleu Rooster by way of the P.B.L.T (see below). Quantity was Phillystyle Bend's cheesesteak hoagie—thinly sliced steak with your choice of cheese (cheez whiz is an actual choice) and fried onions on an authentic Amoroso roll. (We overheard another patron happily refer to this selection as a "fat-kid sandwich.")
If neither is your cup of tea, the six trucks on-site deliver a little bit of everything, from shave ice and acai bowls to BBQ to momos—hand-made dumplings stuffed with meats and veggies, noodles, and other delights inspired from the Himalayas.
Visit on Monday for local's day with happy hour prices on beverages all day, and check the website for regular trivia nights and live music events. Kick back in the summer air and give a toast to the sun setting over Pilot Butte at this eastside enclave.
Dish not to miss: Blue Rooster's PBLT
The former executive chef of Bend local's favorite brunch restaurant CHOW brought his culinary genius to the food truck Bleu Rooster, to make "global cuisine, family-inspired." The menu is lush with dishes like pomme frites to a Cubano, but the piece de resistance is the PBLT—crispy pork belly with Sriracha aioli, lettuce, tomato, and house made bacon-tomato jam on Big Ed's brioche bun.
The Lot
If imitation is the highest form of flattery, then Dave Staley should be downright embarrassed at all the praise for The Lot, his west side food cart collective that has become the template for nearly every food truck business in Central Oregon.
Staley and his wife Michelle acquired what was previously a "weed covered lot" in 2012 and spent more than a year working through the permitting process for the business, the first of its kind in Bend that provided not just food carts, but a central gathering space to enjoy the diverse food options, plus craft beer on tap to wash it down.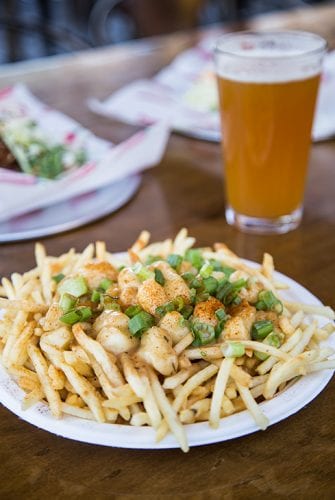 Staley obsessed over the details, designing a scale model of The Lot in his garage prior to construction, and it shows. He designed the decorative lava rock wall, added a gas fire pit and then worked to evolve the design, adding roll-up garage doors that made it suitable as a four-season destination.
"That was part of the fun, doing something that no one had done," said Staley.
He hasn't stopped tinkering and experimenting, as evidenced by his decision to buy an old double decker bus that he converted into a food truck kitchen in partnership with Brandon Chambers of À la Carte, one of the tenants at The Lot. Dubbed Frickin Faco, the bus/truck specializes in fried chicken and fish tacos and offers patrons seating on the upper deck of the retrofitted double decker.
Dish not to miss: A La Carte's Vladimir Poutine
We love a good play on words and this shareable dish hits all the right notes. Cheese curds nestled greasily on a bed of thin-cut fries and topped with beef and and cajun season scream cardiac collusion. For something more traditional, try the Po Boy Fried Chicken Sandwich from Frickin Faco. Battered and deep fried hunks of chicken are stuffed into a Big Ed's potato bun and topped with homemade slaw, pickles and lime aioli.
River Place
The restaurant scene has been traditionally sparse on the east side. A pair of food truck lots has helped to fill the void. The newest of those is River's Place, a homey space tucked behind the Subaru dealership (welcome Westsiders!) near Costco.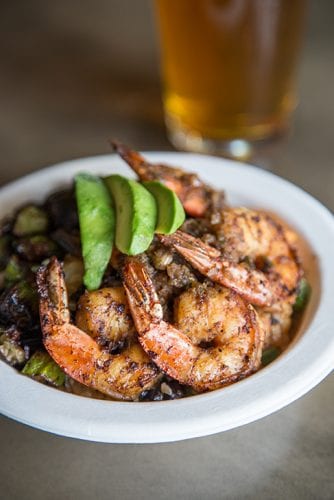 River's Place follows the winning formula developed at places like The Lot and Tumalo's The Bite, with a mix of indoor and outdoor seating separated by a pair of roll-up garage door/windows that easily seal out the elements on those days when a puffy coat just isn't enough. But River's Place really shines in summer when customers can sprawl out across the lawn that includes a kids' play area, gas fire pit and casual seating flanked by almost half a dozen food carts.
Choose from hand-tossed personal pizzas, island flavors, hoagies and more. Inside, welded stools let you belly up to high-top tables and take in a ballgame or drill down on a bingo card. Casual seating in the corner is there for extended chill sessions and quickly converts to a stage for live music. Use a Costco run as an excuse to drop by if you must, but River's Place is a worth a trip.
Dish not to miss: Jerk King's Caribbean Bowl
Jamaica's number two cultural export after reggae music (OK, maybe number three), jerk seasoning is a smorgasbord of spices that includes allspice, thyme and onions that impart a smoky, sweet tang unlike anything else. Jerk Kings executes it to perfection in the Caribbean Bowl that includes brown rice, coconut black beans, avocado, toasted okra and sweet potato. Keep it island style by ordering it with shrimp.
Podski
With half a dozen food carts and more on the way, Podski is a culinary alcove that can handle overflow traffic from the adjacent Box Factory area, but is a destination in its own right. Add in a dash of retail—there's a mobile hair salon—and a soon to-be indoor beer garden and there's more to Podski than meets the eye.
Developer Mikel Lomsky said he's made it a point to develop an eclectic mix of food and businesses in the space, which debuted in 2018 and is already expanding. (A half a dozen more businesses and a fully enclose-able beer garden and seating area are set to debut in time for summer.)
"I'm trying to get a taste of everything around. You can get your southern chicken from Tin Pig and Polish pierogis from Big Skis. You can get your Thai dish or tacos. It kind of depends on what part of the world you want to do that day," said Lomsky, who wisely declined to say if he had a favorite dish among his among his vendors' offerings.
With four new carts joining the roster in the next few months, including a sushi cart from Ronin Sushi and a charcuterie-themed cart, it's hard to blame him for not being able to single out just one for praise.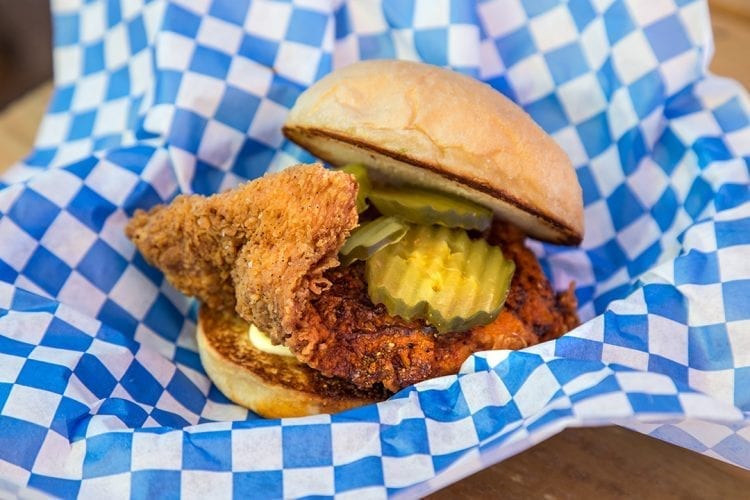 Dish not to miss: Tin Pig's Southern Chicken Sandwich
Tin Pig blends Southern recipes with flavors from the owners' respective homes of Tucson and Virginia to provide a down-home taste with a twist. Perhaps the best example is the fried chicken sandwich, a deep fried, diet-busting flavor hammer that sets the bar by which other chicken sandwiches are measured.