Warm Springs' Elizabeth Woody on life, loss and becoming Oregon's poet laureate.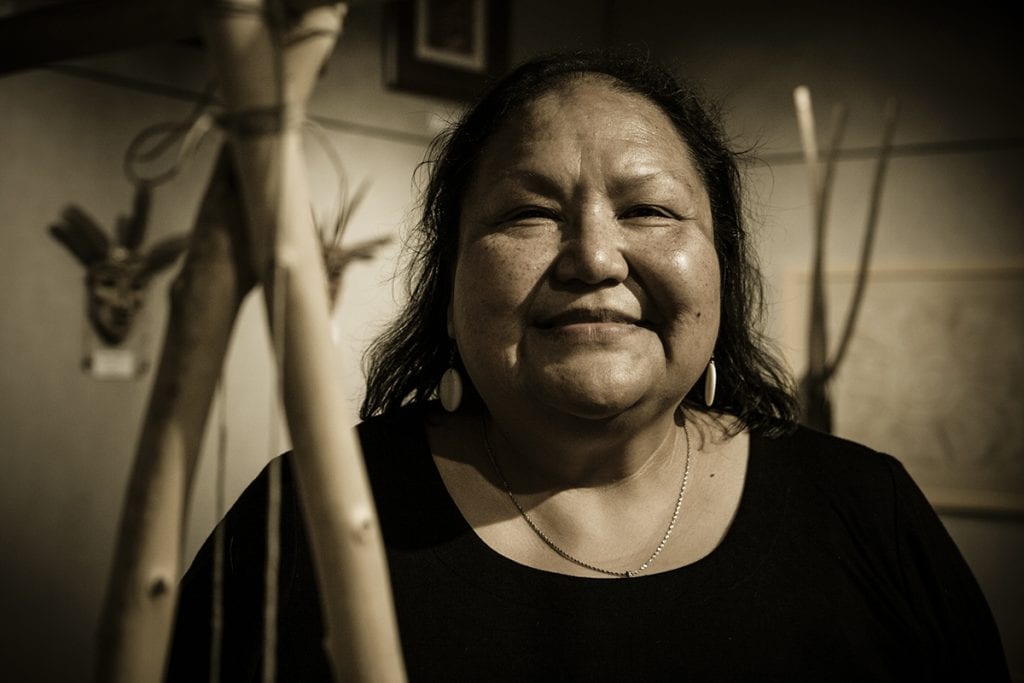 Driving along the winding highway between Portland and Warm Springs on a cloudy day in early April, Elizabeth Woody saw her cell phone light up on the passenger seat. Recognizing the number, she pulled her dusty silver SUV off to the side of the road and picked up, wondering why they would be calling her—she hadn't worked with them in years.
The unfamiliar voice on the other end introduced himself as Adam Davis, executive director of Oregon Humanities; he told her he had good news. After reviewing her nomination and submitted writing samples, the statewide selection committee was ready to nominate Oregon's next poet laureate. Appointed by the governor, the poet laureate position is presented to a single author who has made a significant contribution to the state's literary canon. The recipient spends two years promoting poetry across the state through the written word, as well as their presence at literary events. The committee thought Liz was the right person for the role.
"She has some national presence; when she was selected I heard from people around the country congratulating us on her appointment," said Davis. For Woody the nomination came at a time when personal events were overshadowing her professional life.
"I was surprised, delighted, honored—and very hesitant to accept," she remembers, her face filling with emotion. "My first thought was of my mother."
Beginnings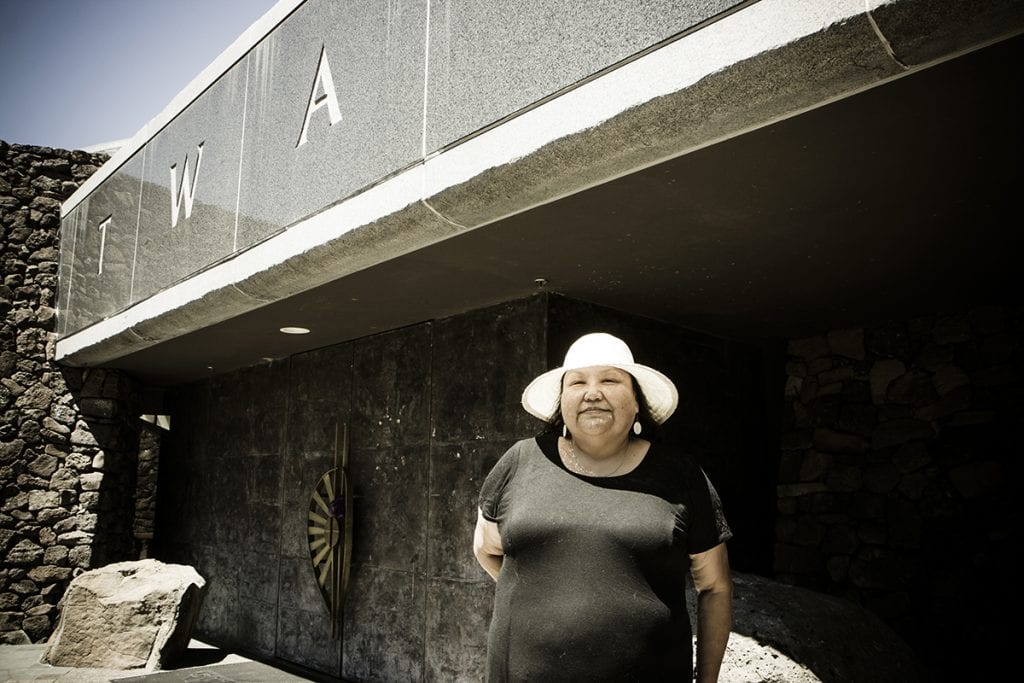 Sitting on a small gray sofa in her mother's house in Warm Springs, Woody tilts her head to slip on a pair of earrings, pale discs that dangle playfully against strands of her long black hair. While her face shows fatigue from months in mourning and a recent bout of bronchitis, her eyes still light up when she laughs.
Tribal masks with hollow eyes watch over a bookshelf filled with picture frames, hints of Woody's heritage that color her work and inspire her actions. Amid statuettes of Jesus and a Buddha, the visage of her great grandma Charlotte Edwards Pitt stares off into the distance wearing two long braids, her neck adorned in beads of the Wasco tribe. Portraits of Woody's grandparents, Elizabeth and Lewis Pitt, sit alongside a snapshot of a smiling Woody with her sister Jolene and aunt Lillian Pitt that was taken at the American Book Awards when she was a finalist. In all these photos, one person is missing. Observing tribal traditions for mourning, Woody has removed all photos that include her mother and, for a year, she won't even speak her mother's name.
Surrounded by her heritage, Oregon's newest poet laureate pays tribute to the lives and landscape that have shaped her literature by sharing her words and connecting with communities, one small town at a time.
Born in Ganado, Arizona in 1959, Woody moved to Central Oregon when she was four years old to her mother's childhood home in Warm Springs, fifteen miles north of Madras. Created by treaty in 1855, the Warm Springs Reservation is home to the descendants of the Wasco, Walla Walla and Paiute tribes that unified as the Confederated Tribes of Warm Springs in 1938. As a child, Woody lived with her grandparents in a house near Madras where she and her sister grew up with a strong sense of connection to the Central Oregon landscape.
"Some things have changed, but mostly what I loved about growing up here was going outside," she recalled. "My grandparents would take us on these long drives to the lava beds and the start of the Metolius River, which now is all a big park but back then it wasn't anything. We were involved with people who were hunters, fishers and who gathered food, people who knew this land well. It's the land that became 'home' to me."
After hearing family stories on these long drives, five-year-old Elizabeth started telling stories of her own, written and illustrated on paper with her grandfather's fountain pen and organized in a three-ring binder.
As a teenager, Woody's interest gravitated toward images instead of words; she clocked countless hours in the darkroom at Madras High School trying to build up a portfolio for photography school and actually failed an English class. To her, classic literature lacked relevance. That was until a troupe of Shakespearean actors from Ashland performed at Madras High. The scenes were improv, not Shakespeare, but one Hispanic actor caught her attention by making an effort to involve Native students.
"I think that opened a door in Liz's mind," said Kim Stafford, a Portland writer and longtime family friend, relating the experience. "It made her think that 'someone like me could do art' and now she can open doors for other people because she has a bigger sense of what it's about."
In 1978, at end of her senior year, Woody's English teacher asked her to enter a contest to attend the first Oregon High School Writers Workshop held at Lewis & Clark College. Never having written a poem before, she went home that night and wrote two because, as she explained it, she wanted to meet a living author. That summer, Woody got her wish and was chosen as one of four students to study creative writing with Sandra McPherson and James Welch at the weeklong workshop where she learned to play with words and lyrical rhythms, and discovered her own—previously unconsidered—path.
"When I was in high school, I wanted to be a photographer. My mom wanted me to go to law school, my uncle wanted me to go into natural resources and my aunt wanted me to be an artist," she said with a laugh. "I could have chosen a lot of different ways to go, but writing seemed to be the thing that happened—the positive in my life came from writing."
Inspirations
Unsnapping the latches on the worn black case, Woody uncovered the old Royal typewriter. Carefully placing it on the kitchen table, she tapped a key with one finger as a smile spread across her face. Pretty soon she was clicking away until—DING! She laughed as the carriage reached the end of a row, clearly tickled to bring out the tool she used to type her first manuscript. It's a relic that she hadn't touched in years. Splotches of whiteout still speckled the machine's front, leftover evidence of past revisions. Tucked in back is a memo made in her mother's handwriting to an attorney, a reminder of her mother's activism and the politics that percolate into Woody's poetry.
"My grandfather was a translator, secretary treasurer and one of the co-authors of the first tribal council. So Indian rights and tribal treaties—that's what we grew up talking about at our kitchen table," Woody said. "This is what we learned in the home, in my home. Not everybody has that, but my family lived in that climate."
A destitute alcoholic during her and her sister's childhood years, Woody's mother turned her life around through social activism. She became a counselor for the Native American Rehabilitation Association in the 1970s and pushed for American Indian freedoms across the state, writing grants to build sweathouse treatment centers in Corvallis and supporting fishing rights struggles on the Columbia River, including the imprisonment of David Sohappy during the 1980s.
Trips to the library to research court cases from microfiche and typing up notes for her mom taught Woody to research her questions and write about them. After studying at the Institute of American Indian Arts in Santa Fe, New Mexico from 1980 to 1983, Woody returned to her mother's typewriter in Portland and started reworking her school assignments into a manuscript, written over coffee and conversations.
"I would type draft after draft, then we would go to a little café around the corner and get a cup of coffee for 25 cents," Woody remembered. "We'd sit for hours and hours; I would read her the poems and she got it. She understood this whole universe of poetry because it came from my roots, which were her roots, too."
Many of the poems in Woody's first book, 1988's Hand into Stone, centered around the Columbia River and American Indian culture, including the loss of tribal fishing areas at Celilo Falls, near The Dalles. (Celilo was one of several historically and spiritually significant spots lost when the lower Columbia dams altered the landscape.) This debut book, which went on to win the American Book Award in 1990, almost almost never was. In 1987 as she was finishing writing, the briefcase containing her first manuscript was stolen in northeast Portland.
"Maybe a week later the police called me, I went in to the police station and there was my briefcase stuffed with these papers, covered with great big cop boot prints and gravel holes—I wish I had saved it," Woody said with a laugh. "I had said when I lost it: 'If this ever comes back I will submit it; I will quit holding onto it.'"
And she did just that. Hand Into Stone gained Woody national attention and was reprinted as Seven Hands Seven Hearts, along with another writing collection called Luminaries of the Humble, originally released in 1994. In addition to writing three books in six years, she also earned a bachelor's degree in humanities from Evergreen State College in Olympia, Washington in 1991 and continued to write numerous poems, as well as short stories and essays.
Although personal and rooted in her tribal upbringing, Woody's words also speak to a larger audience.
"One thing I find in her writing is that I need to surrender some of my habits of the rational and get ready for the mythical," said acclaimed writer Kim Stafford, describing Woody's works.
"It's 'look close and you will see' rather than 'let me tell you what it's all about.' She makes you work for the mysterious, it's not all spelled out in neon and requires patience. It's more challenging than some writing, but she's not showing off, not even showing–she's singing," said Stafford.
Speaking with an honesty that is sometimes considered harsh, Woody recalled audience members walking-out at early readings and claims her writing was "not in its time." If some found her words abrasive, there is a reason: her works tell the realities of American Indian life, including poverty, homelessness and domestic violence.
"It's not a manifesto, not a call to arms—what I'm writing about is life," Woody said of her style and subject matter. "I love complexity; I think that's what I want to communicate about my experience as I get older. I don't care if people like it; I do it for people who need my work." One of those people is her.
Once, Woody called her aunt, artist Lillian Pitt, on the phone to read a draft.
"She would call me and read her new poems," remembered Pitt. "One time I was exhausted and I said 'Oh honey why can't you write happy puppy poems?' And she never forgot that. But Liz is intellectual, very intelligent and she feels things very intensely."
Pitt went on to explain that while Woody's writing has known success, she has known great tragedy: her mother's alcoholism; a house fire when she was thirteen; layoffs when she was a professor in Santa Fe and most recently, her mother's death.
In some ways the tragedies and tumult fed her creativity.
"She went through that, kept it all to herself," Pitt said. "A person does need help to get through traumatic experiences like that. I think her writing has been part of that process."
Homecoming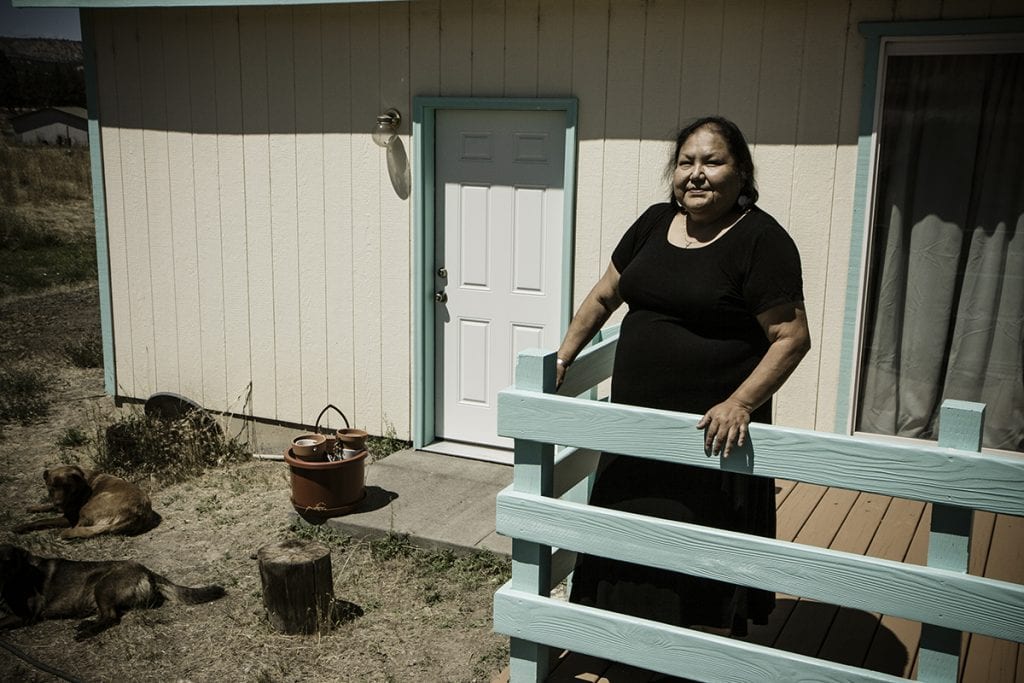 The news came last September, after Woody had received a call from her mother complaining about pain. Studying X-rays of her mother's lungs that day at the doctor's office, Woody said the tumors looked like dark little berries on her lungs. "You don't have pneumonia," the doctor told them. The diagnosis had arrived suddenly, but Woody didn't hesitate to put her life on hold to come to her mother's side.
With an M.A. in Public Administration from Portland State University, Woody has lived the last eighteen years in Portland, where she directed the Indigenous Leadership Program at Ecotrust, a nonprofit environmental organization, and developed programs at Oregon Health & Science University as well as the Meyer Memorial Trust. As soon as she learned about the cancer, she moved back to Warm Springs to care for her mother, who was gone just weeks later on October 1.
The loss left Woody, her sister and all of Warms Springs to mourn for a mother and counselor who could've gone to Harvard (Woody's mom applied and was accepted to the school in 1973) but instead returned and devoted the last years of her life to helping the people of the reservation. For Woody, the traditional yearlong process of mourning means she won't gather first fruits or attend celebrations and powwows. But even in sadness, she said the memory of her mother helped her answer the call to accept the poet laureate position, which she illuminated with a story.
"When I was a girl, we would go with my mother all over Oregon and Washington—she wanted us to see everything and everybody," said Woody. "We supported Grande Ronde when they had their first powwow and all they had was a cassette deck.
"Our uncle Leslie Thomas was the emcee and they only had four dancers, these little kids. But mom said 'It's really important. These people need our support. They need to be recognized as who they are.' We told her 'But mom there's nobody here!' and she said 'So? You get out there and dance!'"
The message of outreach and solidarity stuck with Woody and in some ways inspired her most recent undertaking.
As Oregon's poet laureate, Woody is tasked with making more than twenty appearances and presentations at literary events across the state. Her goal is to reach beyond the writing centers in Portland and Eugene to rural communities like the one she came from.
"I felt like I had to pay homage to that spirit of going and supporting people and looking—just looking," said Woody. "How many people go to these places and spend any time, or have the ability and capacity to try and build some bridges for them?"
In her proposal for the position, Woody outlined a plan to cultivate relationships with border towns, reservations and rural communities. She aims to support the humanities in smalltown schools and libraries by sharing the support that she has experienced. Despite the high school career counselor who discouraged her from going to college, Woody cites many more mentors who have encouraged her to write, including teachers, writers, tribe members and one Madras shopkeeper who was happy to hear she had become a poet.
"The community has always been supportive," said Lillian Pitt about the impact of the arts on places such as Warm Springs. "The elders have said to us, 'Keep doing it. By letting people know our culture, it lets them know we're still here.'"
Walking onto the porch of her mother's yellow house, Woody listened to the world in Warms Springs—crickets and bees, dogs barking, and the faint sounds of Shitike, her favorite creek in the world. Off in the distance stands Mt. Jefferson, its summit capped in clouds.
Tomorrow, she will return to Portland but will travel back each week to connect with people in places that are important to her. In a few months, when the fires have died down and the wooden fence posts around the cemetery have been replaced, Woody will wait for her mother's spirit to return in the form of an animal, to assure her and her sister that she's okay. But that evening, she crossed the highway into the Museum at Warm Springs to attend an opening for her Aunt Lillian's art exhibit.
Passing under the inscription TWANAT (meaning "to follow the ancestors"), she walked through the doors and watched friends and family sing and dance until it was her turn. The gathering went quiet as she stepped up to the microphone and began to read in a clear and calm voice. Evidenced by the hush, the group seemed intent on hearing what she had to say.