Bend's Lady Roughriders help to put female rugby on the map.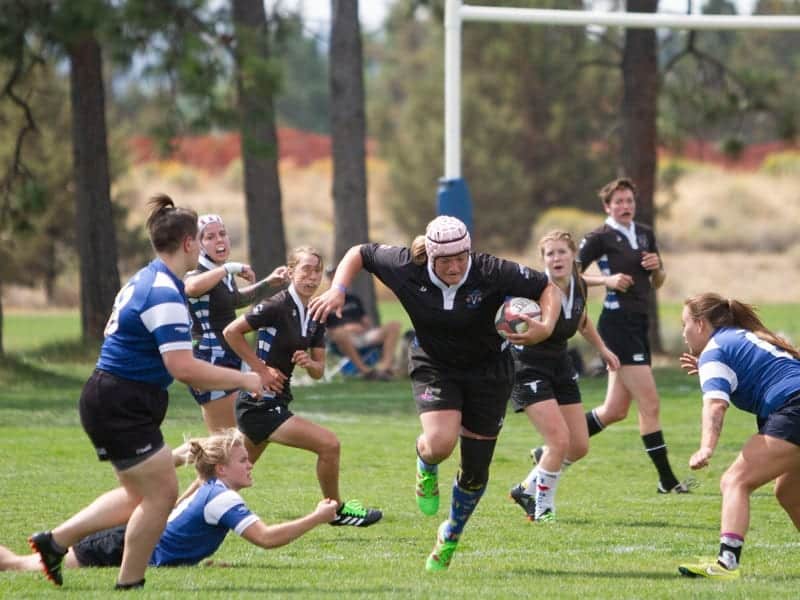 When Summit Kuehn first moved to Bend in 2015 from a small Midwestern town, she brought with her troubles that required a cure. She'd battled with body image issues throughout her school years and dealt with the bullying that accompanied her insecurities. She always wanted to be involved with athletics and be part of a team of confident women who built each other up, but instead, she constantly felt as though she was being torn down.
Most sports that are popular for women and girls, such as volleyball, soccer, and basketball, usually favor a more traditional athletic build; tall, quick, and agile. After being constantly benched, Kuehn quickly felt alienated and discovered that these types of sports might not be for her.
"Because of this, I became angry and bitter towards athletics," Kuehn said. "I was nervous and scared to even try sports again. But I am so glad I did."
At twenty-four, Kuehn is now happy, confident, and feels accepted in her community. So what happened? In the warm spring of 2016, she was introduced to the rough and tumble sport of rugby while attending a Total Fit class at Central Oregon Community College. The decision to give athletics another try ended up being life changing.
"Though it was a very intimidating situation to walk into, everyone was so nice and accepting. They just wanted me to learn," Kuehn said. "Not only is the sport itself amazing, but the community you gain is even better. It's given me my motivation, my happiness, my confidence, and my physical well-being back,"
She said her team and coaches constantly pushed her to be better on and off the pitch, but it was the inclusivity and body positivity she discovered that finally made her feel accepted. Kuehn learned you need players who are quick on their feet and fast in a sprint, as well as players who can tough out constant contact and even have the strength to lift their teammates in the air and knock an opponent off the ball. This sport not only accepts body types of all shapes and sizes, it demands them.
By some measures rugby is the fastest-growing sport in the nation. The number of people participating has more than tripled between 2006 and 2017, according to Statista.com, with more than 1.5 million people designated as participants in the United States. That's more than double the number of ice hockey players registered with USA Hockey. 
Because of how many different professional leagues exist across the planet, all with varying rules and styles of play, it is difficult to pinpoint how many people play rugby. However, the most popular version, Rugby Union, is governed by World Rugby, and more than one hundred nations from six different continents all participate under its banner.
In Bend, there are seven teams practicing and playing under the Bend Rugby Club, including Kuehn's Lady Roughriders. This team of women usually has twenty-five to forty-five players annually and costs $75 to play. Other than that, you just need cleats, shorts, and a mouthguard. The Lady Roughriders play a fall and a spring season, both of which take them all over the Pacific Northwest. All of their games are free to attend.
Despite its bare-knuckle reputation, rugby has long welcomed women into the ranks. The first woman played in a match of rugby (and scored a try) in 1887, with all-male teammates and opponents. Since then, rugby has continued to grow as an inclusive sport for all women.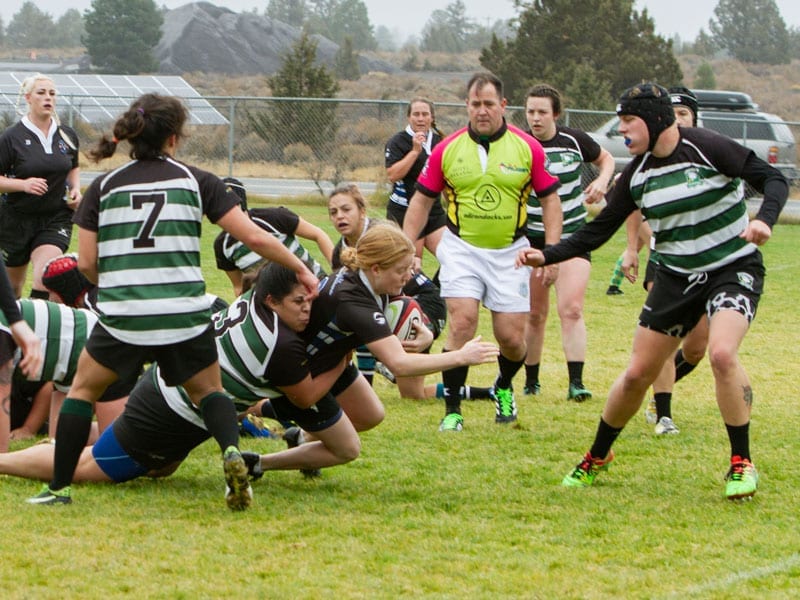 Because of the constant action and lack of protective gear, there is a common misconception that rugby is highly dangerous. While getting bruised is almost guaranteed, rugby actually has lower rates of concussions and injuries overall, when compared to American football.
"Rugby is one of the only true team sports I've ever played," Kuehn said. "When one person scores, the whole team scores. You have to trust one another. Rugby became the source and root for all of my happiness, and it continues to be that for me today."