The Fourth of July Pet Parade in downtown Bend is a celebrated tradition more than eighty years old.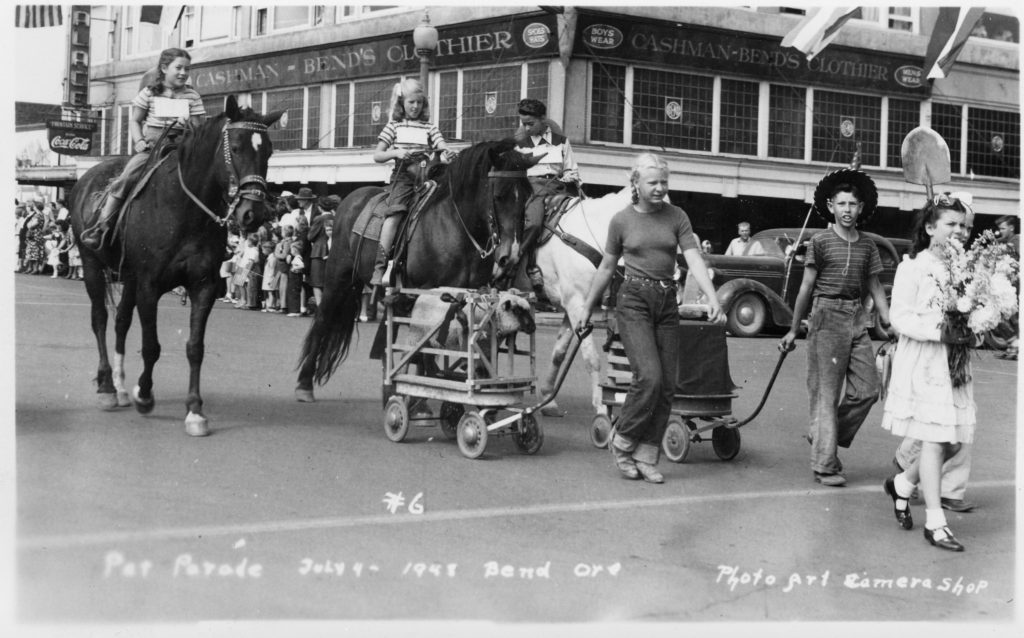 Fireworks, pie and pets! The Bend Fourth of July Pet Parade started with a simple concept: let local children walk or pull their pets in wagons as they parade through downtown. It has attracted thousands of spectators each year since its inception, enduring through the Great Depression and times of war (though the parade was cancelled from 1942 to 1944 during WWII). Today, the event draws an estimated 8,000 participants and onlookers.
Local cable channels broadcast the festivities live with commentary on novelty pets such as Daisy, the flying dog. In 2014, the pet parade was designated as an Oregon Heritage Tradition by the Oregon Heritage Commission. In keeping with tradition, participating kids receive popsicles from the Bend Fire Department after the parade. 
History on Parade
Come Fourth of July, Bendites go big on celebrations and take to the streets to continue a long tradition of parades. Festivities historically centered around two major parades, one of pageantry and one of animal domestication—the latter of which is still thriving.
Bend's oldest parade, the Pet Parade started in the summer of 1932, when 100 children marched a menagerie down Wall Street to compete for a first prize of four dollars. Four-year-old Doris Grubb won the first pet parade pushing her cat, Tom, in a baby stroller; a badger came in sixth place. Unlike many parades, the pet parade was open to any species of pet. Over the years, "pets" have included deer, badgers, gold fish, chickens, squirrels, ducks, oxen, calves, a pet eagle and baby coyotes.
From 1933 to 1965, the more extravagant Bend 4th of July Stampede and Water Pageant popularized Bend for tourists from across the state, offering a three-day schedule of festivities that included everything from archery contests and bowling to social balls and baseball games. Epic and ambitious, the water pageant took place at night on Mirror Pond, as elaborate floats made by local businesses drifted down the Deschutes River through Drake Park. In 1940, attendance swelled to 18,000, more than doubling the population of the town at the time. The extravagance eventually went by the wayside, leaving the children and animals to shine.