Inside the newly-restored Crooked River Inn, a bed & breakfast in the heart of Prineville.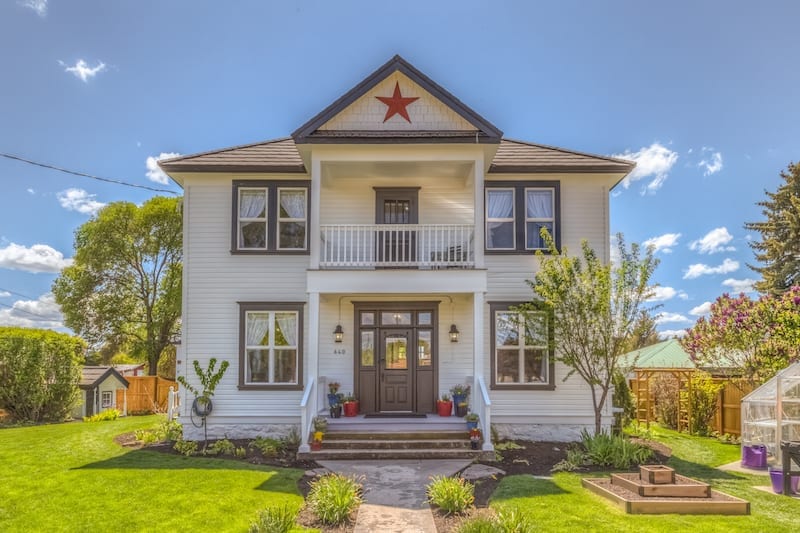 It took Elizabeth Hendrix six months of renovations, including scraping off more than a few layers of wallpaper, to get the walls of the Crooked River Inn to talk. What she found was the soul of a house and a community.
Columbus Johnson, an early settler of the region, built the farmhouse on his expansive property in 1906, and it stayed in the family for the next sixty years. For a time in the 1970s, it was a boarding house. After that, it was a private residence until Hendrix bought the house in November 2015 with a vision of opening a bed and breakfast.
Hendrix has talked to Prineville residents today who have stories to tell about the house. Some lived there when it was a boarding house. One woman came to the door and told Hendrix the story of how her father was born in the house.
The house's previous owner had a Victorian aesthetic (think dark, floral wallpaper and heavy curtains), but when Hendrix moved in, she transformed it into a bright, open farmhouse that could have easily dropped from the South—a nod to her childhood in Virginia.
One of the first steps was removing the layers upon layers of wallpaper to reveal shiplap, the original wooden walls of the house. Inside the walls, she found sentimental pieces of history, including a handwritten love letter.
"There are bits and pieces of people's lives in these walls," she said.
Hendrix put the history of her own life on the walls, too. She collected, over a matter of decades, all the Western-themed antiques sprinkled around the property. The result is a bed and breakfast that feels like a home (albeit a home straight out of Architectural Digest), which was exactly what Hendrix had in mind.
Before she retired and took on the project, her corporate job required her to travel. "That's one reason why I felt compelled to make this a wonderful place to stay," she said. A stay at the inn comes with fresh pressed coffee and a homemade breakfast in the morning, often with produce grown in the property's garden and eggs from the resident chickens.
The house has become a gathering place in the community, too. Hendrix has hosted everything from corporate events to book clubs. She treasures the connections she's made with everyone who has stayed at the house, often over breakfast and coffee at the dining room table. "For a little moment in time, you get to be part of whatever that is," she said.
Though she's still figuring out how to balance running an inn and having a life, Hendrix said she likes the sound of "innkeeper." She wouldn't mind if her job title stayed that way for the rest of her life. "I want the inn to be something that carries on in Prineville," she said.