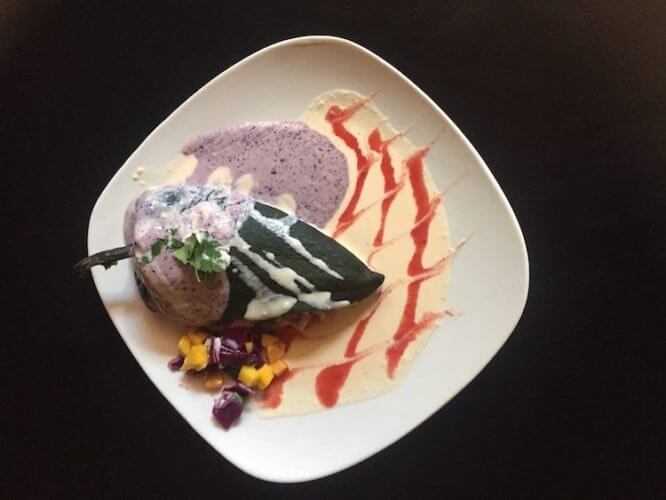 RIO'S CHEF Roberto Cardeñas comes to Sisters via his hometown of Guadalajara. Endorsed as the birthplace of the mariachi band, the city has rich roots serving traditional "mestizo" cuisine. Traditional mestizo influences hail from Aztec, Latin and Central American as well as Indian, European or Philippine descent. Cardeñas brings it all to the table.
Rio has a menu steeped in the tradition of his grandmother's secret recipes bolstered with modern adventurous infusions. In Mexico, Cardeñas was often sent to the Mercado Libertad, a colossal emporium distributed over many city blocks. With three floors of everything from fresh produce, meat and flowers to handicrafts, cowboy hats and leather boots, Cardeñas said the Mercado launched his culinary visions and inspired combinations.
At Rio, one can become overwhelmed reading the menu and imagining the melody of spices on your taste buds. Meanwhile, rumors circulate about the chile rellenos. Cardeñas has trained head chef Rocio Villalobos, a graduate of the International Culinary Center in Mexico City, to mimic his taste buds and flare.
The chile relleno, often a batter-fried afterthought, is no deep-friend cheese puddle at Rio. Lightly grilled, fresh and slightly smoky, the Relleno De Mariscos arrives splayed like a cornucopia, brimming with diced, light white fish and shrimp accented with corn and zucchini, sautéed to golden splendor. The relleno is surrounded by a light red sauce, and the drizzle of blueberry chipotle cream vaults it to a new level. The beers on tap are local, but the tequila is a getaway in a glass, from south of the border.
-Andes Hruby
1011 Desperado Trail | Sisters, Oregon, 97759| 541.549.6118 | Great outdoor patio with firepit | 7 Days a week 11 AM- 10 PM | riosisters.com