Adventure, culture, dining and fun await at Black Butte Ranch.
Heading northwest, the fringes of Bend in the rearview mirror, the highway straightens, meadows on either side. The sky seems bigger here, and makes you feel as if you could go on forever. That's when your eye gets hold of it—nature's perfect isosceles triangle, graphite against the blue.
Black Butte, its sweeping, elegant lines unmarred by the glacial chiseling that carved neighboring pinnacles, suggests a relatively peaceful backstory, but it's all a facade, geologically speaking. It erupted about one-and-a-half million years ago, burying the Metolius River, creating swampy meadows to the south, and, at the northern base, springs where the river now emerges.
Ever since, people have been traveling here. Local indigenous people named the volcano Turututu. Native Americans migrating west from the Great Basin camped here, leaving behind tools found to be about 1,000 years old, confirming the oral history. Settlers began calling it Black Butte around 1855.
Cattle and horse ranching began in the 1880s, when Till Glaze built the area's first house—a modest log cabin in a sprawling meadow. In the mid 1930s, wealthy San Franciscan Stewart S. Lowery bought the property and named it Black Butte Ranch. He and his family spent summers there, horseback riding and swimming in their large pool, while the ranching continued.
Brooks Resources bought the property in 1970 and began developing a residential resort with limited commercial activity. The company had encouraged local business to develop instead in the nearby town of Sisters, a lumber town in decline. The company offered merchants $5,000 and free architectural help to create an 1880s theme, which endures today and has thrived. From quaint spots for ice cream and cowboy boots to a spa, microbrewery, and independent movie theater, the town is all 1880s outside and a mix of modernity and nostalgia inside.
Meanwhile, Black Butte Ranch has more than 1,250 homes, eighteen miles of paved bike paths, seventeen tennis courts, five swimming pools, three restaurants, a general store, and two 18-hole championship golf courses, Big Meadow and Glaze Meadow.
Play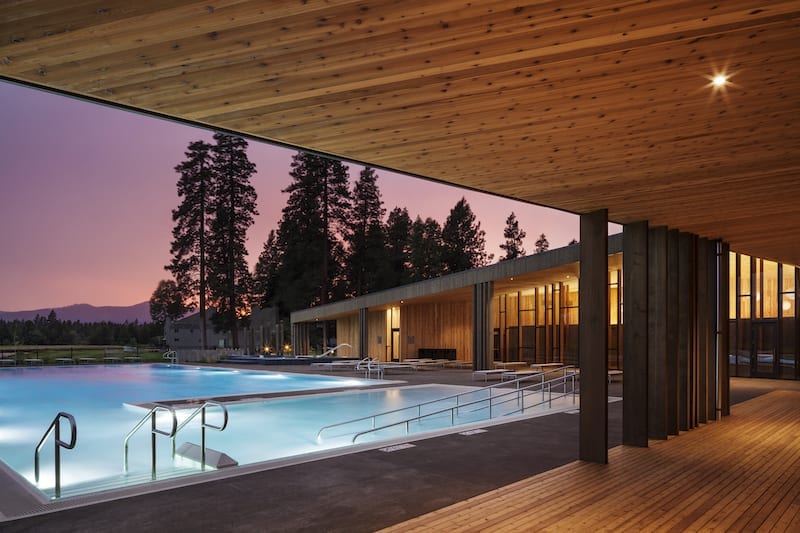 Hike Black Butte
Relatively short but steep, the 1.9-mile route climbs 1,600 feet in elevation to a 6,436-foot summit, revealing fabulous views of Mt. Jefferson and Three Fingered Jack. The first half of the hike follows Forest Service Road 1110 before becoming a hiking trail amid towering ponderosa pines. About midway up, a treeless slope is usually awash in white serviceberry blossoms in June.
Metolius River Loops Scenic Bikeway
This roughly twenty-four-mile system can be done in one swoop or in a few shorter loops, offering family-friendly options, starting with one that's just three miles. The relatively flat, paved roads that follow a breathtaking stretch of the Metolius River culminate as one of the best rides in the state.
36 Holes of Championship Golf
Black Butte was developed as a dual tennis and golf resort community. In the ensuing decades, interest in tennis has waned while the resort's 36 holes of championship golf have remained a cornerstone. In just the past few years, both the Big Meadow and Glaze Meadow have received upgrades, including a multi-million dollar makeover at Glaze Meadow, cementing Black Butte's reputation as a must-visit for Northwest golfers.
Mountain Modern
After roughly four decades as an icon of Northwest destination resort living, Black Butte Ranch embarked on an ambitious remodel and renovation of its pool area that debuted in 2015. The $11.5 million facelift includes a totally revamped pool and lakeside lodge area, as well as fitness facilities designed to serve guests for decades to come.
see
Wizard Falls Fish Hatchery
This is a perfect outing for all abilities, where gentle paths wind around the Metolius River to ponds teeming with rainbow, brook, cutthroat, and trophy trout, plus kokanee and Atlantic salmon. It's fun to feed the fish, no matter your age.
Headwaters of the Metolius
View the source of the mighty Metolius River, one of the largest spring-fed rivers in the United States. The origin of this river, a tributary of the Deschutes River, is considered one of the most serene spots in Central Oregon. It is easily accessible and offers great views of Mt. Jefferson.
shop
Head to Sisters and stroll the Western-themed streets for everything from original works of art, artisan foods, log furniture, and home décor to Preston Thompson handmade, steel-string guitars, Cascade Street Distillery's craft spirits, The Stitchin' Post quilting store, Paulina Springs Books, Baldwin's Custom Hat & Boot Co. and boutiques such as Wander NW.
eat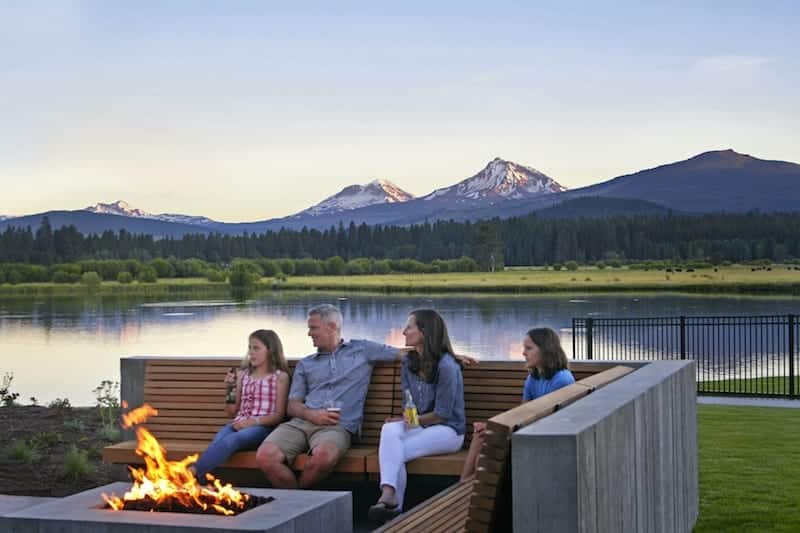 The Lodge Restaurant, with a relaxed, upscale atmosphere, serves Northwest dishes which aim to rival the views of the Cascades. Aspen Lounge on the third floor of the lodge offers regionally inspired, housemade cocktails, wine, draft beer, small plates and daily specials with a deck offering a 270-degree view of the mountains.
Robert's Pub, a family friendly eatery in the Big Meadow clubhouse, is named for golf course designer Robert Muir Graves. Robert's offers classic pub fare, a broad selection of Oregon microbrews and Northwest wines and more great views from an outdoor patio. The Lakeside Bistro is the place for coffee, espresso, housemade pastries, pizza, salads and sandwiches along with stunning views of Mt. Washington. The building opened in 2015 and was recognized by the nonprofit Sustainable Forestry Initiative for excellence in wood architecture.
There are several alternatives for those wishing to explore beyond the resort's boundaries. Options abound in nearby Sisters, from the authentic Texas-style barbeque at Slick's to casual pub fare at Three Creeks Brewing. In nearby Camp Sherman, the Kokanee Cafe is a great bet for Northwest-inspired cuisine. Suttle Lodge resort also offers a menu of casual snacks and sandwiches.