From jumping off waterfalls to watching a live show by the Deschutes River, our summer cheat sheet includes the 25 best Central Oregon summer activities to make the most of the season.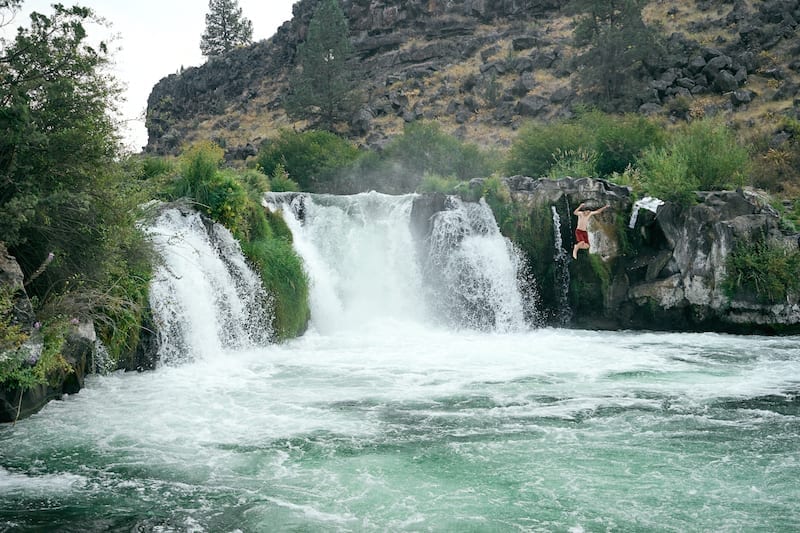 1. Take a Dip in a Lake
Dozens of lakes are scattered across Central Oregon, and a quintessential summer day here usually finds its way to at least one of them. Sure, you could paddleboard or kayak or hike while you're there, but you could also relax by the water and bask in the warm sun, which is what makes a day at the lake idyllic. At a lower elevation than other alpine lakes, Suttle Lake is perfect for swimming. Just up the hill is tiny Scout Lake, which is typically brimming with floaties because its small size means warm water (for high lake standards). Be sure to check out The Suttle Lodge, which recently underwent a renovation. Minimalist, rustic-meets-urban décor blends into the log cabin-style lodge, and elevated food and cocktails mimic the aesthetic. Off Cascade Lakes Highway, Elk Lake has a large beach area with views of Mt. Bachelor to boot. Further down the road you'll find Wickiup and Crane Prairie reservoirs, popular spots for camping, swimming and fishing. You can also get away from the crowds by hiking to a lake. Lucky Lake is only a short hike from Cascade Lakes Highway. Park at the Senoj Lake Trailhead and hike just over a mile to reach the lake, and solitude.
2. Raft the Deschutes River
When an urban innertube float isn't enough adventure, book a raft trip on the Deschutes River. These guided day trips are unforgettable, and take you to parts of the river you can only see by raft. Seventh Mountain Resort, Sun Country Tours and Ouzel Outfitters are based in Bend. In Maupin, a hub for whitewater rafting two hours north of Bend, you can book trips with All Star Rafting, High Desert River Outfitters, Imperial River Company, Sage Canyon River Company, Deschutes River Adventures and River Drifters.
3. Pitch a Tent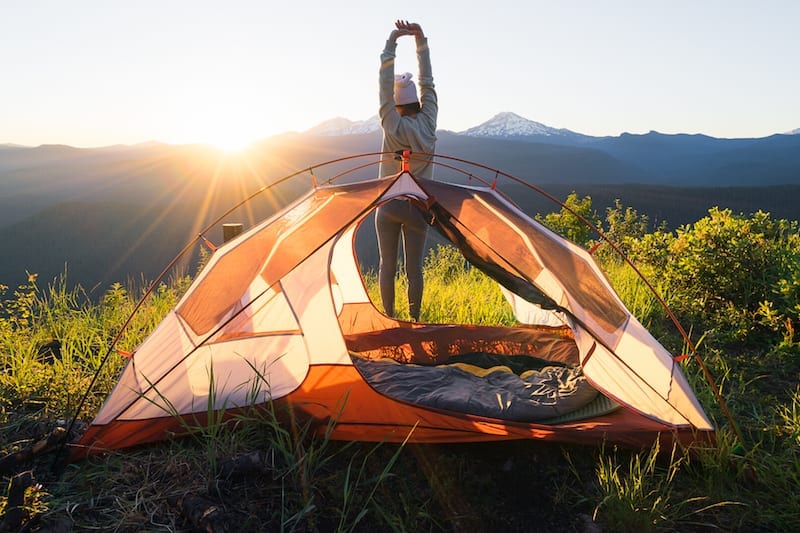 Summer doesn't really start until you've pulled your tent out from the corner of your garage, thrown sleeping bags and s'mores ingredients into the trunk, and packed the family and dog into the car to sleep under the stars for a night. For those new to camping, try a resort-supported site. Family-friendly spots include Tumalo State Park and Cove Palisades State Park. If you're ready to get a little more off-grid, campgrounds at Paulina Lake near La Pine and on the Metolius River in Camp Sherman are secluded, but still have amenities that make camping easier for families.
4. Watch the Eclipse
One million people are predicted to flock to Oregon for the once-in-a-lifetime solar eclipse that will pass through the state on August 21. About 200,000 of those people are expected in Central Oregon for the event and the festivals that lead up to it. Campgrounds and hotels in the path of totality have been booked for more than a year, but you can still get a near-perfect experience watching it from as far south as Redmond and as far north as Fossil. Wherever you go, plan to arrive early and stay late to avoid the attendant traveling headache.
5. See a Show Outside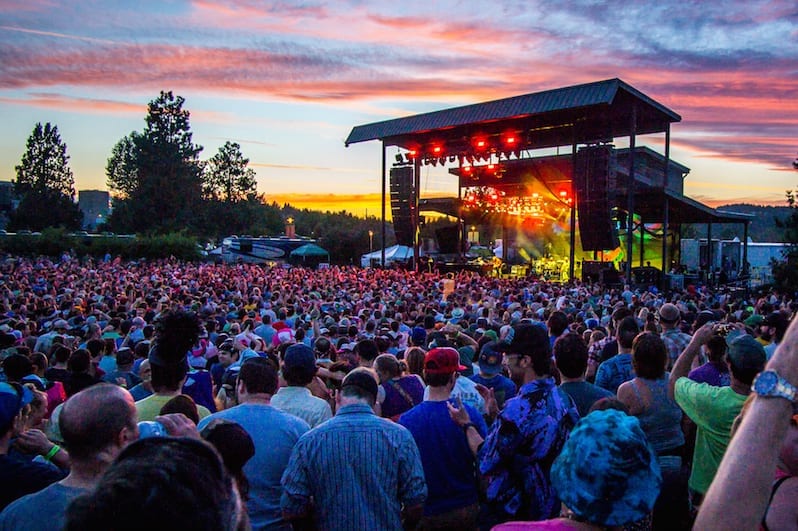 On select Sunday afternoons in July, Bend Memorial Clinic hosts Free Summer Sunday Concerts on the lawn at the Les Schwab Amphitheater in the Old Mill District. Pack a lawn chair and enjoy live music from local acts. You can also find free shows at Munch & Music on Thursday nights in July and August. National acts come to Bend all summer for outdoor shows at the Les Schwab Amphitheater, Athletic Club of Bend and the Century Center. Check online to get tickets for Bend favorites such as Michael Franti & Spearhead, the Avett Brothers and more.
6. Watch the stars from Worthy's Hopservatory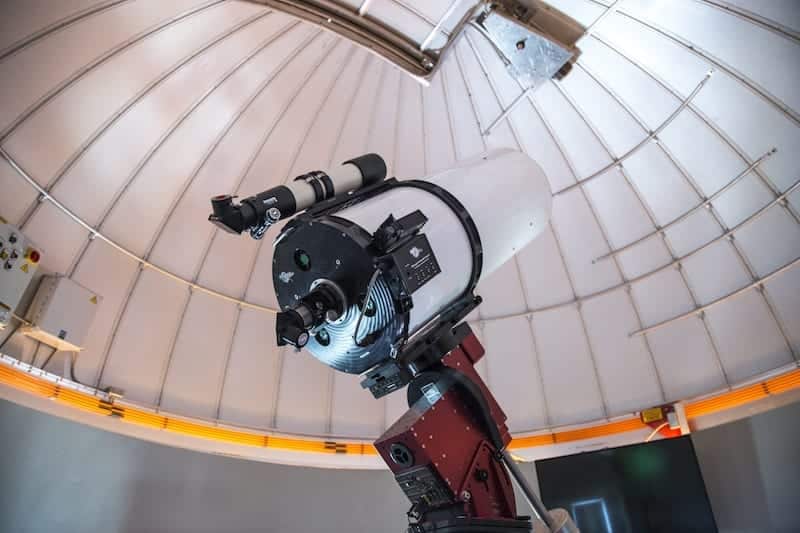 The newest addition to the ever-expanding Worthy campus (that already includes the brewing facility, the pub, an expansive patio and a hop garden), the Hopservatory has a telescope for viewers to catch some of the best sights of Central Oregon's night sky. Sign up for a tour to make sure you don't miss out on a clear, starry night.
7. Minigolf Like a Pro
What happens when you cross a putt-putt course with Sunriver's Crosswater? If you're golf architect John Fought, you create a one-of-a-kind bentgrass putting course that melds the family fun of mini-golf with the meticulous conditioning of Sunriver's championship golf courses. The result is a fun-for-all-ages putting course that challenges and delights while serving as the perfect after-dinner diversion for resort guests.
8. Join the Pet Parade
This is one of Bend's oldest (and weirdest) traditions. Dress up your dog, turtle, goat, horse, or other family pet that can handle large crowds and join the 4th of July Pet Parade in downtown Bend. The streets are lined with people watching the furry, feathered and scaled pets of Bend dressed up to celebrate.
9. Hike a New Trail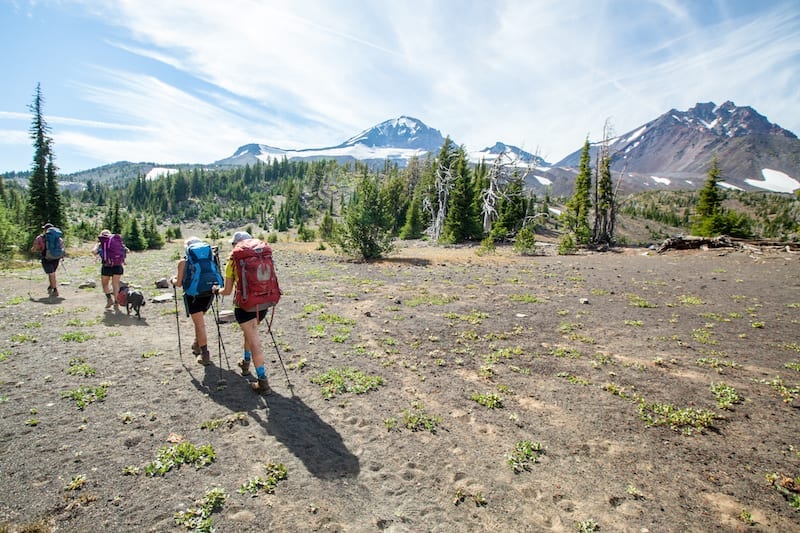 Get out of your hiking rut (and find some trail solitude) with these trails that you won't find on any "Top 10" list. The Canyon Creek Meadows hike in the wilderness area below Three Fingered Jack is an easy 4.5-mile loop for families with kids, and is known for its colorful array of wildflowers. In the Three Sisters Wilderness Area, Tam McArthur Rim is only five miles round-trip, but has plenty of elevation to make it a climb. At the rocky peak, you'll find expansive views. A portion of the hike is bare of trees, so bring lots of water. Back at the bottom, a small shack sells ice cream. Enjoy a refreshing treat while you soak your feet in Three Creek Lake.
10. Float the River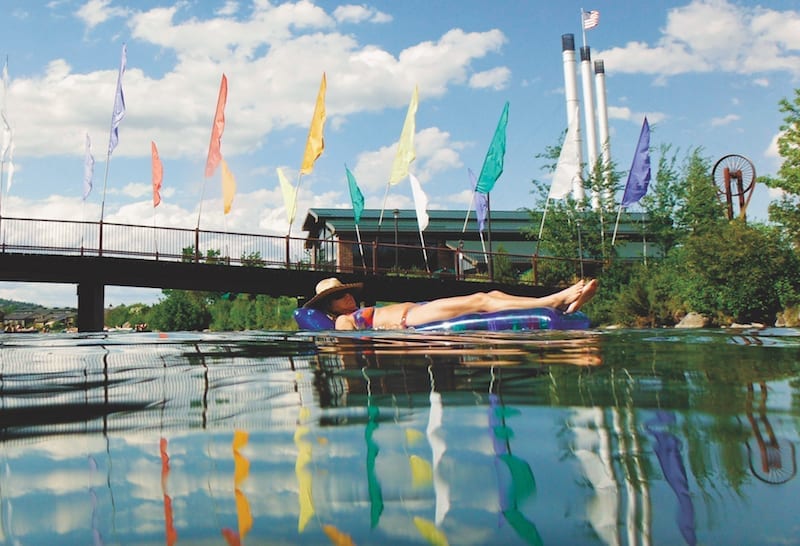 Floating the Deschutes River is almost a rite of passage in Bend. On hot days, you'll see crowds of people on the water. If you don't have your own floatie, you can rent one at Riverbend Park, where you begin the float. Skirt the dam in the newly revamped safe passage adjacent to the Whitewater Park before the final stretch down a calm bend in the river brings you to Drake Park. There's a shuttle you can ride back to Riverbend Park for a small fee. There are also a few rules about life jackets, alcohol and what you can float on, so look for signs at Riverbend Park to be in the know.
11. Visit Local Farmers' Markets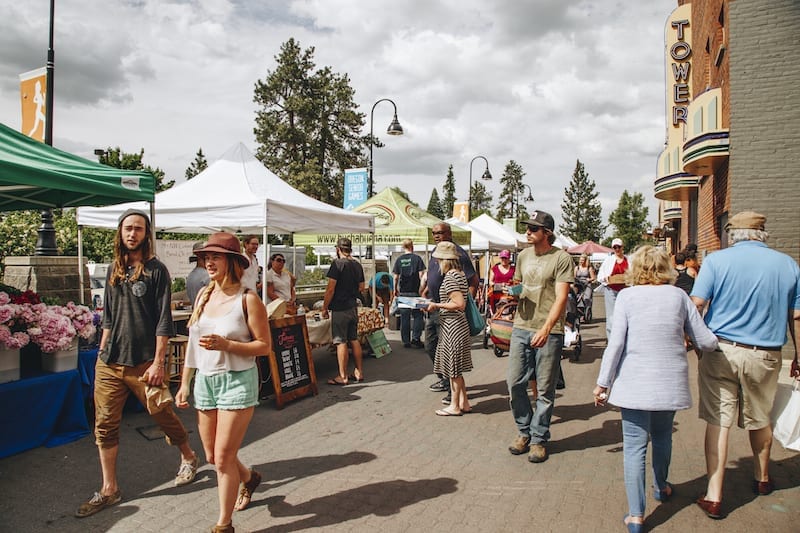 On farmers' market days, you'll find the whole community browsing the stands for fresh picks, from chefs scouring for the best ingredients to add to the menu to families picking out produce for that night's dinner. If you miss the market but still want to find local produce, check out Locavore, open year-round, or Paradise Produce, a farm stand open every day in the summer on Bend's Westside.
12. Try Backpacking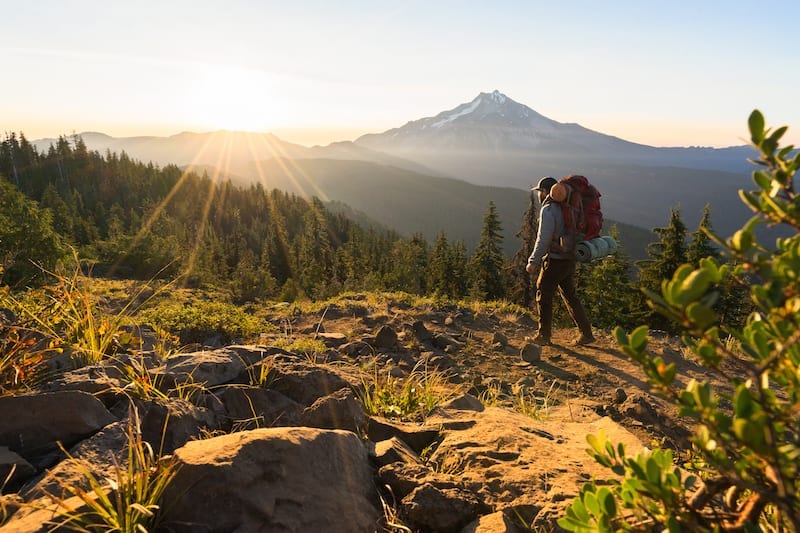 There's no better way to really get off the grid than backpacking. While trekking miles with pounds of gear on your back can seem daunting, there are lots of trails around Central Oregon to get you started. Off Cascade Lakes Highway, Doris Lake, about six miles from the Six Lakes Trailhead, is a good adventure for beginners since there isn't much elevation gain. The Teddy Lakes Trail, about four miles from the Winopee Lake Trailhead, is a lesser-known trek in the Three Sisters Wilderness. You can continue along the loop for a longer hike before (or after) setting up camp.
13. Visit the Ochocos
It might be a stretch to call the Ochocos a secret, but this low-elevation mountain range and its namesake national forest are just far enough off the beaten path to escape the crowds that gather at other popular Central Oregon destinations. There are hikes aplenty, just a few miles east of Prineville, that include iconic destinations such as Steins Pillar. For those seeking a more adrenaline-charged experience, the Lookout Mountain bike trail system offers one of the premier shuttle-based rides in Central Oregon. Lookout features forested singletrack with bomber straightaways and hairpin curves for seven, white-knuckle miles. Maps and information, including shuttle services, are available at Good Bike Co. in downtown Prineville.
14. Find a Waterfall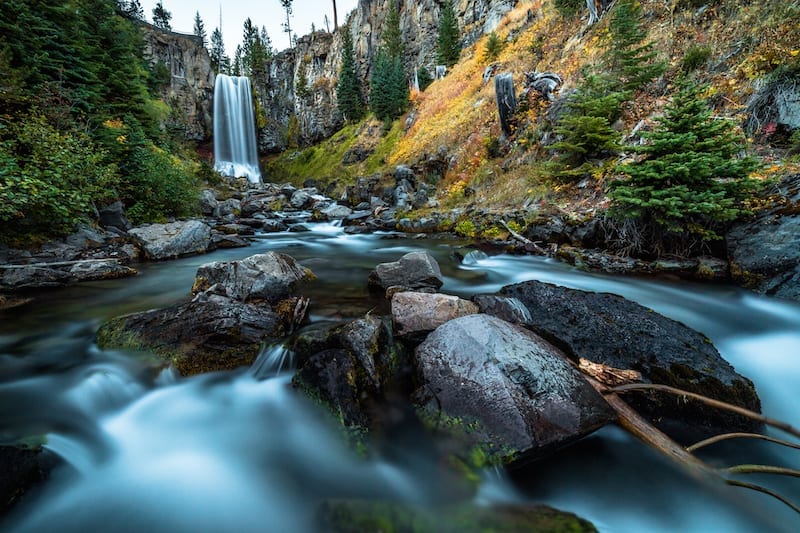 Central Oregon has no shortage of waterfalls. Most are accessible and have close-in parking and paved pathways to viewpoints. Close to Bend, Tumalo Falls is one the most popular and photographed viewpoints in the region. After you take in the ninety-seven-foot falls from a couple viewpoints, you can extend the adventure into a hike. Dillon Falls and Benham Falls are a little farther from town. The hiking trail that leads to both falls is easy for families. Local's hack: Don't go around sunset or you'll be eaten alive by mosquitos. Paulina Falls is probably the least trafficked of the bunch. The falls is about eighty feet tall and is inside the Newberry National Volcanic Monument.
15. Take a Staycation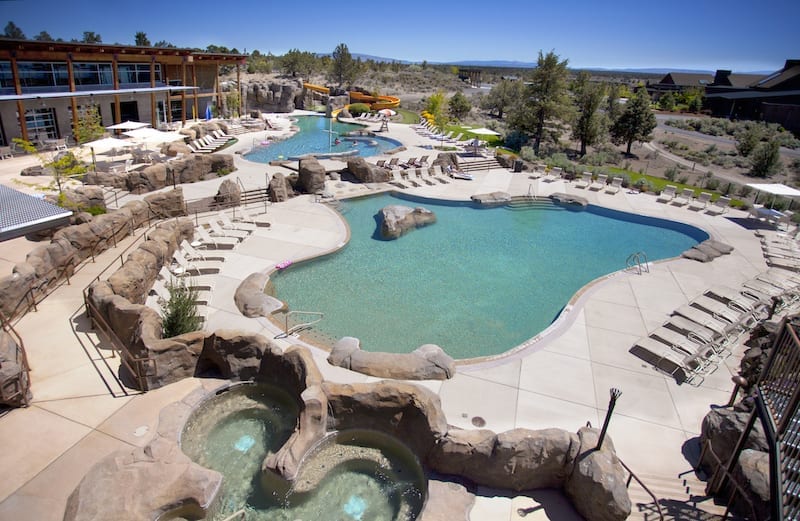 Need a long weekend to rest and recharge? There are plenty of great staycation options in Central Oregon, including Sunriver, Black Butte Ranch and Pronghorn, but Brasada is usually near the top of our list for its mix of casual luxury and family fun. Tucked into the base of Powell Butte, Brasada is just a half-an-hour's drive from Bend, but it feels a world away. A kids' game center and family pool area, complete with lazy river and waterslide, make for hours of family fun. Add in a world-class spa, 18-hole championship golf course, horseback riding and four-star dining and you've got a recipe for memories.
16. Follow the Ale Trail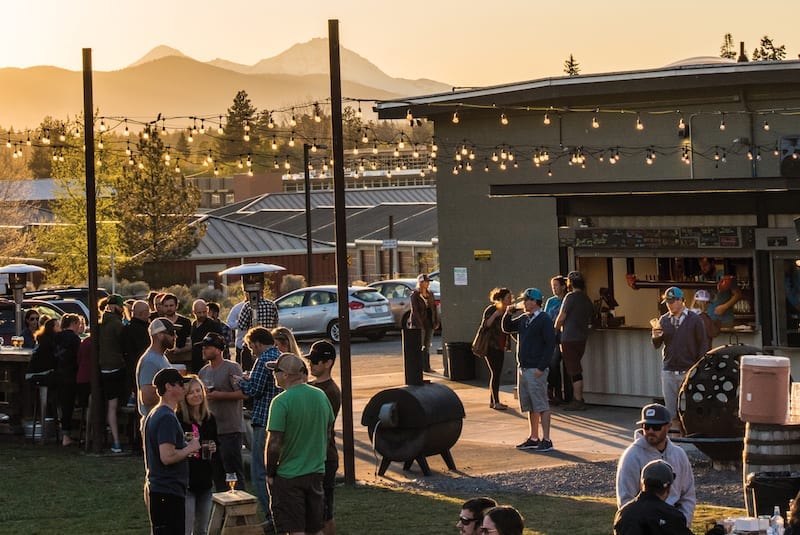 The Bend Ale Trail is the official way to get to know Bend's craft breweries. For visitors, it's a good way to experience the diversity of beer being brewed in Central Oregon, with more than two dozen breweries and counting. For locals, it's a good way to get out of your beer-comfort zone and find a new favorite pint. Pick up the official passport and map at the Visit Bend office downtown, and collect stamps at any ten breweries to earn a souvenir. If you can't decide on who's going to be the designated driver, most of the breweries are within walking distance of each other.
17. Pedal for Pints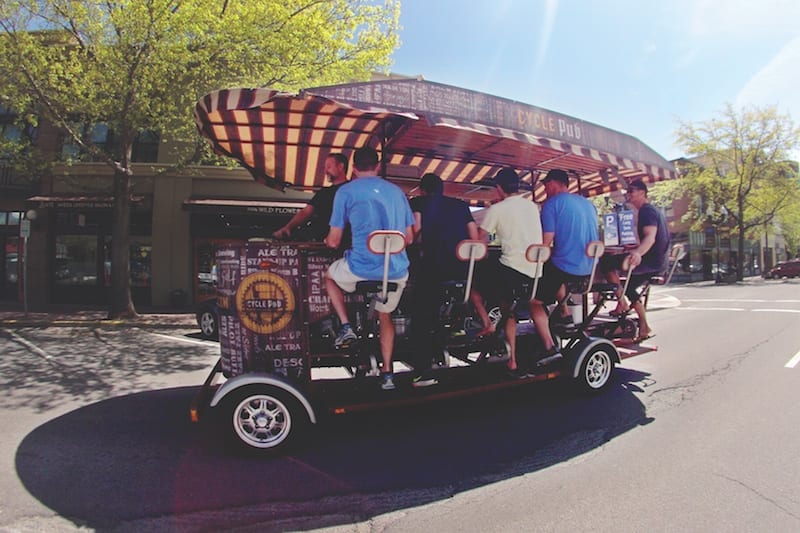 Bend is known for its breweries and its cycling scene. But why choose when you can do both at the same time thanks to thanks to The Bend Tour Company's Cycle Pub, a rolling, person-powered bar that functions as a guided tour of Bend's beer scene for groups of four to fourteen people. Plan your trip on the fly with your guide as the tour rolls out. The only required stop is at Cycle Pub's sponsor, Silver Moon Brewing on Greenwood Avenue. Not to worry—this classic pub is a must-stop watering hole anyway.
18. Catch a Wave at Sunriver SHARC
Indoor and outdoor pools and a disc golf course make SHARC (Sunriver Homeowners' Aquatic & Recreation Center) a fun place for families to spend an afternoon, or a day. You can buy passes for the day, or get a multi-day pass for a deal. Make a day of it by adding meals and shopping in the Sunriver Mall. The growing village has eighteen miles of paved paths through the woods and near the Deschutes River for biking and walking. When you're ready for a break, check out some of the great food options that families will enjoy, such as Sunriver Brewing or Blondie's Pizzeria.
19. Race Around the Go-Kart Track
Known for its family-friendly bowling, Sun Mountain Fun Center expands its offerings in the summer months to include batting cages and mini-golf. Best of all is the go-kart track that beckons would-be racers of all ages. The banked track snakes around the north end of the Fun Center in looping ribbons of concrete hemmed in by ubiquitous crash barrier tires. Side bets are encouraged, and remember, rubbing is racing.
20. Kick up Some Dust at a Rodeo
The Sisters Rodeo in June is just the beginning of the season that celebrates the region's Western culture and heritage. Don't miss the Jefferson County Fair & Rodeo in Madras in July and the Deschutes County Fair & Rodeo in August. Find carnival rides, 4-H shows, live music, festival food, games, rodeo performances and more. Concerts at the Deschutes Country Fair are always a good time as well.
21. Jump Off the Cliffs at Steelhead Falls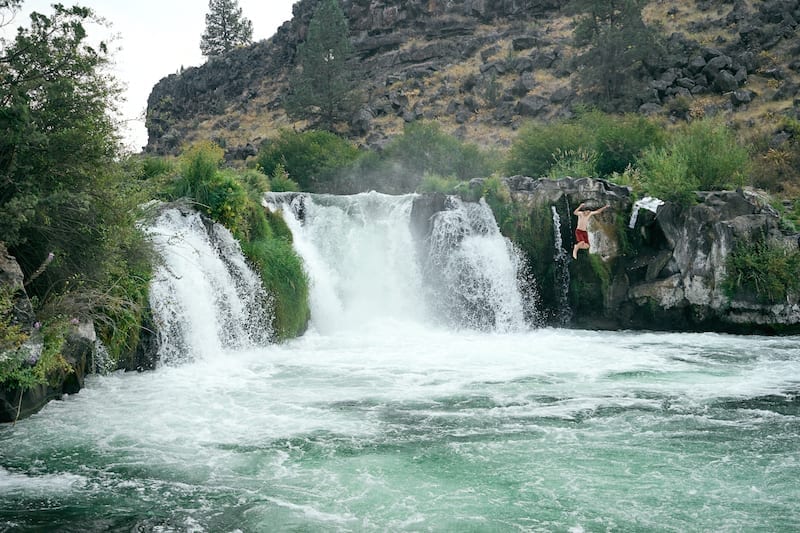 On the hottest days of the summer, jumping off the twenty-foot cliffs at Steelhead Falls into the cold water is one of the most refreshing and adrenaline-pumping experiences in the region. Jump feet first into the water (do not dive) and consider climbing down the cliffs to test the water first. There's also no shame in wearing a life jacket, which will help you get back to the surface of the water more quickly. Wear water shoes to help you with the climb back up the cliffs.
22. Eat at a Classic Drive-In
Nothing says, "summer is here!" like a burger hot off a sizzling grill with a side of piping hot fries, preferably served in wax paper. No Central Oregon summer vacation or staycation is complete without a stop at one of several nostalgia-rich, drive-in burger joints sprinkled around Central Oregon. In Bend, Dandy's Drive-In is without peer. The place retains its vintage A & W feel, complete with drive-up stalls. Wash the grub down with a fountain soda or, even better, a handmade shake (choose from 23 different flavors). If you venture east, the Tastee Treet in Prineville is a mandatory stop. When in Redmond, the place to be is Jody's, where it's always standing room only.
23. Play Cornhole at a Brewery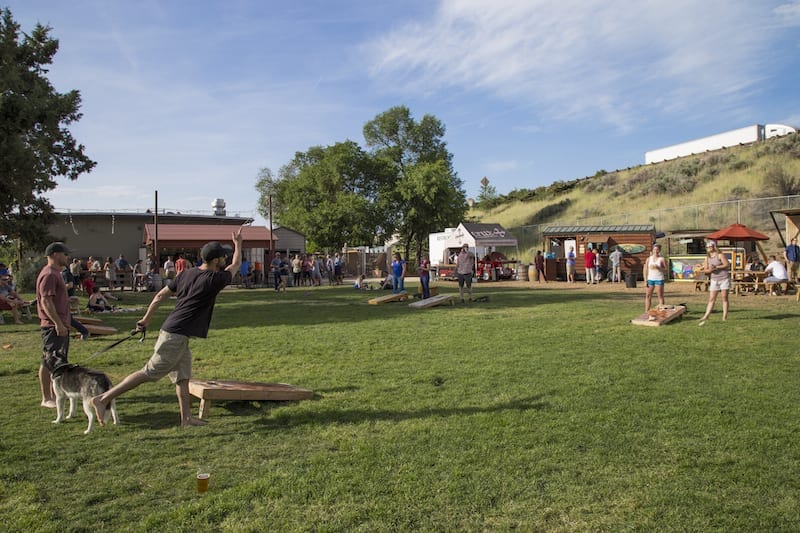 It's only a dirty word if your mind is already in the gutter. So grab a cold beer, a few friends and get ready to, er, toss off. When it comes to cornhole, these breweries have ample space in which to partake in one of the few sports where holding a beer during competition isn't frowned upon, it's encouraged. Breweries with cornhole and other lawn games include Crux, Goodlife, Worthy, Bridge 99, and Atlas Cider.
24. Opt for a Natural Soak Outdoors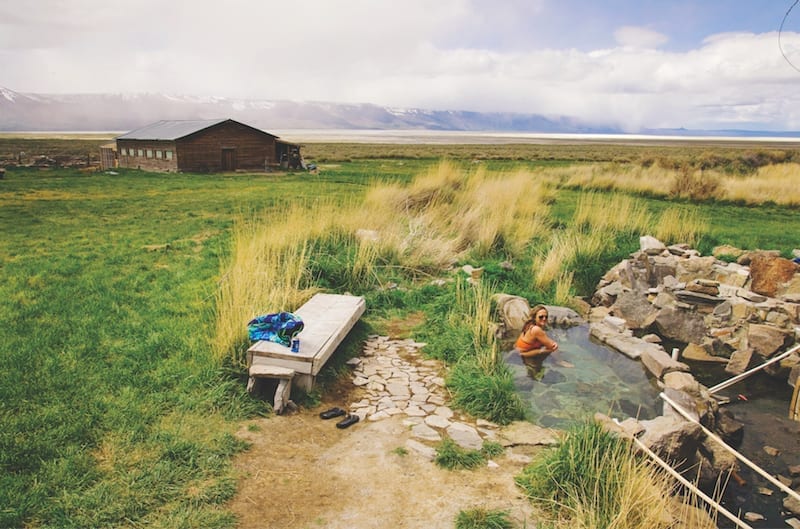 Spend a day soaking in the mineral-rich, soul-revitalizing pools of a hot springs. Within Central Oregon, you can find the Paulina Lake Hot Springs off the Paulina Lake Loop Trail in the Newberry National Volcanic Monument. It takes a moderate hike, but the reward is entirely worth the trek. The temperature of the water is usually around 95 degrees. You can also dig your own soaking pool at North Beach, just a short walk away. If you want to venture farther, Breitenbush Hot Springs to the west and Summer Lake Hot Springs to the east are both within a two-hour drive from Bend and Redmond and offer resort amenities.
25. Go Big at Mt. Bachelor
Central Oregon is a mountain bike mecca. Numerous routes have been added in the past decade, but none are more dramatic than Mt. Bachelor's Bike Park, where familiar winter ski runs such as Leeway are transformed into daredevil dirt routes with names such as Rattlesnake and Rockfall. With chairlift access from Pine Marten and Sunshine Accelerator, the park features dozens of miles of banked singletrack, whoop-de-doos, bridges and other competition-worthy features. A mix of terrain and difficulties opens the experience to riders of all abilities. Bike, helmet and protective gear rentals are available at Mt. Bachelor.
---
Head over to our SUMMER GUIDE page for more summer fun adventures.